World's 10 Richest Men Got Richer During Pandemic, Worth Combined $1.5 Trillion: Report
A new report is highlighting just how much money the world's richest men gained during the COVID-19 pandemic.
According to nonprofit confederation Oxfam, the fortunes of the ten richest men in the world more than doubled during the first two years of the pandemic. Their report, released Monday, noted that their combined fortunes were worth $700 billion before the pandemic, but are now worth a combined $1.5 trillion. It also found that a new billionaire is created every 26 hours, while a person dies from factors relating to wealth inequality every four seconds worldwide. These factors include lack of access to health care and hunger, among others.
"If these ten men were to lose 99.999 percent of their wealth tomorrow, they would still be richer than 99 percent of all the people on this planet," Oxfam International Executive Director Gabriela Bucher stated. "They now have six times more wealth than the poorest 3.1 billion people."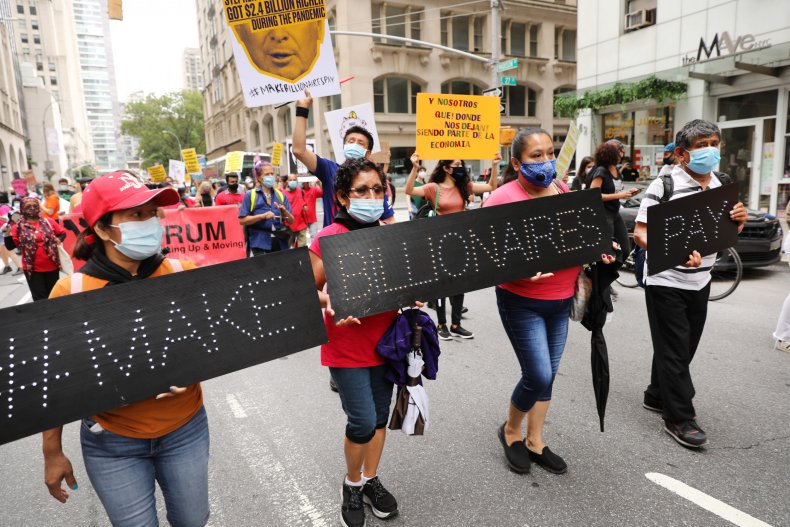 These new findings were published in "Inequality Kills," a briefing that was published ahead of the World Economic Forum's State of the World meetings. The study proposes that more taxes placed upon the wealthy can help reduce wealth inequality worldwide. This solution comes at what is being called the biggest surge in billionaire wealth ever recorded.
"Billionaires have had a terrific pandemic," said Bucher. "Central banks pumped trillions of dollars into financial markets to save the economy, yet much of that has ended up lining the pockets of billionaires riding a stock market boom."
The Oxfam study also attributed current pandemic woes to vaccine hoarding and patent disputes promoted by billionaires with stakes in pharmaceutical companies.
"Vaccines were meant to end this pandemic, yet rich governments allowed pharma billionaires and monopolies to cut off the supply to billions of people," Bucher explained. "The result is that every kind of inequality imaginable risks rising. The predictability of it is sickening. The consequences of it kill."
Although specific names were not given in the report, Forbes' Real-Time Billionaires chart could provide an idea of who Oxfam was alluding to. Elon Musk is currently the richest man alive with a net worth of $268.1 billion from his companies SpaceX and Tesla. Bernard Arnault, chairman of LVMH Moët Hennessy, and his family are listed second with $189.2 billion. Other names included in the Forbes list are Jeff Bezos, Bill Gates, Larry Ellison, Larry Page, Mark Zuckerberg, Warren Buffett, Sergey Brin and Steve Ballmer.
"It has never been so important to start righting the violent wrongs of this obscene inequality by clawing back elites' power and extreme wealth including through taxation," said Bucher, "getting that money back into the real economy and to save lives."