World's Best Pizza Comes From Italy And Involves Twirling The Dough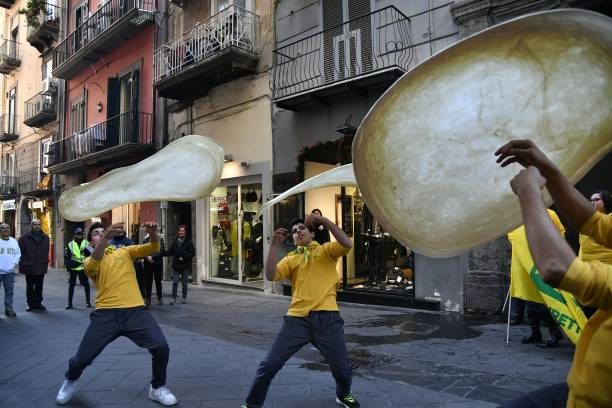 Now that's amore!
Neapolitan pizza—widely considered the best in the world, thanks to a centuries-old crafting style and wood-burning ovens—is now considered an international treasure worthy of a place on UNESCO's Intangible Cultural Heritage list.
The honor for the art of the pizzaiuolo was announced Thursday.
"Victory!" tweeted Maurizio Martina, Italy's minister for agriculture, food and forestry. "Another step towards the protection of Italy's food and wine heritage."
Unlike a Neapolitan pie, the award itself was long in the making, beginning with a petition drive that gathered 2 million signatures, according to Sergio Miccu, the head of the Association of Neapolitan Pizzaiuoli. (It probably didn't hurt that Miccu promised to give out free pizza on the streets if the culinary form of art made the prestigious list.)
The key to a Neapolitan pie is the custom of throwing the dough into the air to "oxygenate" it—though many debate whether the tossing is just for show. More important, Neapolitan pies are cooked for very short periods in intensely hot wood-burning ovens.
It's not easy. The Accademia della Pizza Napoletana offers intensive five-day courses on how to learn all the techniques, and provides list of certified suppliers whose mozzarella and flour meet the Naples standards.
The traditional Neapolitan pizza has two classic versions: The Margherita pizza is made with tomato, mozzarella, oil and basil, which has the same colors of the Italian flag and is believed to have been named after Italy's Queen of Margherita Savoy. A Marinara pie is made with tomato, garlic, oregano and oil.
The UNESCO Intangible Cultural Heritage list was created in 2003 to protect endangered cultural practices and expressions such as Turkish oil-wrestling and a Mongolian coaxing ritual for camels.
This year, 34 cultural practices made the list of more than 350 traditions and art forms that includes Spain's flamenco dancing, Indonesian batik fabrics, and the Colombian-Venezuelan llano work songs.
The new entries on the list also include a wall painting style in Saudi Arabia called al-Qatt al-Asin; a green cane weaving style in Bangladesh called Shital Pati; and a horseback game popular in Kyrgyzstan, which featured participants trying to get a goat's head into a goal, though less gruesome items are now used.