The World's Best Poker Player Has Beginner's Luck… and $8.4 Million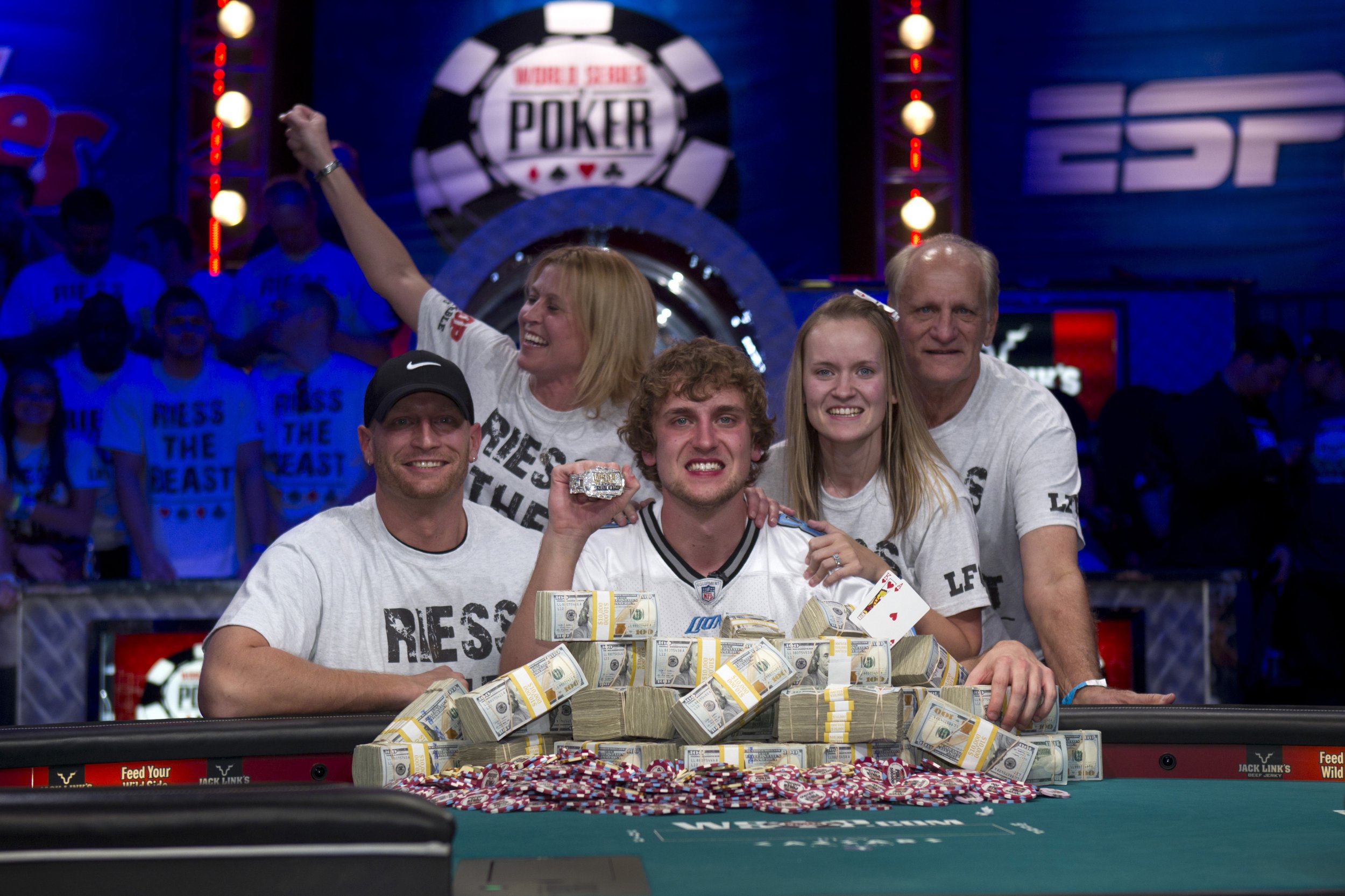 Ryan Riess understands "going all in."
A little over a year ago Riess, then a 22-year-old senior at Michigan State with approximately $2,000 to his name, dropped more than 80% of his life savings on the entry fee for a poker tournament in Hammond, Ind. Riess ante'd up, then finished second among the 835 entrants and took home $239,063.
So yes, he's a gambler.
On Tuesday night, Riess, a former K-Mart cashier from Waterford, Mich. claimed the coveted gold bracelet for the World Series of Poker's Main Event. Riess cashed nearly $8.4 million, winning the most prestigious event in poker, a prize that most professionals spend a lifetime chasing in vain. He did it on his first try.
Beginner's luck?
"I just feel like I'm the best poker player in the world," said Reiss, who wore a No. 81 Detroit Lions Calvin Johnson jersey on both of the tournament's final two nights.
Tall and gangly, with a mop of scraggly strawberry-blond hair that makes him resemble a cast member from the dear, departed TV sitcom Freaks and Geeks (also based in Michigan), Riess still looks more like he should be stacking shelves than poker chips. Indeed, his counterpart at the final table, Jay Farber, attempted to shake Riess' unwaveringly steady mien by declaring, "I'm far more good-looking than he is."
No reaction.
The Main Event, where the game is Texas Hold 'Em, commenced on July 6 at the Rio Resort & Casino in Las Vegas with 6,352 hopefuls. Each had either paid the $10,000 buy-in or won a satellite tournament that got them in. After nearly a fortnight of flops and folds, bluffs and busts, nine players remained. The event was then put on hiatus until Monday and Tuesday night, allowing ESPN to televise it nearly live (the hands are shown on a 15-minute delay).
After 171 hands of play on Monday night, only Riess and Farber, a 29-year-old former bouncer built like a short stack of chips who plays strictly as a hobby, remained. Farber entered the final night of "heads-up play" (two players) with a slight lead in chips, but "Riess the Beast," as the rookie's entourage dubbed him, flipped the table with a pair of pocket jacks that won a $58 million pot.
Tuesday night's duel lasted 90 hands and nearly four hours. Farber, whose chip stack had dwindled to about $10 million (as opposed to Riess' approximate $180 million), had little choice but to go all in with a suited Queen-5 pair. Riess called with a suited Ace-King and, minutes later, after neither player was able to establish a pair with the community cards, Riess dropped to his knees shouting, "Yes!" He was quickly mobbed by his girlfriend, other friends and family, his Megatron jersey under the dogpile of euphoria.
The juxtaposition of someone clad in a Detroit Lions jersey celebrating a championship (the Lions last won an NFL title in 1957) inspired ESPN columnist Bill Simmons to tweet, "Is this the greatest moment in Detroit Lions history?"
Only 54 weeks earlier Riess, who taught himself to play poker at the age of 14, was mucking hands in a tournament in Indiana, knowing that he had less than $400 in the bank. Last night he was pocketing, strictly figuratively, $8.4 million. On one hand, Riess is just another 23-year-old college graduate without a real job; on the other hand -- and for a poker aficionado such as he, there will always be another hand -- less than one year after graduating from Michigan State, Ryan Riess is financially set for life.
Just goes to prove the value of a college education.