World's Fastest Blind Man Forced to Defend Title By Altering Training Methods During Social Distancing
All the training in the world never prepared sprinter David Brown for an impromptu run he made around the track four years ago in Rio de Janeiro. It was an unexpected piggyback ride he gave for thousands of fans to enjoy, and he still laughs about it to this day.
Although he never saw a thing, Brown vividly recalls it from the highlight reels of his memory.
Brown is completely blind, and he had just won the 100-meter race for the gold medal at the 2016 Rio de Janeiro Summer Paralympics to become the fastest blind man in the world. Upon winning, his guide runner, Jerome Avery, jumped on Brown's back for a victory lap.
The crowd in Rio loved it.
"At first I didn't even know if we had won the race, but I heard Jerome cheering and celebrating," Brown said, noting that Avery typically let him know if they won or not, even sometimes while they were crossing the finish line tethered by an 8-inch string. "Next thing I knew, he was on my back."
They galloped around the track with their arms in the air, and the crowd went wild. Brown had no idea where they were going, so Avery would yell "left" or "right" when it was time for Brown to run in a different direction.
"The crowd was loving it," Brown told Newsweek. "They went crazy."
Brown's victory lap in Rio is almost as bizarre as his beginnings, or as strange as how he must now train during an age of social distancing with the pandemic called COVID-19, also known as coronavirus.
Now, all the training in the world has somewhat prepared Brown to get ready for the 2020 Tokyo Paralympics, which got moved to 2021 after the global pandemic. Here's the brief story of how Brown went from a small kid in Missouri with blurred vision to the fastest blind man in the world, and how he trains to keep that title while training facilities are shut down.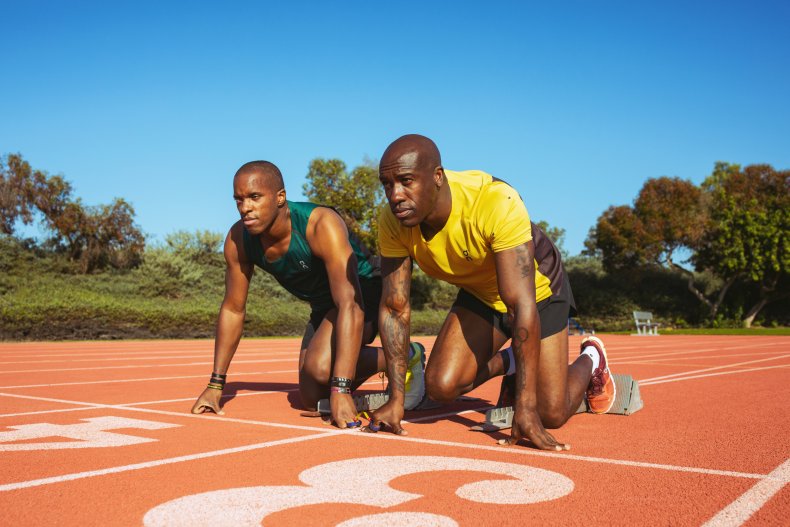 Brown was diagnosed at 15-months-old with Kawasaki disease, which causes inflammation in blood vessels throughout the body. It led to glaucoma at a young age, and an eventual deterioration in his eyesight.
By age 6, he could not play most sports with other kids his age. By 13, calcium deposits led to completely losing his sight. Now 27, he looks to defend his 100-meter gold medal in a Paralympic postponement year.
Social distancing guidelines brought on by coronavirus have changed the way athletes train, and it especially altered the regimen for Brown and Avery. At first, they worked out together at the Olympic Training Center (OTC) in Chula Vista, California, which is just outside of San Diego.
Brown has gotten quite efficient at running in a straight line by himself, but he needs guidance running around an oval track by himself. So Avery improvised by yelling and using clapping sounds to aid Brown—from a lengthy social distance.
The training was going well, but then the OTC shut down because of local, state and federal laws. Now, Brown lives with a friend in California and does his own workouts from home, whether it's constant stretching, strength training or riding a stationary bicycle. Avery does his own isolated workouts as well.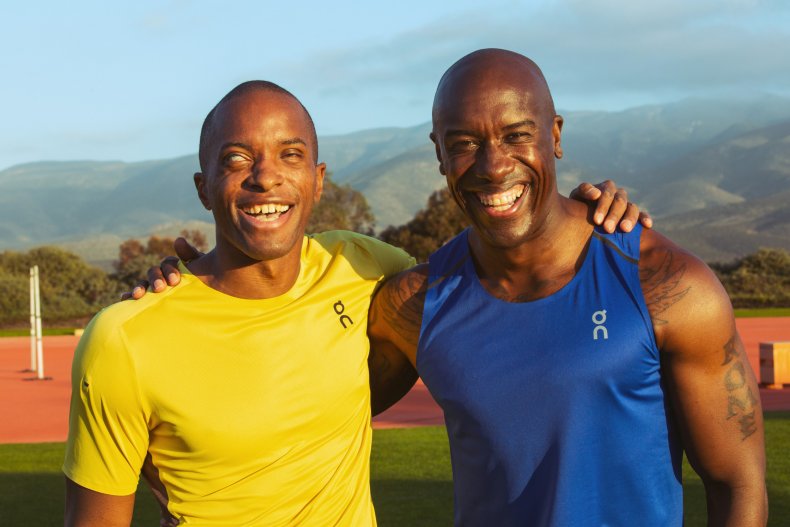 The story continues as coronavirus not only led to the OTC shutdown, but more than 33 million Americans have filed for unemployment over the last seven weeks, which could usually make it tough on athletes looking for endorsements. But Avery and Brown have become two of the newest global athletes and Paralympic brand ambassadors for On, a Swiss sportswear company that helps offset any expenses the running duo have.
Both Avery and Brown have dealt with their own challenges in life. Avery was an Olympic sprinter hopeful during 2000 and 2004, falling short both times. He eventually became a guide runner after that and has since helped runners to multiple Paralympic gold medals.
For Brown, he lost most of his sight at such a young age. That prevented him from competing in sports with baseballs, basketballs, footballs and even soccer balls, so making adaptations and adjustments has been a way of life.
Brown's vision became cloudy, and then it got to where he could hardly see any light. But he never stopped competing.
When he first started running races against his classmates in third grade, he finished third, and that did not sit well with him.
"I wasn't happy with that," Brown said. "I wanted to be the best."
In fourth grade, Brown became the second best. By fifth grade, Brown topped all kids in the school, dusting all of his classmates.
Move forward to 2008, Brown won a trip to the Beijing Summer Paralympics. Out of more than 100 athletes who wrote essay applications, Brown was one of 25 selected to attend the the Beijing Games. Ever since he witnessed his first Games, he wanted to compete on the world's largest stage.
Brown was an aspiring athlete at a school for the blind in St. Louis, but after watching the Games in China, he knew it was something not out of his reach.
"Going to Beijing opened me up to things beyond my realm," Brown said. "At that point, I had only been around blind athletes at my school. This showed me athletes who had other disabilities, some in wheelchairs and others. But specifically the blind sprinters, I knew I could compete."
Brown competes in the T11 classification, which is for athletes with the most-severe visual impairments. And to make things even more equal, all runners in that class must run with a blindfold.
Brown qualified for the 2012 London Paralympic Games, but did not make it out of the semifinals in either the 100- or 200-meter races. Then, the fire that fueled him after losing in both the third and fourth grade, fueled him years later.
"It wasn't just about losing in London," Brown said. "I wasn't just losing to guys from other countries, I was losing to guys from America. I knew the first thing I needed to do was be the best in my own country, then take on the world."
What happened next was magic in the making.
While working out at the Chula Vista OTC in 2014 without his usual guide runner, Brown was working out alone with just only his coach. That's when Avery was also working out at the track and asked if they needed a partner.
Since then, Brown and Avery have not only become smooth training professionals together, they've become close friends.
The first race they ran was against runners with good vision. Brown won the race. Brown won his next race. And ever since, all Brown did was run his way to break American records, then world records. He is the only legally blind person in the world to run 100 meters under 11 seconds.
Brown cruised to victory in the 100 in Rio, and the training for Tokyo 2020 went unhindered until COVID-19, in which social distancing forced him and Avery to become untethered. The news was not completely unexpected, but Brown said he will keep his focus forward to 2021 now.
"Initially there was disappointment, but my focus has always been on the preparation," Brown said. "So when I do get to Tokyo, I want to compete, no matter what.
"Everybody is on equal ground, and everybody is having to train on their own. We just have to keep working hard and prepare for the next race like we always do."
Brown has stayed in stride with Avery, and with life itself. Not even a pandemic can be too big a hurdle for someone who has a clear vision for success.