World's First Commercial Jetpack, Priced Around $150,000, Set for 2016 Launch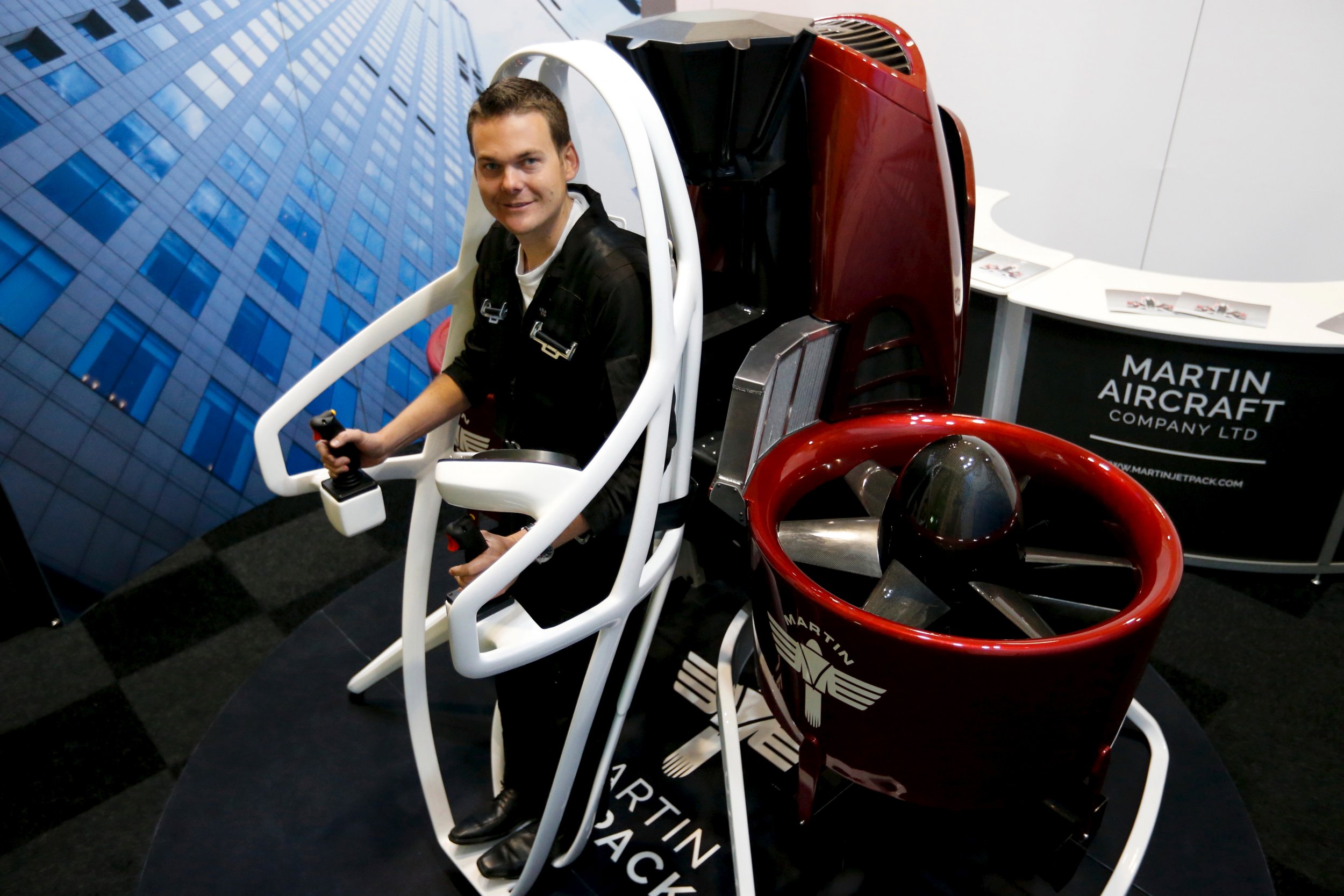 The world's first commercially available personal jetpack should go on sale to customers next year, at a cost of around $150,000.
The Martin Jetpack has been developed over the past 35 years, the dream of then university student, New Zealander Glenn Martin. Tests in New Zealand of the initial prototype in 2011 saw the manned jetpack successfully fly at least 1,000 meters off the ground before landing via parachute.
The improved version, the P12, was on display at last week's Paris Airshow - along with a simulator allowing the public to experience the Jetpack for themselves.
Martin Aircraft were valued at more than $100 million USD when listed on the Australian Securities Exchange earlier this year, having secured investment worth up to $50 million USD from Chinese aerospace group Kuang-Chi Science.
It runs on a V4 200 horsepower petrol engine that drives two ducted fans and can fly for more than 30 minutes at up to 74 kilometers per hour and altitudes of up to 1000 meters. It can carry a commercial payload of up to 120 kilograms.
Martin chief executive Peter Coker says that, although the Jetpack may interest rich thrill-seekers, it is primarily aimed at emergency responders and search and rescue missions. He told Reuters: "I think the first responders will see that as a massive improvement to their capability. So, for example, in the fire services going around to look at the situational awareness of what's going on, perhaps through water security or even search and rescue on beach patrol, something along those lines. Naturally for the ambulance service getting to a point of importance of rescuing people in the shortest possible time. So there's a lot of uses within that first responder environment."
The firm says the jetpack, which uses Vertical Take-off and Landing (VTOL), can land on rooftops covered with aerials and wires, and fly into tightly confined areas, making it a practical alternative to traditional helicopters.
According to Coker, the jetpack has a composite structure pilot module that protects the pilot in the event of accident and a ballistic parachute system that can deploy and safely recover the aircraft from only a few meters above the ground.
"This is built around safety from the start," he said. "Reliability is the most important element of it. We have safety built into the actual structure itself. Very similar to a Formula One racing car, and finally what we actually have is a new ballistic parachute that is the basis of recognizing the way that we can be as safe as we possibly can. It opens at very low altitude and actually saves both the aircraft and the pilot in an emergency."
The simulator, which allowed airshow visitors donning an Oculus Rift headset to experience flying the jetpack, saw volunteers queuing at the Martin stand to have a go. "The idea of having a simulator on the show is really to allow people to experience what the jetpack can actually do. It actually flies the same as the jetpack, so it's an opportunity for members of the public to see what that experience is all about," said Coker.
Kuang-Chi Science chairman, Ruopeng Liu, said his company's investment would help Martin Aircraft deliver "a dream". According to Liu, "Jetpack is the machine that can really allow people to fly freely and allow people to really use the machine to rescue, searching, and save people's lives, and it's very non-disruptive. It's not like helicopters, which is very bulky, so it's not like a car which cannot fly. So it's really something in between and I believe it's not only a product we are delivering, it's a dream."
Liu said he was looking forward to trying out the jetpack for himself. "For sure, I would fly it by myself and I will even buy one for myself. It's one of the finest machines I've ever seen in the world and people will love it," said Liu.
First deliveries of the jetpack are scheduled for the second-half of 2016.