World's First Rhino CT Scan Performed at Zoo
When Layla, a 7 ½-year-old Eastern Black Rhino, had a growth obstructing her nasal passageway, zoo veterinarians decided to give her a CT, or computerized tomography, scan.
But at 2,300 pounds, Layla was too heavy to move into the animal hospital at Brookfield Zoo outside Chicago. However, the vets at the Chicago Zoological Society had another idea: put Layla in a portable CT scanner that they could bring right to her enclosure.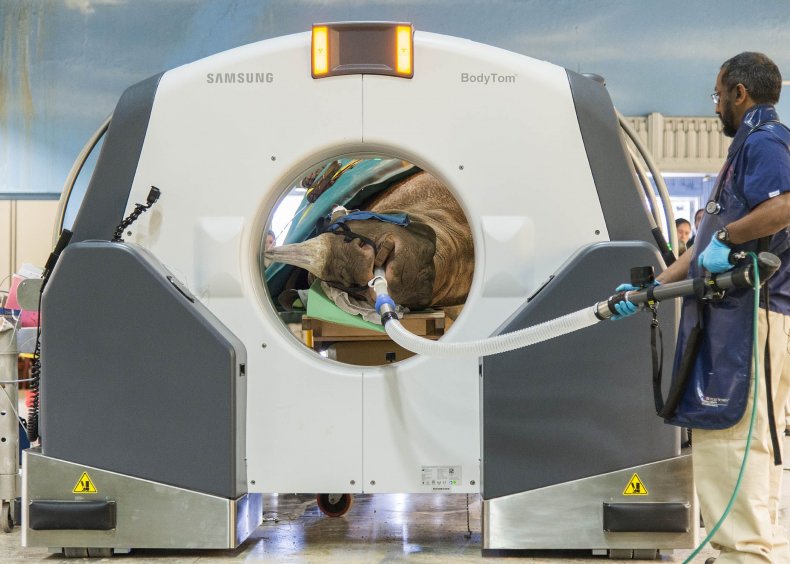 A company called NeuroLogica agreed to let the Chicago Zoological Society borrow their BodyTom, a battery-powered portable 32-slice CT scanner, according to a press release. The staff then launched a project to solve the unique problem of CT-scanning a rhino, which had likely never been done before.
In December 2017, vets diagnosed Layla with a growth in her nose that made it hard for her to breathe. The growth was treated with medicine and surgery, and she is continually undergoing treatment to keep the growth manageable. However, veterinarians wanted to use a CT scanner to find the source and extent of the infection so they could remove all of it.
Veterinarians and technicians practiced getting such a heavy load onto the scanner with 2,300 pounds of concrete. Scanning the real Layla required carpenters to custom-make a platform, 40 zoo staff to take care of her during the scan, as well as technicians from NeuroLogica.
After Layla was scanned, she rested in a private area. Veterinarians examined the images and finally found the source of the infection: abnormal tissue by the root of one of her upper molars. Vets plan to remove all the abnormal tissue so that Layla doesn't have to deal with the obstruction again.