World's Heaviest Man, Weighing Nearly 1,300 Pounds, Recovering After 'Successful' Weight Loss Surgery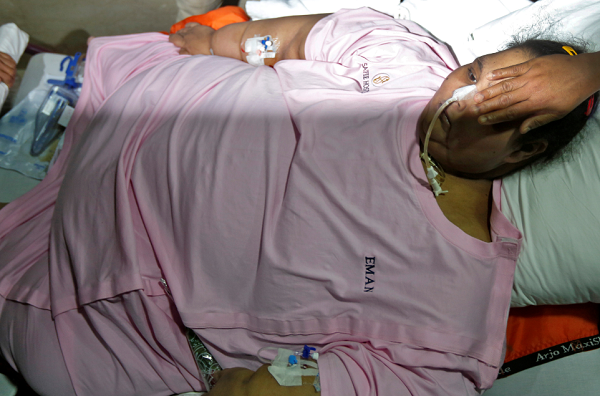 Juan Pedro Franco, once considered the world's heaviest man, weighed nearly 1,300 pounds before undergoing gastric bypass surgery Tuesday. Franco, who was bedridden in Mexico for nearly seven years due of his weight, had been on a strict three month diet before having the surgery and was able to drop about 385 pounds before going under the knife.
Franco's surgeon, Dr. Jose Castaneda told Agence France-Presse if all goes well, the procedure should help Franco drop his weight by half. Franco will have to undergo a second surgery to reduce the size of his stomach and modify his intestines, which Castanda said will most likely take place in November following recovering from his latest procedure.
"The surgery was quite successful. But now we have to wait and see how he responds to the [systemic] change. Let's hope everything goes well," Castanda said.
Castanda said Franco was "quite delicate" following the surgery, but he was confident Franco's weight reduction would prove to be successful overall as long as Franco continued to stay on top of his nutrition after receiving gastric bypass.
Franco, who has reportedly been overweight his entire life, became the heaviest man in the world following the death of Manuel Uribe, also from Mexico, who died last year. Uribe weighed nearly 1,320 pounds and had held the record of heaviest man in the world since 2007.
Obesity in Mexico has skyrocketed in recent years. More than 70 percent of Mexican adults are overweight, according to a 2014 report by the Organization for Economic Co-operation and Development.
The world's heaviest woman, Eman Ade El Aty, weighed about 1,102 pounds before undergoing surgery in India. El Aty, who is from Egypt, was placed on a special liquid diet upon arriving in India in February and lost close to 550 pounds before having her first bariatric surgery on May 4. However, following her procedure, doctors said she was suffering from a "cardiac issue" and was infected with bed sores.
"She is currently facing several health conditions, including a cardiac issue, which is still under intensive investigation; severe urosepsis [a bacterial infection complicating a urinary tract infection]; and third-degree infected bed sores," doctors from Abu Dhabi's Burjeel Hospital told BBC in a statement, adding that a team of 20 doctors were, "currently focused on improving her health condition and ensuring that as part of the hospital's short-term goal, Eman is able to sit with minimal to no assistance."