World's Largest Mickey Mouse Puzzle Released to Celebrate Character's 90th Anniversary
Toy company Ravensburger has revealed the world's largest puzzle of the world's most famous rodent, Mickey Mouse. The puzzle, Mickey Through The Years, features images of Mickey Mouse over his 90-year career starring in Disney animated features and shorts, dating all the way back to 1928's Steamboat Willie.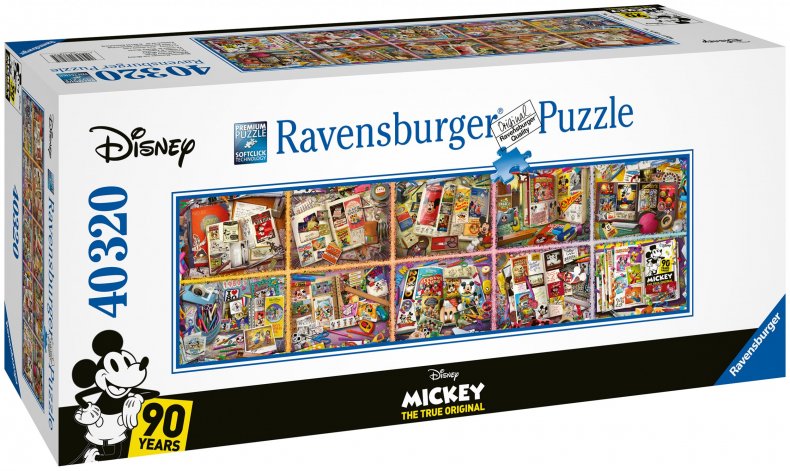 The puzzle is absolutely gigantic, measuring in at 22 feet long and six feet tall. The whole thing weighs a mind-boggling 50 pounds. A puzzle that large requires a massive number of pieces, and Mickey Through The Years has 40,320 of them. Don't lose one! It's estimated the puzzle requires around 600 hours to complete.
"Over 40,000 puzzle pieces celebrate Disney's most iconic character in Mickey Through the Years," Thomas Kaeppeler, President of Ravensburger North America, said in a press statement. "We worked with Disney's designers and artists to create a challenging puzzle and one that is equal parts art to keep the most persistent puzzlers going as they complete each image of cherished scrapbook memorabilia throughout Mickey's amazing 90-year history."

If you're feeling overwhelmed by that many pieces, you aren't alone. To make things simpler, Ravensburger has divided the puzzle into 10 frames, and each has its own box. This puzzle is basically a mash-up of the 10 smaller puzzles.
Other scenes from the Mickey Through The Years puzzle include the creation of the Mickey Mouse Club in the 1950s, the 1983 Mickey's Christmas Carol and more. The final scene is a new sketch of Mickey and the gang made for the puzzle.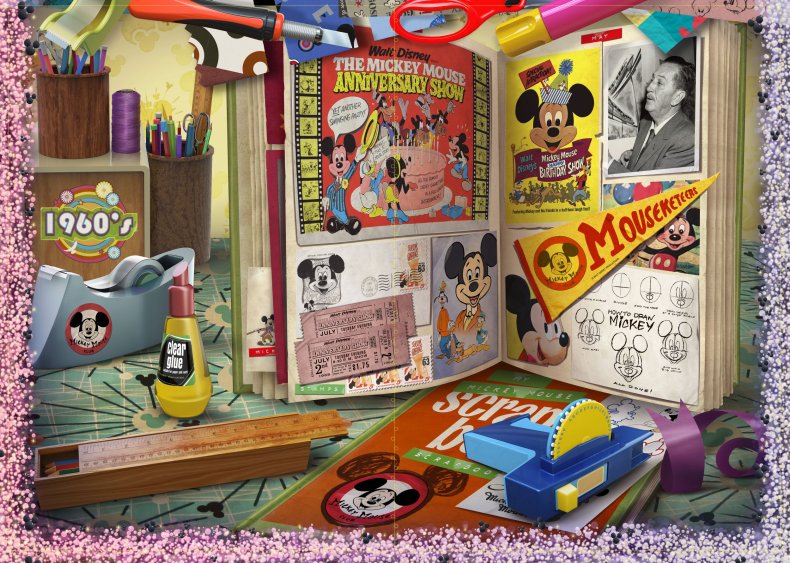 A puzzle with this many pieces isn't going to come cheap, and Mickey Through The Years is no exception, costing $599.99. It's available through the Disney and Ravensburger official sites, Amazon and other specialty stores.
So what do you think? Are you excited to celebrate Mickey Mouse's 90th anniversary with a humongous puzzle? What other characters or franchises would you like to see get the gigantic puzzle treatment? Let us know your thoughts in the comments section below.