Officials at Sequoia National Park in California have wrapped the base of the world's largest tree in a fire-resistant blanket to protect it from wildfires.
General Sherman joins other sequoias, the Giant Forest Museum and several nearby buildings in undergoing the emergency measures.
Newsweek understands the California Department of Forestry and Fire Protection (Cal Fire) is not "actively involved" in protecting the tree.
Instead, a Cal Fire spokesperson suggested it was the National Park itself, which Newsweek has contacted for clarification, that was responsible for the initiative.
The aluminum wrapping, which is capable of withstanding intensive heat for short amounts of time, has previously been effective in retarding fire from sensitive structures.
Fire blanket manufacturer Firezat claims materials such as theirs reflect up to 95 percent of radiant heat and prevents embers from sticking to protruding features.
Dan Hirning from the company believes this fire blanket technique has a chance of succeeding in protecting the tree in the short term.
He told Newsweek: "Aluminized structure wrap has been used for years by archeologists working in the U.S. Forest Service and National Parks to protect historical structures of all sorts, from rocks containing Indian glyphs, all kinds of building structures such as pony express waypoints, and even giant Sequoias.
"By clearing debris away from the base and wrapping it with structure wrap, they try to spare the tree's base from the fires.
"While the bark can be up to 12 inches thick and full of fire-resistant tannins, after decades of wildfires burning holes in the base of the tree they can become unstable and topple.
"Sequoias are normally most vulnerable to crown fires which ignite the trees at the top and burn down."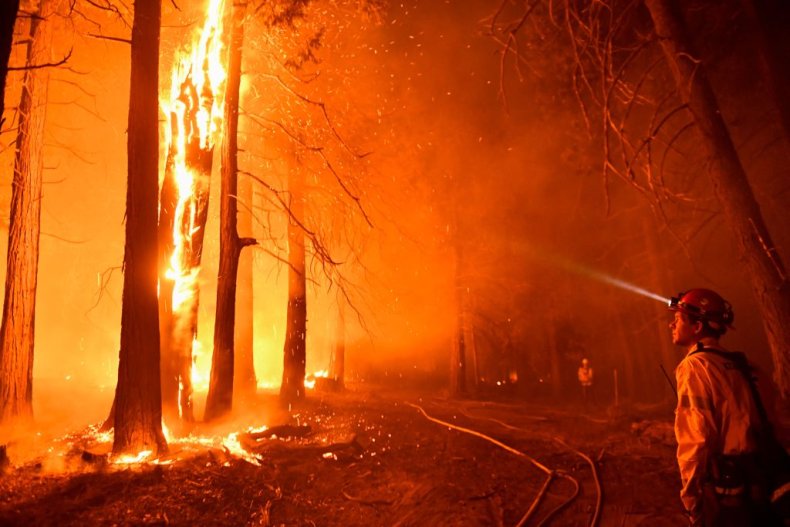 The Colony fire, one of two burning in Sequoia National Park, was forecast to arrive at the grove of 2,000 sequoias, on September 16.
A statement updated by the National Parks Service stated: "We are aggressively attacking these fires to suppress them."
It also confirmed Sequoia National Park has closed and employees evacuated.
A wildfire in the area last year burned down thousands of sequoias, some of which are believed to have lived for millennia.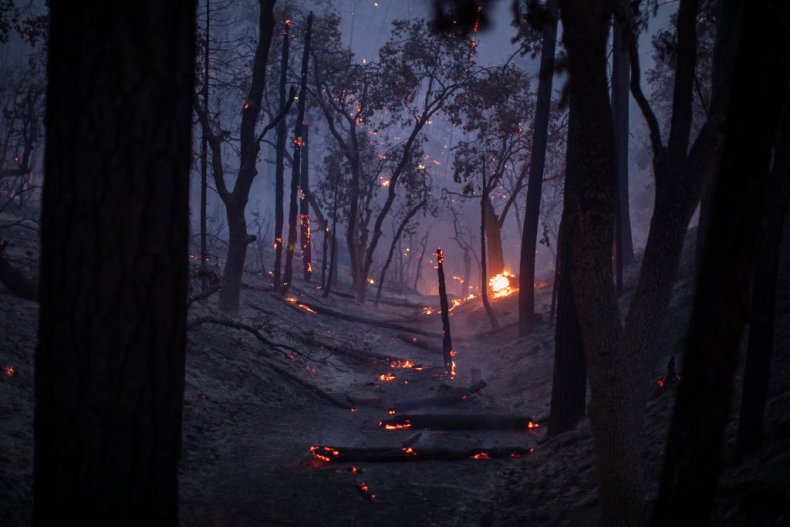 Standing 275 feet tall, the approximately 2,000-year-old tree is believed to be the world's biggest.
The tree's girth at ground height—the portion of the plant now protected by the fire blanket—stretches 102 feet.
Controlled burning, also known as prescribed burning, has been a tactic employed by the National Park for 50 years.
This process involves deliberately setting fire to tracts of wilderness to maintain the long-term health of a forest.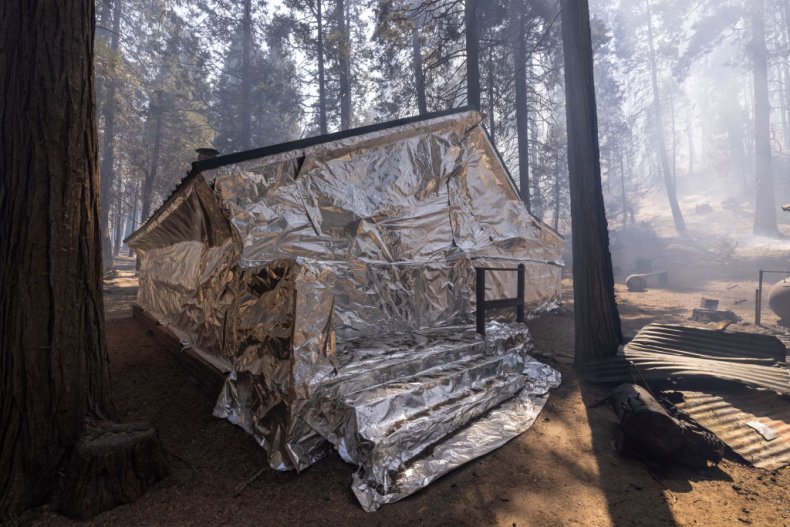 Sequoia National Park spokesperson Rebecca Paterson said such actions and this week's emergency measures may help the "Giant Forest emerge from this unscathed."
She added: "A robust fire history of prescribed fire in that area is reason for optimism."
Newsweek has previously reported how the fires were started by a lightning storm striking Sequoia National Park on September 9.
Droughts and heatwaves exacerbated by man-made climate change have been blamed for making wildfires harder to combat in the region.
Areas such as California have become warmer and drier in the past three decades, meaning extreme weather events may become both increasingly frequent and destructive.
California's state energy grid operator has this week urged voluntary conservation of electricity through the late afternoon to the evening, in a bid to prevent the risk of a power outage, following sustained demand for air conditioning.
An excessive heat warning was issued by the National Weather Service across the desert into Nevada, while a heat advisory extended from the Central Valley through to inland Southern California.