The World's Most Unusual Wine Regions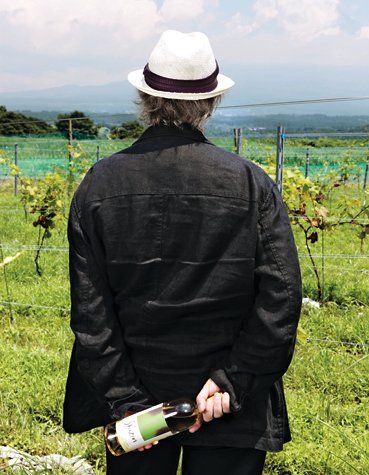 Years back, when Napa winemaker Michael Mondavi told me that he would love to make wine on the moon, I thought, Michael, you are one crazy dude.
Historically, there have been some basic prerequisites for a good wine region: water (yes, the moon has some, though it's frozen), enough sunlight (that would be a "no") and rich mineral soil, such as limestone, granite, slate, or schist. (Molten glass rock? Dubious.)
But the truth is, when it comes to planting, modern technology can now trump nature. With irrigation bringing precious water to deserts, grape clones resisting disease and extreme weather, earth-moving machines replacing poor soil, and reverse osmosis adjusting the intensity of wines, the drink can be squeezed from almost anywhere.
Thanks in part to these dubious advancements, wine can spring up in surprising places. Some are almost as exotic as outer space, including regions that have produced wine for hundreds of years, and are now flourishing anew. The Canary Islands have been in the wine business since the 15th century and are famous for ashy-tasting wines from the tintilla and listán negro grapes. Morocco has a thriving wine culture—surprising, perhaps, for a Muslim country. Its Val d'Argan winery uses grapes similar to those grown in the south of France. And the country of Georgia has been making wine for some 5,000 years. While its many indigenous grapes, including the gritty saperavi and honeyed mtsvane, are not exactly household names, they are worth seeking out.
Though these areas may sound new because of lack of exposure, they are old and possess classic Old World qualities. They have interesting soil, ample sunlight and water, and cold seasons—and vines really do need the winter to recoup before the hard work of birthing a new vintage.
Other, historically wine-poor areas are transforming themselves and producing distinctive wines. Thirty years ago, Long Island was a brand-new region; now, it's part of the U.S. wine establishment. Thanks to climate change, England is a newcomer to watch. Its sparkling wines, from producers such as Ridgeview Estate, are truly delicious: creamy, edgy champagne stand-ins, grown on a mix of limestone, clay and sand, and retailing for less than $30.
Belgium is another country creating new wine buzz. I had a chardonnay by the Clos d'Opleeuw winery a few years back in a blind tasting and was pleasantly surprised. Wine writer Jancis Robinson, also at the tasting, celebrated it on her eponymous website, saying, "I took it for a very sophisticated Puligny-Montrachet. I found it extremely difficult to believe that it was made so far off the beaten track."
The last frontier for winemaking is Asia. India's and China's climates and soils are so varied, they should be able to make good wines—but so far, they insist on planting French varietals, producing mostly forgettable wines. For truly interesting Asian wine-making, look to Japan, which is focusing on fruit far from the mainstream.
Among Japan's 200-some wineries, koshu is the grape of choice. It's a pink-skinned variety that has been grown in the country since the eighth century. The first koshu wine showed up in the 1870s. While most of the production since then has been plonk, its popularity is now blossoming, especially with a recent push by Robert M. Parker Jr., who gave the 2004 koshu from Chateau Lumière a decent score in the high 80s.
This past May, I had my first crack at a Japanese wine in London, poured by Dick Stevens of Holland-based Yoigokochi Sake Importers. The wine, from Hitomi Winery in the Shiga prefecture, was a bright yellow color—a San Soufre Rurale Dela Blanc, made from the (non-native) Delaware grape. The wine was peculiar but not unpleasant—a little edgy, a little sparkly. Frankly, I'd be eager to give it another shot. Stevens says that Japan has its share of climate challenges. The country's relatively wet climate and humidity invite insects and diseases. The heavy clay soil is also not ideal. And then there are the typhoons.
Thailand has to worry about typhoons, as well, alongside another problem: two vintages a year, which is typical for tropical wine climes. I recently tried a wine from the Siam winery, made with the local pok dum grape. I'm fond of seaweed, but it was a little shocking and unpleasant to find the flavor in a wine.
Tropical regions are a hard sell in the wine world. For years, says Wolfgang W. Schaefer of Germany's Tropical Viticulture Consultants, experts believed that grape vines could only be successfully cultivated at a latitude between 30° and 50° north (known as the Old Wine World) and south of the equator (the New Wine World of Chile, Argentina, South Africa, and Australia). Just fresh back from Ethiopia, Schaefer told me that he is trying to change this paradigm with regions he calls "New Latitude Wines" closer to the equator.
Whether tropical wines will ever truly compete with Old Latitude wines remains to be seen—but wherever grapes can grow and wine is made, consumers will seek out novel regions for the element of fascination. Do I think wine can be grown on the moon? Probably not. But would I be thrilled to taste it? Absolutely.
Alice Feiring is the author of Naked Wine: Letting Grapes Do What Comes Naturally.
The World's Most Unusual Wine Regions | Culture