World's Oldest Man Named as 112-year-old Masazo Nonaka from Japan
After an extensive search, Guinness World Records has awarded the title of oldest living man to Masazo Nonaka from Japan, who is an incredible 112 years and 259 days old.
A representative from the organization presented Nonaka with his certificate at his home in Hokkaido—the northernmost of the country's islands—on Tuesday.
The previous title holder was Francisco Nuñez Olivera, of Spain, who passed away in January this year at the age of 113.
Nonaka was born on July 25, 1905, just months before Albert Einstein published his famous special theory of relativity and more than a year before the Wright Brothers' first demonstration of powered flight.
"We are very pleased to announce that we have a new record holder for the oldest living man. Mr. Nonaka's achievement is remarkable—he can teach us all an important lesson about the value of life and how to stretch the limits of human longevity," Craig Glenday, Guinness World Records' editor in chief, said in a statement.
Nonaka puts his extraordinary longevity down to spending lots of time in hot springs and eating sweets, although his family said it can be explained by the fact that he lives his life in a way that doesn't cause stress. He married in 1931, going on to have five children. Nonaka now enjoys spending time with his family, watching TV—especially sumo wrestling—or reading newspapers.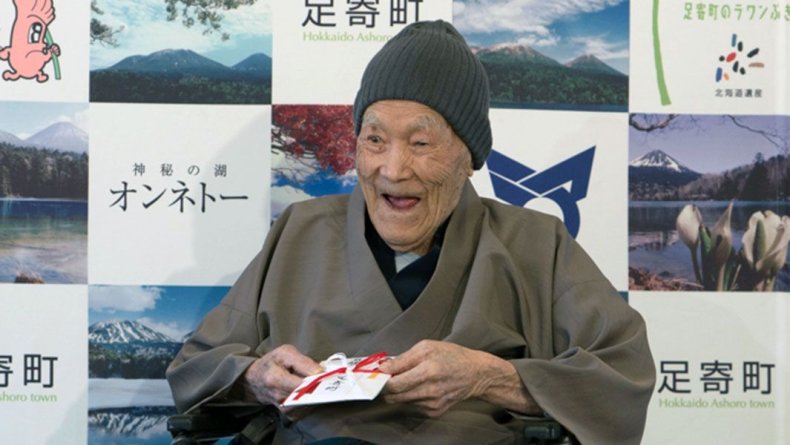 But Nonaka cannot claim the Guinness title for the oldest male ever just yet. That honor goes to Jiroemon Kimura, also from Japan, who was born on April 19, 1897, and died on June 12, 2013, at the age of 116 years and 54 days.
Guinness World Records is currently investigating who should be crowned oldest female. The last record-holder Violet Brown from Jamaica passed away in July 2017 at the age of 117.
The oldest person of all time was Jeanne Louise Calment from France, who lived to 122 years and 264 days between 1875 and 1997.