'World's Richest Lottery' Held at Christmastime Dishes Out $2.7 Billion in Prizes
Spain held its annual "El Gordo," or "Fat One," Christmas lottery Wednesday, awarding over 2.4 billion euros, or $2.7 billion, in prizes.
The Christmas lottery was ranked as the world's richest in terms of total prize money. The 2.4 billion euros in prizes made up 70 percent of ticket sales.
El País, a Spanish daily newspaper, reported that this year's winning number was 86148. The holder of that number won 4 million euros, or $4.5 million. Lesser prizes were still substantial, however, with the second prize winning 1.25 million euros and third winning 500,000 euros, or $1.4 million and $556 thousand respectively.
The lottery has been taking place every year on December 22 since 1812. According to El País, historians say the lottery was made to buy bullets and make cannons to defend the city of Cádiz against the Napoleonic invasion from France.
While the war still raged on, Spanish officials decided to maintain the lottery, moving its center of operations from Cádiz to Madrid.
By tradition, children at San Ildefonso school sing the lottery results every year in a ceremony that has mostly not changed since 1812.
In addition to the massive cash prizes, smaller prizes of anywhere from 200 euros to 1,000 euros were given to hundreds of people who had the same first or last few digits as the winning numbers.
All prizes greater than 2,500 euros were taxed at 20 percent.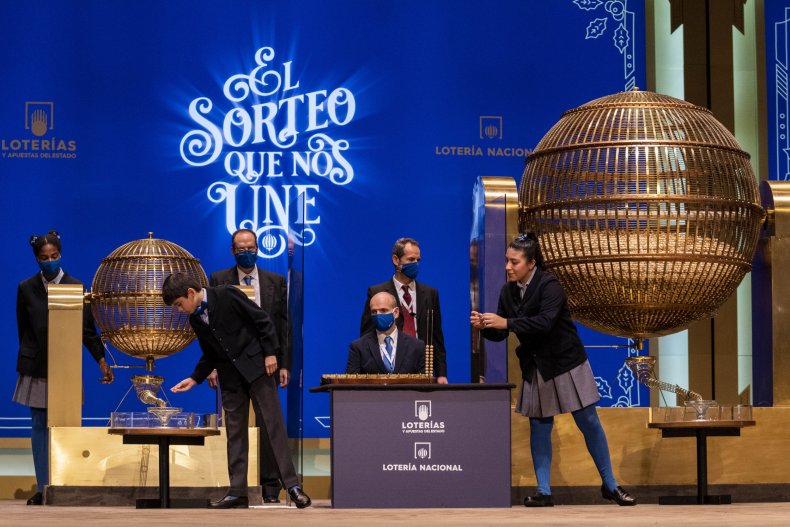 Javier Moñino Paniagua, a lottery ticket seller at a stall in Madrid's central Atocha train station, said his outlet sold tickets that won a total of 520 million euros ($588 million).
The prizewinners for those tickets are probably scattered all over the country because the stall is right by the platform from where high-speed trains depart to many corners of Spain, he said.
He said he bought some tickets himself but missed out on the top prize.
People line up for hours in the days running up to the lottery to snatch their 20-euro tickets from the most popular vendors.
Some buy them for themselves or as gifts for others. Work colleagues, relatives or friends also pool money to buy them, with their eyes set on sharing the prizes.
Despite a spiraling number of coronavirus cases—Spain on Tuesday scored its pandemic record of new infections, with nearly 50,000 reported in one day—spectators returned to Madrid's Teatro Real opera house for the draw after last year's hiatus.
The lottery is run by the state and supports several charities.
The Associated Press contributed to this report.