World's Street Art Finds Its Gallery With Google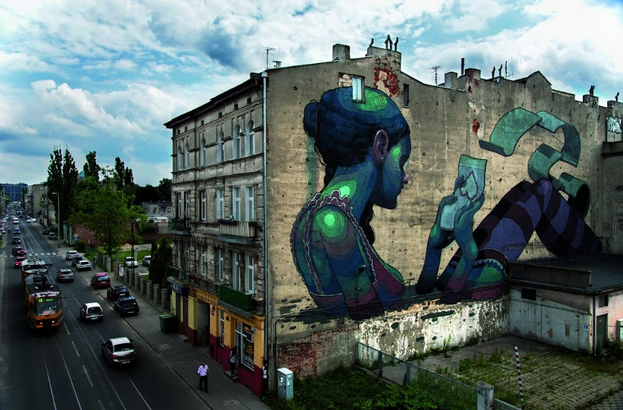 From breathtaking murals spanning entire buildings in Poland to gorgeous calligraffiti (a mix of graffiti and typography) in remote corners of Tunisia, Google Cultural Institute's new Street Art Project, which launched June 10, aims to capture art from the streets before it disappears forever.
The vast collection, which features over 5,000 works of art, is organized by artist, location, style and medium. The street art world map is entirely populated with images chosen by curators at 30 partnering cultural organizations in 15 different countries, including Palais de Tokyo, São Paulo Street Art and the Museum of the City of New York. In addition to mapping photos of current works, the Street Art Project provides documentation of work that is closed to the public or no longer exists. For instance, there is an entire collection devoted to the preservation of Long Island City graffiti mecca 5Pointz, which was whitewashed late last year by the building's owners.
"[The project] makes street art and graffiti accessible to many folks who might otherwise dismiss it—without knowing anything about it," says Lois Stavsky of Street Art NYC. She co-curated the 5Pointz gallery, an elaborate digital record of the beloved Institute of Higher Burnin', essentially a massive open air museum curated by graffiti artist Jonathan "Meres" Cohen.
Google Cultural Institute's aim is to provide greater access to transient works of art that could vanish overnight, and it harnesses Street View technology to empower street art experts like Stavsky to present the art they find most compelling to audiences online. "It's not about putting up a website and a little bit of content," explains Google Cultural Institute Director Amit Sood. "We're talking about really immersive experience with zooming technology on assets and objects that have never really been seen in that light online. We're talking about digital exhibitions created by curators for the very first time." There are 103 fully curated digital galleries, with more to come.
Google does not own the copyright to any of the photos; individual contributing institutions must provide their own original photography to be featured in the project. Should artists take issue with their work being logged in this fashion, they can write to Google, and the Cultural Institute will honor their request to remove the photos. "Most street artists I know are eager to see their work represented in a respectable venue and format," Stavsky says.
In addition to a curated map and exhibitions, the Street Art Project invites street art fans' participation. The website pulls photos uploaded to Google Art Project's massive Google+ community of 8.5 million followers around various street-art-related hashtags, including #StreetArtProject, #GraffitiArt and #ArteUrbano. Users also have the ability to create their own digital exhibitions via the website's "User Galleries" function, allowing viewers to select their favorite images and create a visual "playlist" that can be shared across social media. User-submitted images are already pouring in.
"I didn't actually realize how much street art resonates with people," says Sood. "I'm no street art expert. I've been getting educated [in the process of doing this project]. We just did it—we didn't really know what would come of it. This is just the start—we want to see how users interact."
Below, we share some of our favorite street art pieces from around the world.
ROA, Villa Crespo, Buenos Aires, Argentina. Credit: Buenos Aires Street Art.
Sainer, Avenue de la Porte d'Italie, Paris. Credit: Galerie Itinerrance.
El Seed, Kairouan, Tunisia. Credit: Galerie Itinerrance.
Stew, Place de Vénétie, Paris. Credit: Galerie Itinerrance.
Icy and Sot, Long Island City (5Pointz), New York. Credit: Street Art NYC.
Inti, Poland, Lodz, al. Wyszyńskiego, 80, blok 267. Credit: Urban Forms Gallery.
JR, 78, rue Amelot, Paris. Credit: MoSA.
Kobra, 500 West 25th St., New York. Credit: The Street Museum of Art.
Okuda and Remed, Southbank Center, London. Credit: NOBULO.
Os Gémeos and Blu, Av. Fontes Pereira de Melo, Lisboa, Portugal. Credit: Galeria de Arte Urbana.
TEC, P3DRO, CHU y DEFI, Humberto Primo 302-400, Buenos Aires, Argentina. Credit: Estilo Libre.
Zefix, Avenida 23 de Maio, São Paulo, SP, Brazil. Credit: São Paulo Street Art.