World's Tallest Man and World's Shortest Woman Meet in Egypt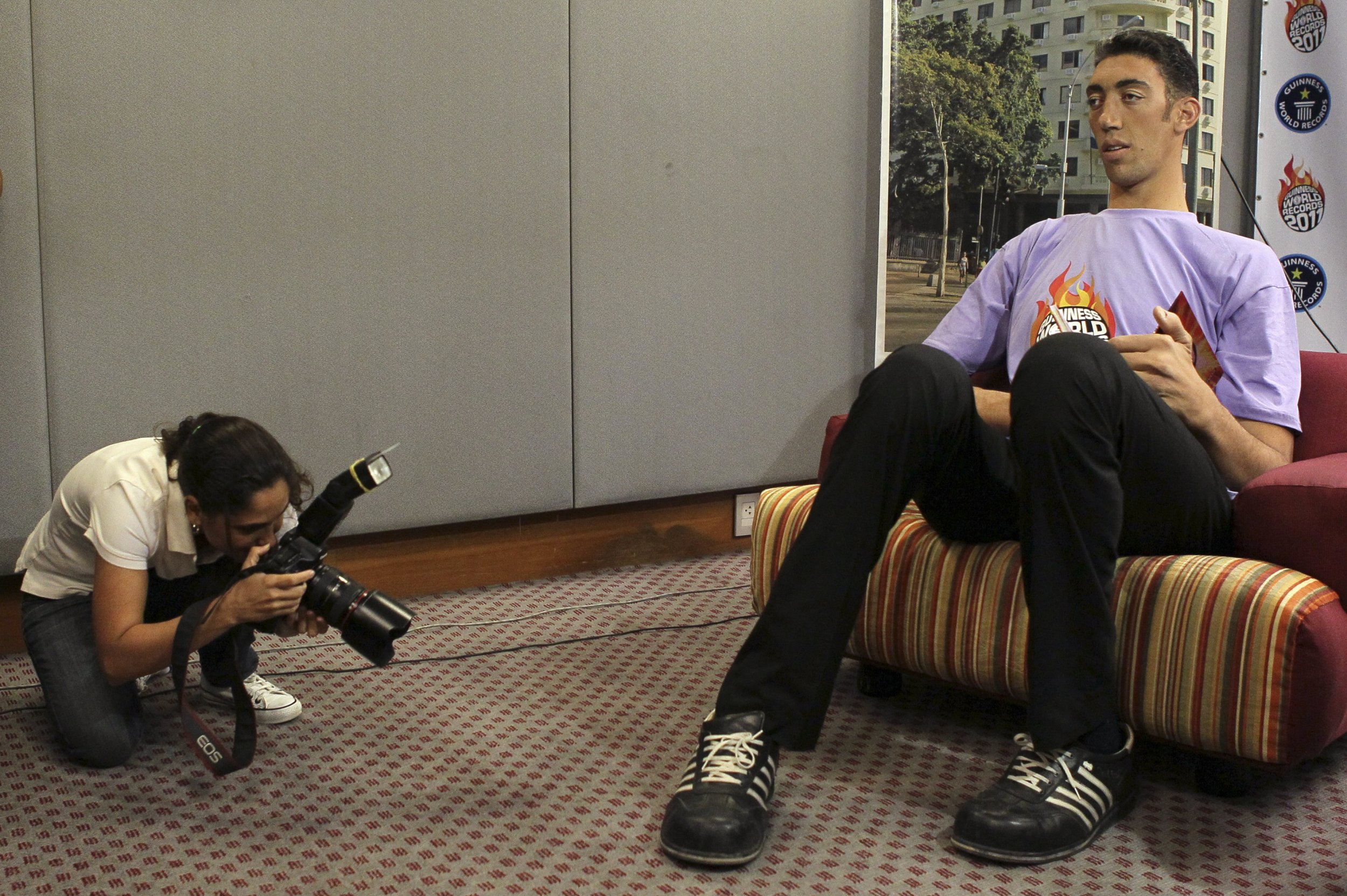 At a whopping 8 feet 3 inches, Sultan Kösen is considered the tallest man in the world. Last Friday, he met Jyoti Amge, the shortest woman in the world, at the Giza pyramids in Egypt, Reuters reported Sunday.
The Egyptian Tourism Promotion Board invited the record-breakers as part of an initiative to increase tourism in Egypt, where the once-lively industry is struggling, ITV News reported. Kösen is from Turkey, and Amge is from India. Neither had visited Egypt before.
Kösen, 35, is of Kurdish descent and is one of just 10 people reported to measure over 8 feet, the Guinness World Records site says. It has been more than a decade since another person has officially topped 8 feet.
Amge, 24, stands at only 24.7 inches tall and is an actress who has appeared on the hit TV show American Horror Story, Reuters said.
The tourism ministry says the two are expected to go to other well-known Egyptian sites during their visit, according to Reuters.
This event comes after a series of visits from celebrities, including reality show star Kourtney Kardashian, soccer player Lionel Messi and actor Will Smith. After a 2011 uprising took down Hosni Mubarak, the president who ruled Egypt for nearly three decades, tourism in Egypt began to decline. From 2010 to 2011, the number of tourists going to Egypt dropped from more than 14.7 million to 9.8 million, Reuters said.
Travel to Egypt decreased again after an October 2015 bomb attack that led to the crash of a Russian plane filled with 224 people who were leaving a Red Sea resort. In the first quarter of 2016, arrivals dropped from 2.2 million the previous year to 1.2 million, Reuters said.
This was not the first time the world's tallest man has met someone who has broken records for being small.
In November 2014, Kösen met Chandra Bahadur Dangi, a then-74-year-old Nepalese man who held the world's-smallest record, at 21.5 inches, CNN reported. Kösen and Dangi met in London for the 10th annual celebration of Guinness World Records Day. Dangi died in September 2015, according to the Guinness World Records site.