'Worlds of Ursula K. Le Guin' Documentary and Album Reissue Celebrate Sci-Fi Great
Science fiction Grand Master Ursula K. Le Guin, author of The Left Hand of Darkness and The Lathe of Heaven , died this year at age 88. Now two new releases promise to both deepen our understanding of one of the 20th century's most important writers and extend her legacy in unexpected new ways.
New documentary Worlds of Ursula K. Le Guin will premiere at the Sheffield Doc/Fest in the U.K. June 10. Director Arwen Curry's documentary compiles not only 10 years of filming with Le Guin, but interviews with other sci-fi and fantasy luminaries, including Margaret Atwood, David Mitchell, Samuel R. Delancy, Annalee Newitz and China Miéville.
Worlds of Ursula K. Le Guin has already attracted attention for its portrayal of Le Guin's struggle within the male-dominated sci-fi field, particularly while writing her A Wizard of Earthsea series, which she would go on to describe as "a total complete bust" as feminist literature, which she worked to rectify in 1972's The Farthest Shore.
"I had to rethink my entire approach to writing fiction … it was important to think about privilege and power and domination, in terms of gender, which was something science fiction and fantasy had not done," Le Guin says in the film.
With the documentary covering some of her most mainstream works and central importance to science fiction, another recent release demonstrates Le Guin's ongoing experimentation with the form. March saw the reissue of Music and Poetry of the Kesh, her musical collaboration with composer Todd Barton. The peculiar album came packaged with her novel, Always Coming Home, and recreated the the art of the Kesh, a fictional future society in Northern California, who live a pastoral, anarchistic lifestyle. More of an ethnography than a novel, full of maps, sketches and poetry, the accompanying album brings readers further into the full cultural experience of the Kesh.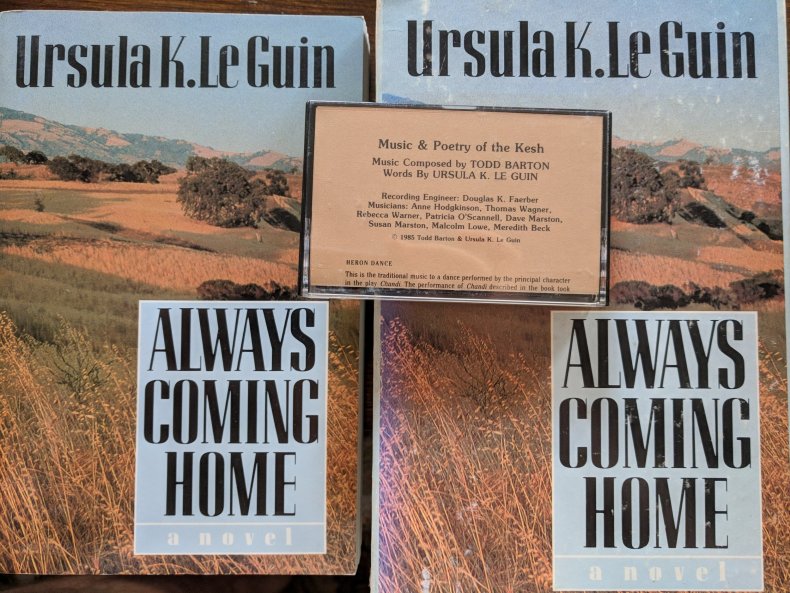 The album is a fascinating and easy-listening combination of handmade instruments, synthesizer sounds and field recordings, including crickets, creeks and coyotes. Originally packaged as a cassette tape, the reissue, including to streaming services, makes it possible to once again experience one of the most unique releases in sci-fi history without your parent's old hi-fi.
Both releases are powerful reminders of Le Guin's optimistic futurism, which counted on humanity overcoming the factionalism of modern economies and government. Unlike current trends in sci-fi, Le Guin depicted human as steering its own destiny, rather than subject to the supposed inevitabilities of technological progress.
"I think hard times are coming when we'll be wanting the voices of writers who can see alternatives to how we live now and can see through our fear-stricken society and its obsessive technologies to other ways of being and even imagine some real grounds for hope. We will need writers who can remember freedom," she said in her 2014 speech accepting the National Book Foundation's Medal for Distinguished Contribution to American Letters. "We live in capitalism, its power seems inescapable—but then, so did the divine right of kings. Any human power can be resisted and changed by human beings." Hers is a message we must not be allowed to forget.
Worlds of Ursula K. Le Guin doesn't yet have a wider release date, but you can stream Music and Poetry of the Kesh right now.