As World's Worst Humanitarian Crisis Rages, the 'Perfect Storm' is Blowing Up in Yemen
President Joe Biden's move to halt U.S. offensive support for the Saudi-led military campaign in Yemen has raised hopes for a tangible alleviation of the human suffering that has consumed the country on multiple fronts.
But another deadly threat is likely to lurk for some time—IEDs.
Improvised explosive devices are killing Yemenis at alarming rates, with little international attention.
Across the war-torn country militias, militant groups, criminals and mercenaries are exploiting the shortcomings of global disarmament and peacekeeping efforts to wage a war within a war, targeting civilians and fighters alike with a weapon that has come to symbolize today's asymmetrical warfare.
"I'd say that IEDs are still a blind spot of the international community despite the IED having been the defining weapon for over 20 years since the 9/11 attacks," Iain Overton, executive director of United Kingdom-based nonprofit Action on Armed Violence, told Newsweek.
Overton is an investigative journalist who has authored books focusing on small arms and suicide bombers. Today, he's sounding the alarm specifically on IED use and how it's added to Yemen's mounting miseries.
"The failure of the international community to really come together, as they have done with things like landmines and cluster munitions," Overton said, "has only meant that this weapon is deadlier now than it was."
And the trajectory is downwards, he said.
"It's not getting better," Overton said, "it's getting worse."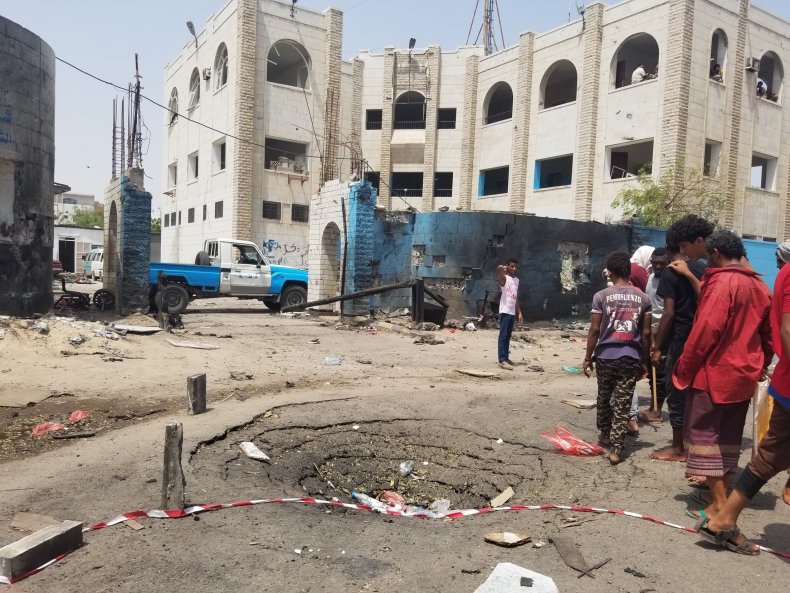 Some activate IEDs remotely from afar, others strap them to their bodies for suicide missions, but the end goal is the same—to inflict more harm in a country already pushed past the brink.
Overton described the IED as this century's "so-called weapon of the oppressed," as it has served as a manifestation of "impotent rage" among various factions—rebels, insurgents and jihadis alike— with no formal air force to defend themselves from attacks from above.
"They're being attacked by these airstrikes, and they don't know what to do with this, because they can't take down the plane," Overton said. "So what they end up doing is attacking anyone who might represent what they see as antithetical to their own moral framing."
Globally, Action on Armed Violence recorded at least 4,788 civilian casualties from IEDs last year, accounting for 43% of civilian casualties from all types of explosive weapons—manufactured and improvised.
In Yemen specifically, international data is notoriously difficult to ascertain due to the dynamics of the ongoing conflict, and therefore does not reflect the true scope of the problem.
This shortcoming was also acknowledged in the latest report published in October by the United Nations Development Program (UNDP), which found IEDs to be "a significant problem for Yemen." This is particularly true for innocents as they "contribute directly to civilian casualties and their lethality (per event) is twice that of conventional mines and three times that of air strikes."
Between 2018 and 2020, UNDP recorded some 2,366 IED events, with an average of 75 IED events per month, with the caveat that such figures largely applied only to the southern parts of the country under control of the internationally recognized government of President Abd-Rabbu Mansour Hadi.
But over 70% of the country's population lives in northern territories ruled by the Supreme Political Council, a de facto government comprised largely of Ansar Allah, a Zaidi Shiite Muslim movement also known as the Houthis. The U.S. and regional partners such as Saudi Arabia accuse Ansar Allah of receiving direct support from Iran, though both parties deny this connection.
The war in Yemen has its roots in the Arab Spring movement that rocked the region a decade ago, destabilizing a number of governments, including the protracted rule of then-Yemeni President Ali Abdullah Saleh. A year of demonstrations led to his ouster in 2012, and the election of his deputy, Hadi.
Hadi's tenure was quickly beset by social, economic and security ills. These challenges helped fuel the rise of Ansar Allah, along with rival Sunni Islamist forces like Al-Qaeda and the Islamic State militant group (ISIS). Hadi was forced to flee Sanaa as Ansar Allah took the capital in early 2015, a move that then sparked a Saudi-led air campaign against the rebels.
While the lines of battle have grown increasingly complex since, the war rages on to this day. And though the airstrikes conducted by Saudi Arabia and its allies embody the clearest and most present danger to most Yemenis, the hidden threat of IEDs, utilized not only by non-state actors and jihadis but also criminal organizations, are taking lives on both land and sea.
Beyond the efforts of UNDP, few are lending a hand, according to Gareth Collett, the agency's chief technical advisor for counter-IED efforts in Yemen.
"IEDs are being used in Yemen for political, ideological and financial benefit. It is one of very few countries where the IED threat is seen on land and at sea, with dire consequence to life and livelihood," Collett told Newsweek. "It is the perfect storm with very little international support being provided to get on top of the problem."
Some IEDs here recall experiences of Lebanon and Iraq in past years, disguised as otherwise innocuous objects, he said. Underneath lies technological advances of past years, remote control-activated, initiated by passive infra-red switches.
Earlier this month, a bomb-laden boat reportedly collided with a vessel, killing a fisherman near an island approximately 40 nautical miles off the coast of the Midi district in Yemen's Hajjah province. It was the first such instance of a water-borne IED injuring a civilian since the Civilian Impact Monitoring Project began reporting at the start of 2018.
Fishermen are more commonly impacted by improvised sea mines, naval shelling or airstrikes, all symptoms of an ailing nation ill-equipped to handle such hardships.
Yemen is rapidly approaching failed-state status, with suffering imposed by a conflict compounded by rampant famine, disease and malnutrition. The U.N. calls Yemen the world's worst humanitarian crisis.
Local authorities simply don't have the capacity to conduct the kind of forensics needed to truly pinpoint the origin and ultimately stop the flow of IEDs, much of which come through what Collett calls "seemingly neutral shipping."
He offers an example of potassium chlorate and ammonium nitrate, readily available chemicals that, when mixed with a fuel, can create explosives. "Most people know that," Collett says.
But urea can be treated with nitric acid to form urea nitrate for harmful effect as well. "If you see a large shipment of urea and nitric acid, is there a genuine reason why those two chemicals are together? Who is the recipient of that chemical?" he asks.
"The circumstances may be completely innocent, or might be nefarious, but we don't have the capability at the moment other than the Coast Guard to be able to consider effective maritime interventions," he said. "So there are lots of things we're trying to do. Funding is the answer for most in a climate significantly affected by COVID-19 but we are doing what we can to try and improve the situation."
UNDP is taking active measures in conjunction with relevant Yemeni authorities, taking a dual approach addressing both preventative vs detective measures.
"Our approach to countering IEDs in Yemen is through upstream and downstream capacity development following community consultations," Collett said. "The upstream capacity development attempts to assist the government in measures that prevent IEDs being there in the first place, whilst downstream capacity development provides humanitarian and civil defense organizations the training necessary to deal with them once they have been placed."
He said there have been some tangible results that have improved the country's capacity to safeguard personnel and civilians alike from the IED threat.
Upstream and downstream techniques are specified by the U.N. Institute for Disarmament Research (UNIDIR)'s counter-IED report authored last July by researchers Bob Seddon and Alfredo Malaret Baldo.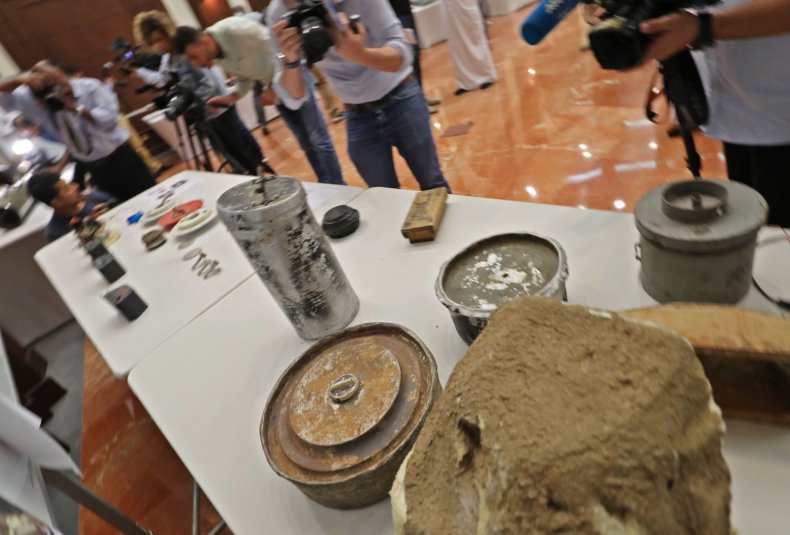 But as Yemen's war drags on, the sad truth is that even if the war were to end tomorrow, the lasting effects of IED use would likely persist for years to come.
"Unfortunately, this factor won't go away when/if the war stops," Alkhatab al-Rawhani, a Yemeni journalist and former editor-in-chief of the local independent news organization Almasdar Online English, told Newsweek. "Yemen has a painful history of dealing with IEDs and mines after wars. Civilians have paid a heavy price in the past and in some regions, almost every home has a victim."
He said that even though the use of IEDs in previous civil wars that tore the country apart in 1980 and 1994 were "limited and semi-organized," these weapons "continued to claim Yemeni lives more than 15 years later." The problem in this war, he said, "is even bigger" with new, deadlier ideas.
In Yemen, almost anything could be a bomb.
"I have seen how even water bottles or rocks have been turned into explosive devices," Rawhani said. "Even the Red Sea west coast now is being planted with mines and IEDs. Every day we hear a story about a victim here and there, most of them are civilians. It is really a shameful and irresponsible act that should be considered a war crime."
Yemen's current conflict is set to see its sixth anniversary next month, a macabre milestone in a conflict in which both sides publicly call for peace, which, even if reached, would leave a broken country with years left of healing and a still-uncertain future.
"My worry is that even if a peace deal was reached," Rawhani said, "I don't know how much time and effort would be required to clear mines and IEDs to open roads for civilians, and eventually normalize life in the very scattered front lines."