A Worldwide Protest Condemns Egypt's Arrest of Al Jazeera Journalists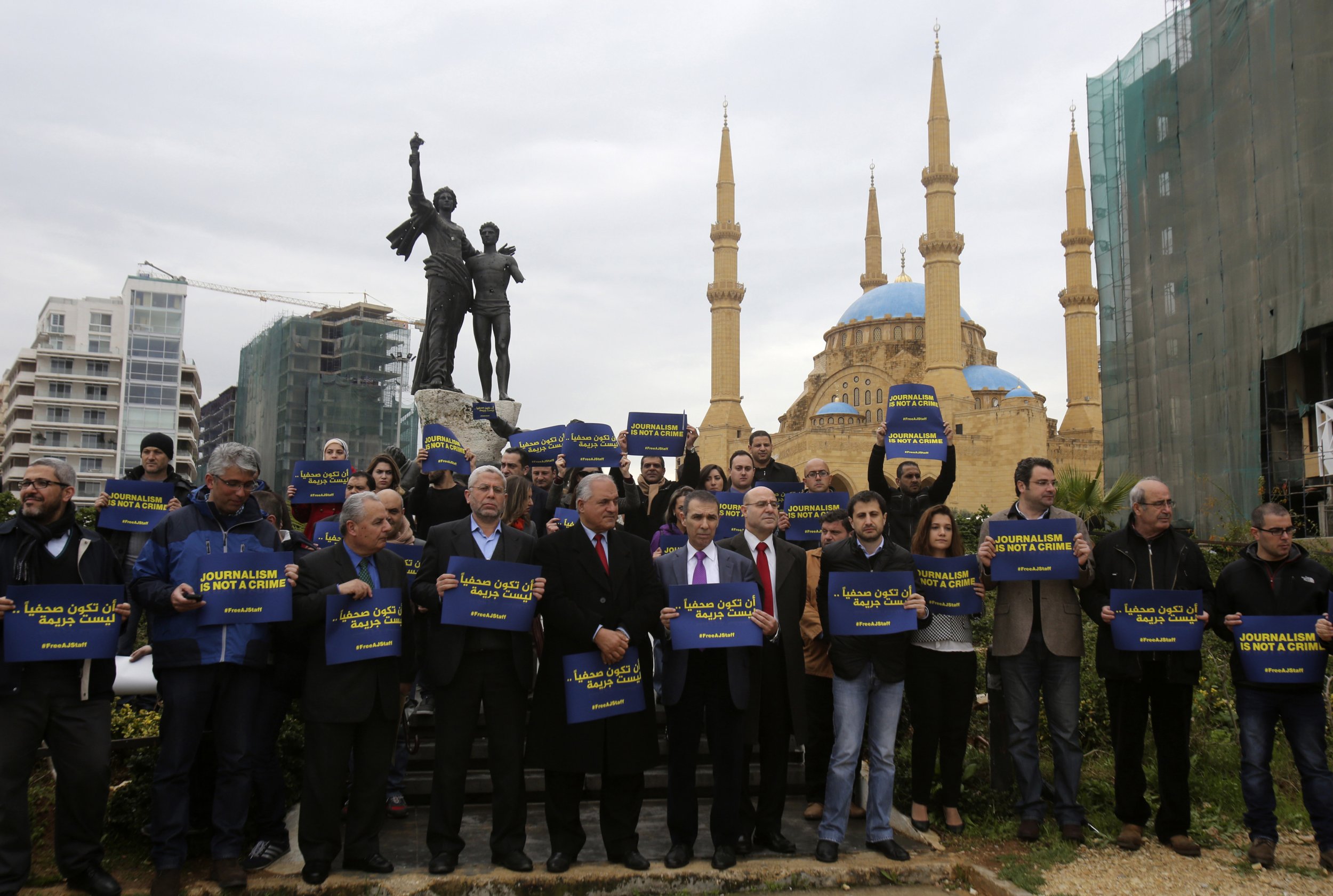 Prominent journalists, politicians and free speech advocates around the world are appealing for the immediate release of three British Al Jazeera journalists imprisoned in Egypt since December on terrorism charges.
Simultaneous protests were held from Beirut to Berlin in a global day of action called for by Al Jazeera, a Qatar-based news organization.
Their Cairo bureau chief, Mohamed Fadel Fahmy, foreign correspondent Peter Greste and producer Baher Mohamed were arrested last December on terrorism charges. They joined Abdullah al-Shami, a correspondent for the network's Arabic channel, who has been imprisoned since August and has been on a hunger strike for over a month.
Social media users united their online protest under the hashtag #FreeAJStaff and wrote messages of support. More than 3 million people worldwide read posts on the subject, according to Al Jazeera.
Journalists from the CBS network to Sky News in London were united in the online protest. More than 30 members of the faculty of Columbia Journalism School sent a letter to Egypt's interim President Adly Mansour demanding the journalists' release. A vigil was held at the Newseum, a Washington DC museum devoted to the history of journalism.
The charges come as part of a wider crackdown on the press in Egypt, where repression has grown since last summer's military coup. Thousands of Eygptians, mostly from the Muslim Brotherhood, have been rounded up and jailed as they have attended protests declared illegal by the interim government that is viewed as a front for military rule.
Over 60 journalists have been detained since the coup and five have been killed, according to the Committee to Protect Journalists (CPJ). Nine journalists are currently in jail.
Critics view the clampdown on free speech as part of an attempt to stamp out dissent as the military-backed government consolidates power.
"For every journalist imprisoned there are dozens silenced," says Sherif Mansour, the Middle East director of CPJ.
Al Jazeera is often misrepresented in the United States as a news organization sympathetic to Islamism and in Egypt it is often considered as a mouthpiece for the Muslim Brotherhood, the Islamist group that won elections in 2012 only to see its gains dramatically reversed after massive popular protests and a military coup last July. The Brotherhood has since been designated a terrorist organization and even interviewing its members can now land journalists in jail.
While many agree the Arabic network is sympathetic to the Brotherhood's cause, the sister channel AJE is viewed as more editorially independent.
The case of the Al Jazeera Four has elicited widespread condemnation from free speech groups and political leaders around the world. Greste is an Australian national and Fahmy holds both Canadian and Egyptian citizenship, leading the Australian and Canadian governments to express to the Egyptian authorities profound concern about the detentions.
"We have strongly urged the government to drop these charges and release those journalists and academics who have been detained," White House spokesperson Jay Carney said earlier this month.
Keith Ellison, a Democratic congressman from Minnesota, also participated, tweeting a call for their release.
The Egyptian government has shown little sign of relenting in the case, despite the pressure. Fahmy, Greste and producer Mohamed appeared in a criminal court last week, where prosecutors reiterated claims that they have ties to terrorist groups. The journalists said in court that while in detention they have been beaten.
Their supporters hope the day of action will help bring attention to the journalists' plight and will eventually lead to the charges being dropped.
"I am optimistic that the continuous and escalated pressure will lead to a quicker trial, at some point releasing the journalists pending trial, and eventually to releasing the journalists for good, if not acquittal of all charges," said Mansour.