Worried About THC-Laced Halloween Candy? Myth Debunker Says Concerns Are Unfounded
Attorneys general from several states have issued warnings to parents ahead of Halloween about the possibility that their kids could be given marijuana edibles that are packaged to resemble popular candy.
The only problem is that these warnings are not based on any actual findings or documented cases, according to Joel Best, an expert who has spent decades researching the topic of trick-or-treaters supposedly being targeted by cruel adults.
On Tuesday, attorneys general in Arkansas, Connecticut, New York and Ohio released statements as part of a joint effort to inform parents about the supposed threat of edibles containing THC being handed out to children. (Note: It's a misnomer when such edibles are referred to as "laced," as they are made with THC inside.) The warnings noted the high concentration of THC in the products, saying children could accidentally overdose from eating large amounts of the compound.
"Accidental cannabis overdoses by children are increasing nationwide, and these products will only make this worse," said Connecticut Attorney General William Tong in a press release.
Tong said the public should especially be aware of edibles that are packaged to resemble popular snack foods and candy. Unlike certified recreational or medicinal cannabis edibles, such products are unregulated and illegal.
"If you see these look-alike products for sale, please report them to my office and take every measure to keep these away from kids," Tong said. New York Attorney General Letitia James posted a similar message on Twitter, sharing photos of supposed THC treats.
However, such products may not be a true danger to kids on Halloween. For one thing, there is the cost. THC edibles often cost $25 or more for a bag that would cost around $1 if it were normal candy. In other words, dosing kids with marijuana candy would be a fairly expensive endeavor for any would-be criminals.
Then there's the simple fact that there are no documented cases of people actually trying to give these edibles to trick-or-treaters, Best told Newsweek.
Best is a sociology professor at the University of Delaware. He's also studied the topic of "Halloween Sadism" since 1983, and he's culled research going back to 1958 that he updates yearly. The term "Halloween Sadism" dates back to 1974 when Richard Trubo wrote in PTA Magazine about the alleged threat of people putting needles in candy bars and razor blades in apples.
Like the razor blades and needles, Best said he's found virtually no evidence of children being given drugged candy.
"I can't find any evidence that any child's been killed or seriously hurt by a contaminated treat picked up in the course of trick or treating," Best said of his more than 60 years of data, some of which was cited in his 1990 book Threatened Children.
"Every every couple or three years there are these reports that say, 'Oh, THC in the candy! Watch out, watch out!' And I've never seen a report after-the-fact that some kid wound up in the emergency room," he added.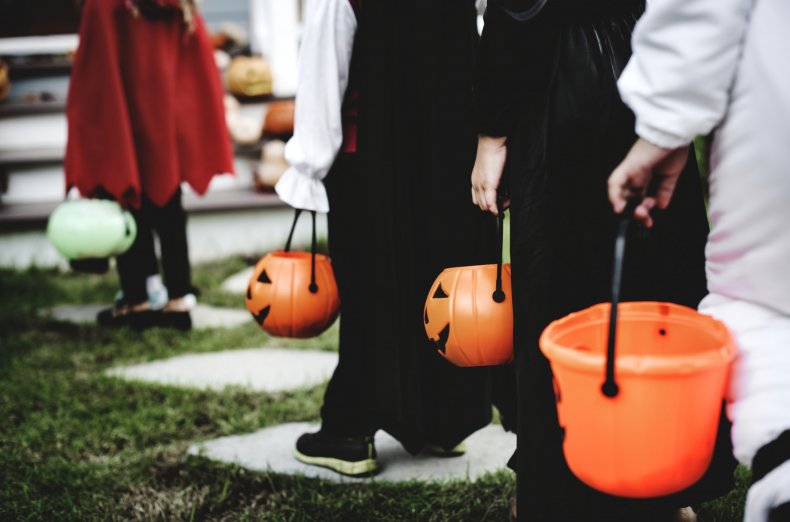 As for why these urban legends get spread around to the point of public officials are sending out warnings, Best said it's the same as the razor blade myth or the baseless 1980s-era hysteria about Satanism rapidly spreading throughout the country.
"This story gets refreshed all the time," Best explained. "After 9/11, there were stories about people getting terrorist messages in cupcakes. We sort of update this to fit our current anxieties."
"We live in a world where we are surrounded by apocalyptic scenarios," Best continued. "You know, nuclear war, nuclear winter, climate change, global pandemic, financial collapse, asteroid strikes—there are always these ways that the world can end, and so we have this sense that the future is uncertain and also completely beyond our control."
He went on to theorize that contaminated candy is a "manageable fear" since Halloween is only one night of the year for parents to experience this anxiety, then they "don't have to worry about that for another 364 days."
"But as far as something to worry about, I don't think it's something to worry about," Best said. "If it makes you feel better to check your kids' treats, why go at it, but I didn't check my kids' treats."