Worshipping at Bono's Altar Ego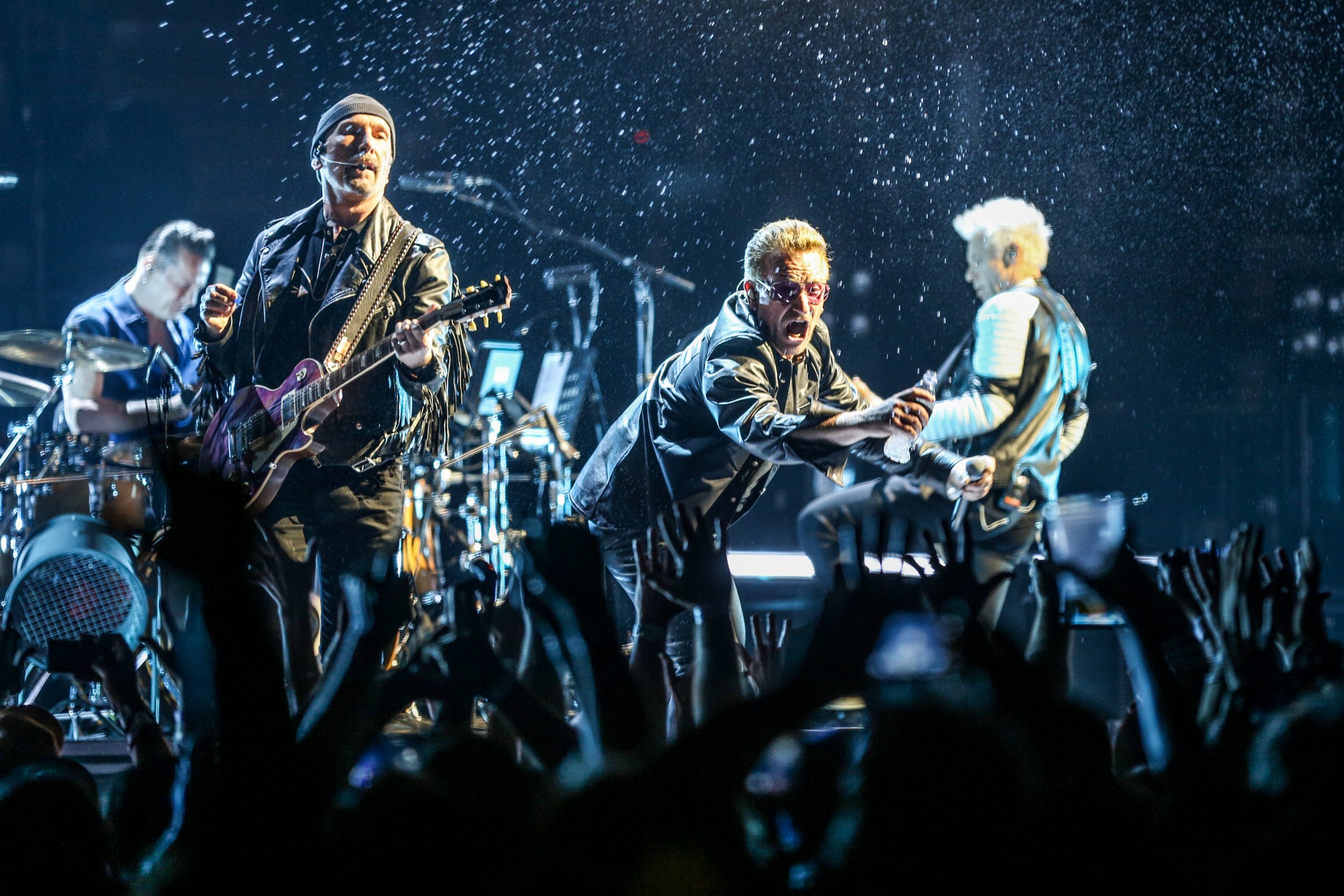 If you have ever attended a Catholic Mass, then you have attended a U2 concert. And vice versa.
The celebrant is Paul Hewson, aka Bono, the monsignor of Irish rock and roll, in vestments of black, who occasionally douses the congregation with water, like a baptism. There are prayers to the faithful (e.g., "Stuck in a Moment" and "Pride"), the words to which every true believer knows by heart and repeats aloud. And, of course, there is a sermon—on this Sunday, steamy Sunday at Manhattan's Madison Square Garden, "Bullet the Blue Sky" afforded Father Paul an opportunity to make proclamations about the past year's racial unrest to a congregation that was whiter than the Ferguson Police Department.
"Don't shoot! I'm an American," cried Bono as he sprinted down a runway that ran the length of the Garden floor, "I can't breathe, I'm an American."
Knicks fans, take note: It was refreshing to see someone run the length of that floor with a sense of purpose.
This acolyte has attended U2 services across four decades and three time zones. Sunday night's communion of souls was as passionate and spectacular as any I have witnessed. The foursome—Bono on lead vocals, David Evans (aka The Edge) on guitar, Adam Clayton on bass and Larry Mullen Jr. on drums—played with the fervor of a tent revival.
"We're a band from the Northside of Dublin," Bono informed the audience, as if they were about to partake in a battle of the bands. And yet that is exactly what a U2 show feels like. Still. After nearly four decades and thousands of live performances, the band plays as if it is still proselytizing for converts.
The stage design for the "Innocence and Experience" tour features a traditional stage at one end and a small, circular stage at the other. A runway connects the two, but it is really more of a tightrope, as U2 walks a fine line between polished professionalism and complacency. That is the magic and wonder of a show put on by a foursome of mega-millionaires in their mid-50s (not unlike more than a few of the MSG faithful)—that it still possesses, pardon me, the unforgettable fire of a pack of adolescents.
The lineup is the same one that first met at drummer Mullen's home on September 25, 1976. There have been no defections or excommunications in nearly 39 years, and it shows: U2 isn't just getting older; the four men from north Dublin are getting better.
As the house lights lowered, Patti Smith's "People Have the Power" (your entrance antiphon) blared over the sound system. Bono entered the arena from the far end of the runway, voicing the refrain. The rest of the band took the main stage as Mullen's drums kicked in for the opening number, the rousing arena anthem "The Miracle (of Joey Ramone)."
That song infiltrated your iTunes catalog last September—you may not have been pleased about that—but two of the next three selections predated the CD player. "This is a song we don't play enough," Bono announced as the band launched into 1981's "Gloria," with all the fervor of a band playing its first club gig. Two songs later came "I Will Follow," which was the group's first hit single, in 1980.
"We started our life as a band as friends, and we are still friends," Bono told the audience as a lead-in to "Stuck in a Moment," a song inspired by the suicide of INXS lead singer Michael Hutchence. "This is not as easy as it looks. Most of that stems from the other three having problems with me."
Bono's self-deprecation is an ideal counterweight to his global ambitions, and it is that balance that allows this band to thrive across a span of decades. "Larry Mullen gave us our first job," Bono told the faithful at one point in the show, "and he never lets us forget it."
And while that line is older than vinyl, Bono's public declaration of it is akin to the Apostles' Creed: It is the band's reminder to its fans, and to itself, that they remember from whence they came and that their true religion—rock and roll—is bigger than their individual selves.
U2 left behind the seven-year itch stage of their relationship, an era that was addressed by the song "One," nearly a quarter-century ago. More than being content with one another, they are grateful for one another. That inner peace resonates in their performance. Theirs is the longest and most successful high-profile marriage in the history of rock and roll—no side projects, no vanity solo albums—and to quote a song of theirs, "It's alright, it's alright, it's alright."
Thirty years ago last week, U2 played Live Aid, the transcontinental mega-concert that featured such legendary acts as the Rolling Stones, the Who, Bob Dylan and Paul McCartney. A plethora of bigger names were on the bill at Wembley Stadium in London and JFK Stadium in Philadelphia, but it was U2's set, highlighted by "Bad," that inspired the most awe. It was the moment in which they took their vows.
In the three decades since that afternoon, some bands have shown flashes of genius (Guns N' Roses, Radiohead), while others have proved to be equally important (Nirvana and Pearl Jam) to the legacy of rock and roll. But their flames either burned out too quickly or their lineups changed—Pearl Jam has employed more drummers than Spinal Tap—due to the turmoil that dogs most bands.
U2's resilience and purity as a band will burnish its legacy as much as The Edge's unique guitar riffs or Bono's messianic lyrics. It is who they are.
The band has long experimented with bombastic set design—remember that giant lemon prop?—but on this tour they have finally found the ideal complement to their ambitions. A 96-by-23-foot "video cage" is suspended above the runway that connects the two stages. The cage's mesh became a screen that provided searing images while also allowing the band to walk inside it so that their living figures could interact with animation. For lack of a better example, imagine Blue's Clues with guitar.
The result? During the song "Cedarwood Road," an homage to the street he was raised on, Bono figuratively takes a trip down memory lane. As illustrated images of a north Dublin street in the early '70s slid by left to right, Bono marched in the opposite direction, as if on a moving walkway.
The show's nostalgia interlude, taking full advantage of the video cage, was its most uneven part. "Iris (Hold Me Close)," Bono's tribute to the mother he lost when he was 14, is an elegy whose intentions failed to engage the audience. But "Sunday Bloody Sunday" attained new dramatic heights, as images of the 33 victims of the Dublin and Monaghan bombings of 1974—the deadliest terrorist attack in the Republic of Ireland's history, for which no one has ever been charged—appeared on-screen.
Like Bruce Springsteen, who played an unannounced show in an Asbury Park, New Jersey, bar on Saturday night, U2 rarely allows its pretensions to get in the way of its eagerness to please. Bono & Co. closed with two of their most popular songs: "With or Without You" and "Pride," before a four-song encore that included "Beautiful Day," "Bad" and "Where the Streets Have No Name."
"We're a Sunday night, Monday morning kind of band," Bono teased as the show crept toward the 2½-hour mark.
At last, it was time for the exalted priest to deliver his closing remarks. "To answer the question of why this band is still refusing to give it a rest," Bono said, "we offer this song. Sing it with us."
With that, The Edge played the opening chords of "I Still Haven't Found What I'm Looking For." One by one, with Bono taking up the last position, U2 walked down the aisle and exited through the front of the rock-star cathedral as the congregation echoed the song's refrain.
The Mass had ended. Go in peace.