Here Are the Worst Instances of Athlete-on-Referee Aggression
It's probably going to be a while before Calgary Flames defenseman Dennis Wideman is allowed to take the ice again in an NHL game. In the second period of the team's game against the Nashville Predators Wednesday night, Wideman delivered a vicious crosscheck to the back of linesman Don Henderson as he was exiting the ice.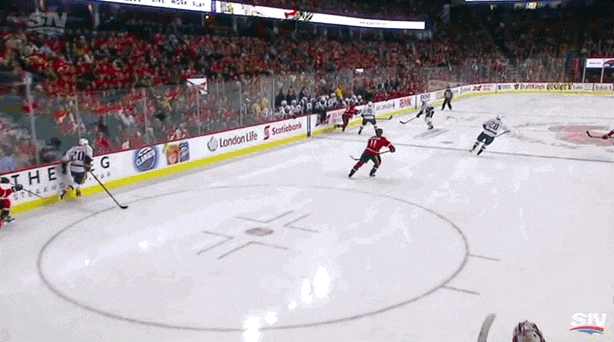 Henderson remained on the ice until his fellow officials could skate over and help him up, and the collision was deemed an accident. Wideman wasn't penalized. "I was just trying to get off the ice," he told reporters after the game. "At the last second, I looked up and saw him."
"I couldn't avoid it," he continued. "I didn't know where to go or how to get out of the way of him."
The hit sure seems intentional, though, upon an examination of the replay. Wideman gripped his stick with both hands, raised it horizontally and forcefully delivered a textbook crosscheck to Henderson's back. Maybe Wideman didn't see Henderson until the last second, but it's hard to argue that Wideman didn't make a conscious choice to level the figure he looked up and found blocking the entrance to the Flames' bench.
The NHL said on Thursday that it would be looking into the incident, and depending on how the league interprets the hit, a suspension could be imminent. The NHL rulebook states, "Any player who deliberately strikes an official and causes injury or who deliberately applies physical force in any manner against an official with intent to injure, or who in any manner attemps to injure an official shall be automatically suspended for not less than twenty (20) games."
Though Wideman's hit appears to qualify, it is possible that, because he had been checked in the corner before moving to exit the ice, he was woozy and didn't immediately realize Hendrson was an official. The hit could have been intentional, but it might have been the result of confusion on Wideman's part.
Wednesday night wasn't the first time an athlete has abused or assaulted an official. Let's take a look at some other noteworthy cases.
Roberto Alomar spits in an umpire's face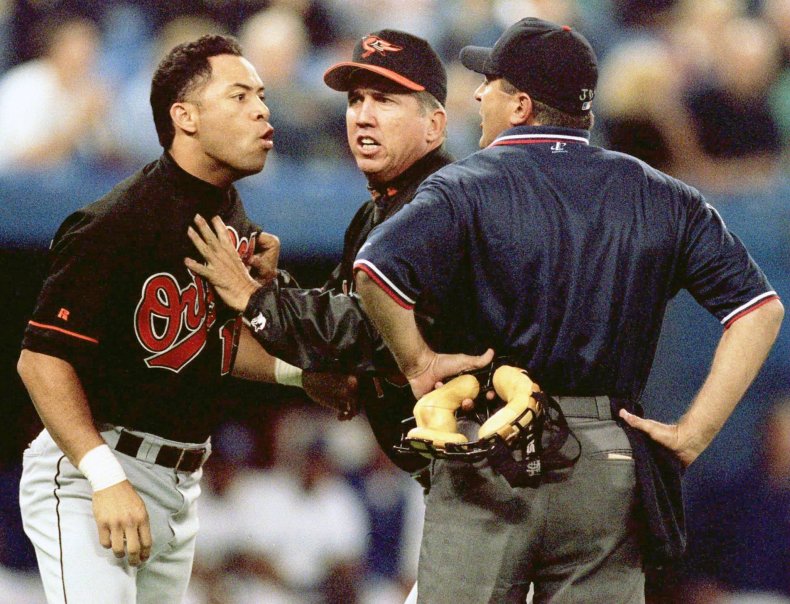 In the first inning of a 1996 game against the Blue Jays, Baltimore Orioles second baseman Roberto Alomar spit in the face of home plate umpire John Hirschbeck after Hirschbeck called Alomar out on strikes. It was a disgusting act, and many wondered if Alomar would ever be able to rehabilitate his reputation. The perennial Gold Glover would play eight more Major League seasons, and he was elected to the Hall of Fame in 2011. "It's just one of those things that happened in life, and then it's over," Hirschbeck said about the infamous loogie following Alomar's induction. "It seemed like a big deal at the time, but now when you look back, we've both moved on from it. Forgiveness is an important thing in life. There are no hard feelings. I'll say this remark until the day I die: If that's the worst thing Robbie Alomar ever does in his life, he's led a very good life."
Texas high school football players target ref
In September, two defensive backs for San Antonio's John Jay High School clearly targeted a referee following the conclusion of a play against Marble Falls High School. Confusion surrounded the incident, as the two players nonchalantly told Good Morning America that an assistant coach had ordered the hit. The ref had allegedly been calling the players racial slurs throughout the game, a claim the ref denied. The assistant coach later resigned after admitting he "directed the students to make the referee pay for his racial comments and calls."
Rajon Rondo fires gay slur at Bill Kennedy
This wasn't physical abuse, but it was just as harmful. In the second half of a December game against the Boston Celtics, Sacramento Kings guard Rajon Rondo hurled a gay slur at veteran referee Bill Kennedy after Kennedy charged Rondo with a technical foul. The slur got Rondo an additional technical, which resulted in an ejection.
After the incident, Kennedy announced that he is gay. "I am proud to be an NBA referee and I am proud to be a gay man," he told Yahoo! Sports the weekend after the game. "I am following in the footsteps of others who have self-identified in the hopes that will send a message to young men and women in sports that you must allow no one to make you feel ashamed of who you are."
Rondo later apologized, but only on Twitter and not to Kennedy directly.
He was suspended one game by NBA Commissioner Adam Silver.
Delmon Young throws bat at umpire after ejection
Former first overall draft pick Delmon Young has had an up-and-down Major League career. It peaked in 2010, when he hit .298 with 21 home runs and 112 RBI for the Minnesota Twins. Its lowest point came four years earlier, when he threw a bat at an umpire after he was ejected for arguing balls and strikes during an International League game. He was suspended 50 games. "Fifty is a fair amount, and I'm going to serve it and then I'll be back on the ballfield," the then-prospect said.
Justin Smith is ejected for shoving ref
Considering the intense physicality of football, the degree to which the refs are a part of the action, and the number of disputed calls, it seems surprising there haven't been more instances of player aggression toward the officials who call the games. In a 2010 game against the San Diego Chargers, San Francisco 49ers defensive lineman Justin Smith was tossed for what appears to be an innocuous "shove" of a referee who was trying to restrain him. Far worse was when Cary Williams of the Baltimore Ravens forcefully pushed a ref during Super Bowl XLVII. Williams, however, was not penalized, fined or suspended.
Brett Lawrie throws helmet at umpire
Not unlike Delmon Young, Blue Jays third basemen Brett Lawrie lost it after the home plate umpire ejected him for arguing balls and strikes. During a 2012 game against the Tampa Bay Rays, Lawrie started running to first after what he thought was ball four. Umpire Bill Miller called it a strike, though, and Lawrie sulked back to the batter's box. Lawrie thought the following pitch was a ball as well, but once again Miller called it a strike. Lawrie came undone, storming behind the plate and slamming his helmet at the feet of Miller. Lawrie was suspended four games and fined an undisclosed amount.
Croatian boxer pummels ref on the mat
We're trying to keep this to major professional sports, but Croatian boxer Vido Locnar's pounding of a ref after he lost a fight in 2014 is just too vicious to ignore. Locnar and his coaches were banned for life by the International Boxing Association for the attack.
And then there's soccer...
The previous incidents of athlete-on-ref violence may seem severe, but nowhere is aggression against officials more common and more extreme than on the soccer pitch. There have been head-butts. There have been deaths after attacks. During a 2013 match in Brazil, a ref was stabbed, stoned and quartered on the field after handing out a red card. Teens have sent 46-year-olds into critical condition. There have also, of course, been run-of-the-mill, good old-fashioned knockouts, like this one during a 2015 game in Argentina.
So what is a soccer ref to do to avoid living in fear every time he needs to red-card someone? How about carrying a handgun on the field and whipping it out when a player starts to act up, like this Brazilian official did last year. After all, it can get pretty brutal out there, as we've seen time, and time, and time again.