The Worst Comedy Movies of All Time, Ranked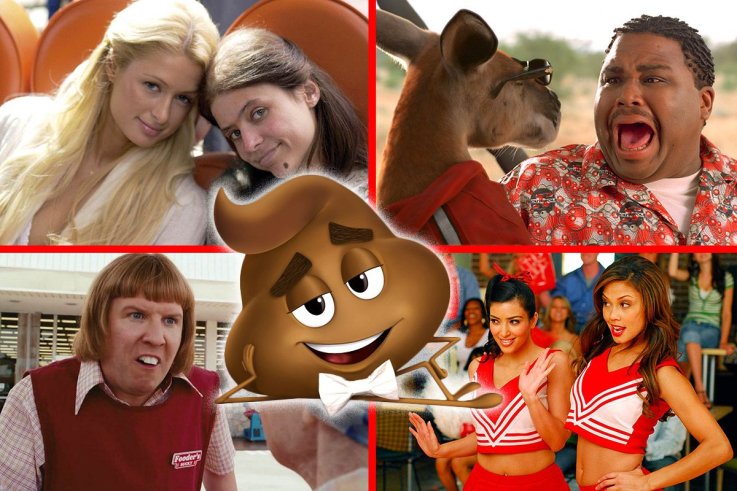 Feline-centric 2016 comedy Nine Lives could have been a winner. Starring big names like Jennifer Garner and a pre-#MeToo Kevin Spacey, it seemed poised to capitalize on internet-era cat obsession with its crowd-pleasingly silly high concept. But just two short years after its release, it's already been largely forgotten.
That's largely because the movie was exceptionally terrible—grumpy businessman Spacey is transformed into a poorly-rendered CGI cat, delivering joyless lines (sample gag: "Do they make MRIs for cats?" "You mean cat scans?").
It received scathing reviews across the board. Indiewire called it "less funny than the average cat gif and approximately 1,000 times as long."
So what becomes of these dud comedies, discarded by audiences moments after their release? They end up on Metacritic's list of the worst comedies ever, of course.
The film review aggregation site has calculated a score for every comedy in its database, finding an average rating from all of its published reviews, which are weighted by the importance of the critic and publication.
We've only included movies that received more than ten reviews. And what reviews! These films may not have generated many laughs, but the reviews are hilarious: "Like a slug that crawls across the screen for eighty minutes before dying of its own nausea."
From their list, we get an idea of which comedies critics believed were the biggest all-time stinkers. Nine Lives comes it at 14th place, with an average score of 16 out of 100. That's less than one star—pretty cat-astrophic.
Still, it didn't sink as low as the very worst of the worst comedies on this list. The 2000's proved to be a rich seam, with studios spending the decade pumping out the majority of the flops on this ignoble list—remember The Hottie & the Nottie, Transylmania or Date Movie?
Join us on a groan-inducing journey through Hollywood's fifty worst comedy misfires, from Sandra Bullock's turn as a madcap crossword-puzzle writer to Tom Cruise as a bartender with big dreams.