Yemen Prepares for Its Worst Ever Cyclone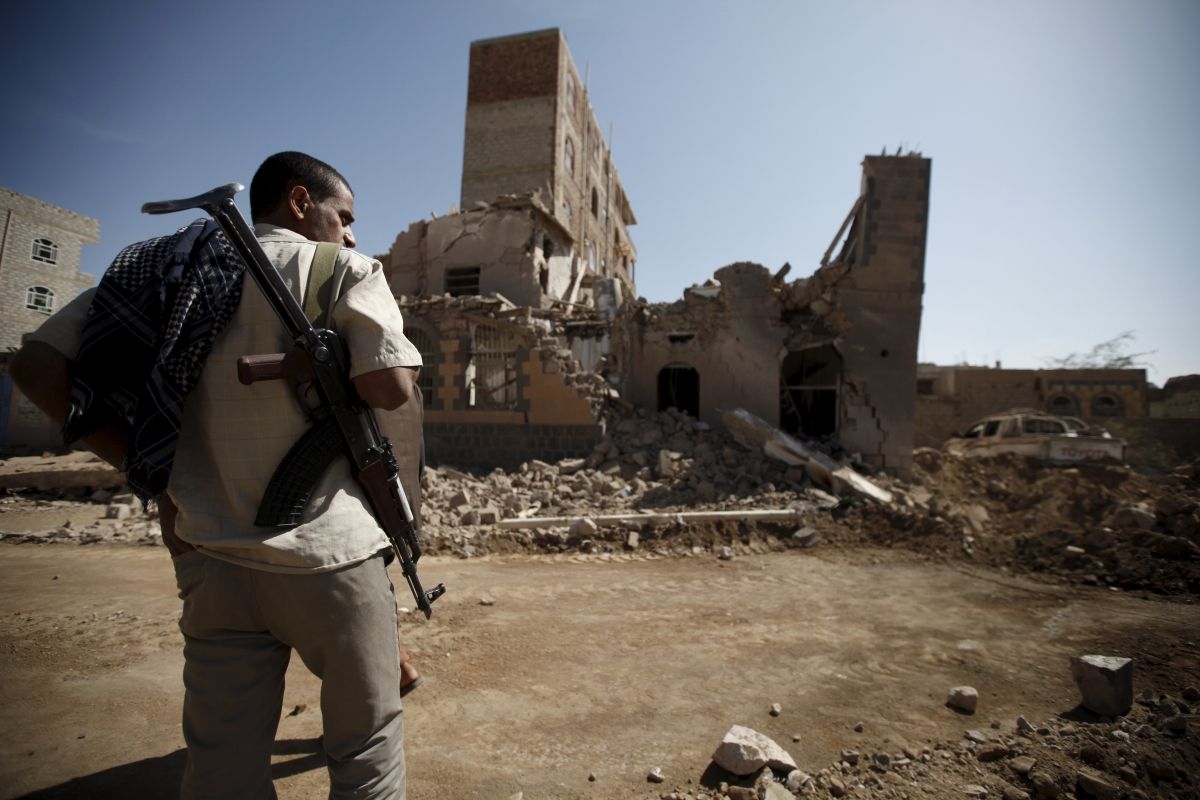 War-torn Yemen is preparing to be hit by the worst storm in its history as a cyclone on the Arabian Sea approaches land.
The storm, named Chapala, was originally classed as an "extremely severe cyclonic storm" by the United Nations-run World Meteorological Organization (WMO), which forecast wind speeds of up to 115 mph. It has since been downgraded to a "very severe cyclonic storm" and is due to hit the Yemeni coastline on Tuesday morning with wind speeds of up to 90 mph.
The storm is expected to hit land near the city of Al Mukalla, which has been under Al-Qaeda command since April.
Parts of Yemen are expected to receive up to 19.7 inches of rain in two days, equivalent to 10 times the annual average and heightening the risk of landslides and flooding, the BBC reported.
The storm has already swept through the Yemeni island of Socotra, which lies around 230 miles south of the mainland. The Thomson Reuters Foundation reported that three people were killed and 1,500 families forced to flee after the cyclone hit the isolated island on Monday morning.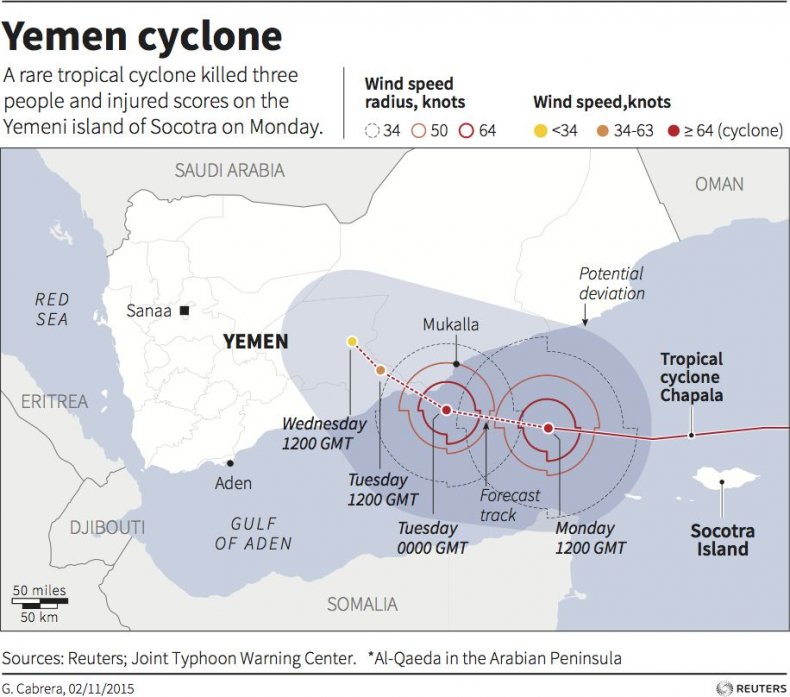 Miriam Goldman, lead Yemen analyst at Israel-based risk consultancy the Levantine Group, says the ongoing conflict in the country means that Yemen is ill-prepared for such a natural disaster.
"Yemen is possibly the worst country that this could happen to because the conflict has just decimated its communications system, its electricity grid, [and] there's no functioning central government," Goldman says.
Yemen is already mired in a humanitarian crisis due to conflict between Iranian-backed Houthi rebels and a Saudi Arabi-led coalition of forces loyal to the exiled president Abed Rabbo Mansour Hadi.
UNICEF said in August that 10 million children in the country are in need of urgent humanitarian assistance and two thirds of the population lack access to clean drinking water. Saudi Arabia has been conducting airstrikes in Yemen since March and the civilian death toll from the conflict reached 2,355 in September.
While tropical cyclones in the Arabian Sea are not unusual, it is very rare for such a storm to break through the Gulf of Aden and hit the Arabian coastline. U.S. news site Slate reported that, since 1979, only two hurricane-strength storms have made landfall in Oman (which borders Yemen in the northeast) and the only storm to hit Yemen, a cyclone that struck in 2008, had winds with a top speed of only 35 mph.
Goldman says that aid agencies working in the area are already struggling to deliver supplies of food and fresh water and that the weather event will only compound these problems.
"The cyclone is essentially making a really bad situation worse," she says. Medecins Sans Frontieres, which operates in Western Yemen and said last week that one of its hospitals in Saada was hit by an airstrike, says it have no presence in the areas likely to be affected by the cyclone.
Al Mukalla is one of Yemen's largest cities, with a population of around 300,000 people, according to Al Jazeera. Since April, it has been controlled by militants from Al-Qaeda in the Arabian Peninsula (AQAP), the militant group's branch in Yemen.
Hisham Al-Omeisy, an independent analyst based in Yemen, tweeted that the group's leadership had cleared the coastline of residents and driven through the city with loudspeakers to warn people about the impending storm.