The 12 Worst Fast-Food Innovations of 2015, Ranked From Least to Most Disgusting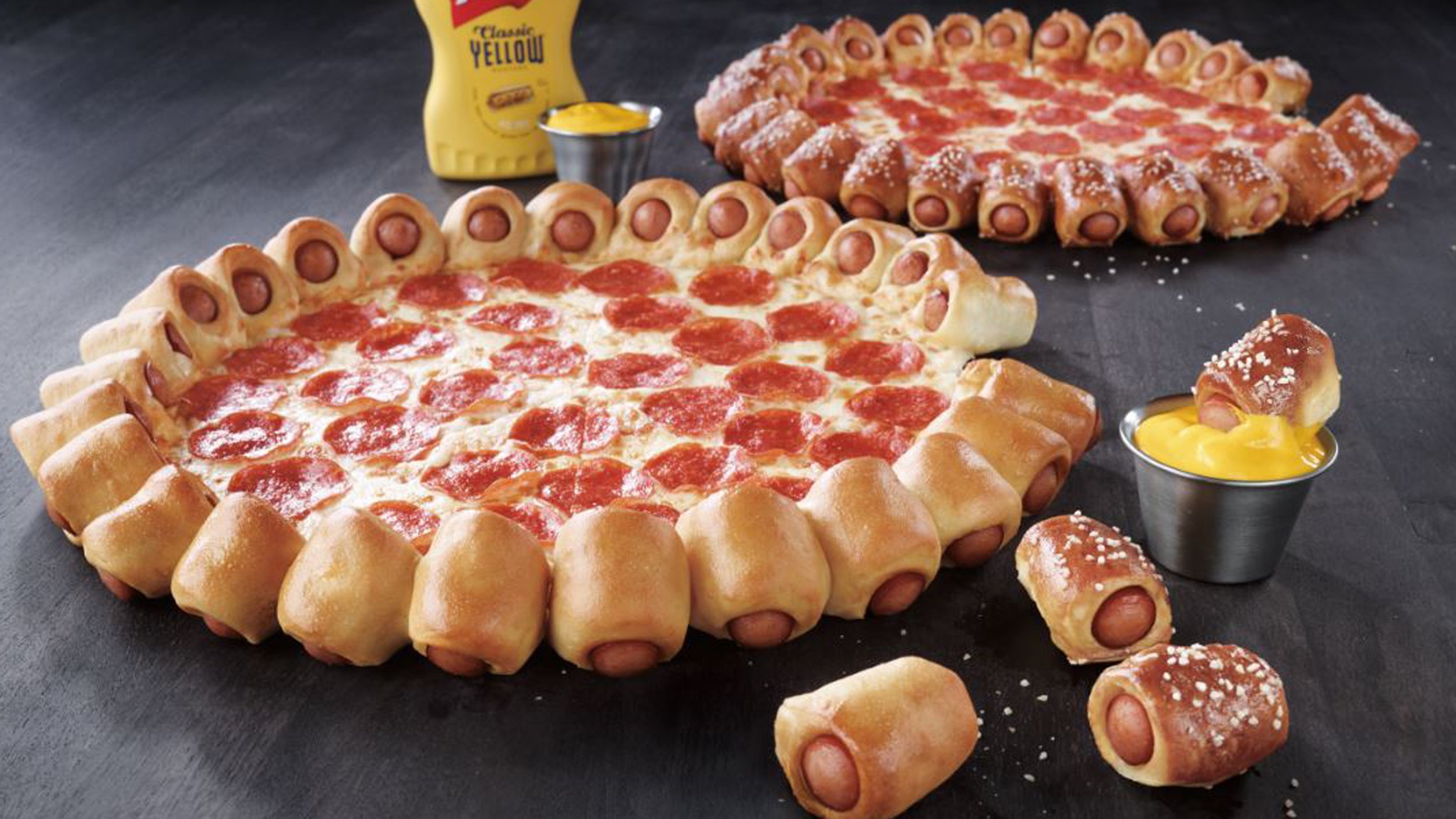 Few industries are as shameless as fast food. Pizza Hut, Burger King, Taco Bell, Papa John's and their countless competitors will do just about anything to stand above the rest and entice consumers. They play directly from the Donald Trump Playbook of Capturing the Hearts and Minds (and Stomachs) of America: Just introduce the most ridiculous concept imaginable with as much gusto as possible. If people are paying attention, you're winning.
In 2015, this strategy extended far beyond the actual menu. Fast-food restaurants are now trying to brand themselves onto our very existence. The familiar string of logos that line every highway is not enough. Neither is the never-ending stream of commercials. In 2015, we must be able to plug our minds into fast-food chains at all hours of the day, wherever we may be. Domino's gave customers the option of not only ordering from their TVs, or ordering with a literal button, but also tweeting a pizza emoji. Not to be outdone, Pizza Hut introduced hands-free ordering in your car. KFC offered grease-resistant keyboard trays. It's all happening.
McDonald's is vastly more conservative when it comes to introducing Frankenstein-esque culinary mashups (which we're getting to). They have to protect the integrity of the Golden Arches, after all. Instead of getting crazy with their menu, the chain opted to turn the Big Mac into a lifestyle collection.
Pizza Hut wasn't far behind, rolling out Pizza Hut freaking nail polish and pizza-flavored beer. In Hong Kong, they offered pizza box film projectors. Burger King unveiled Chicken Fries emojis, not for ordering fries but just for, like, texting your friends, because #Millennials. What else do #Millennials like? How about hipster stuff? McDonald's rebooted the poor Hamburglar into a burger thief for the 21st century. Why? Another headline. Please kill us.
And what of the actual food? It's no less ubiquitous and certainly no less disgusting. Here is the worst of what your favorite fast-food establishments introduced in 2015, ranked from least to most disgusting. Don't read on an empty stomach.
12. Taco Bell's Croissant Taco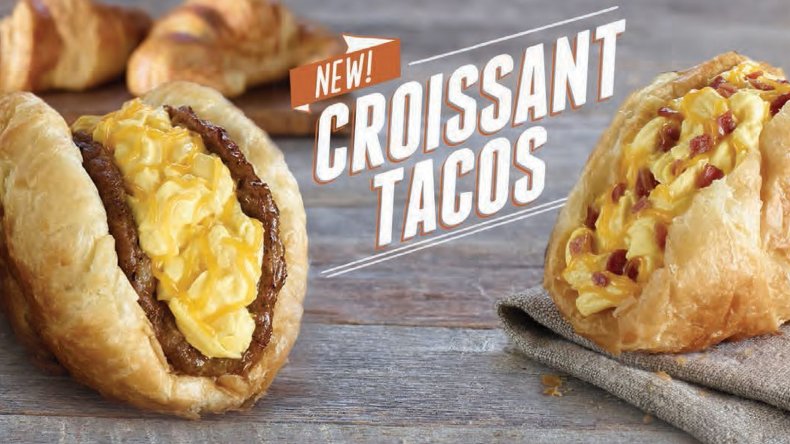 This isn't a terrible idea, relative to what's about to follow on this list, but we're guessing whatever they hand you through the drive-thru window isn't as neat and tidy as the promotional picture lets on. After all, croissants weren't intended to be taco-ized. Neither were waffles. Neither were biscuits.
11. Pizza Hut's Triple Treat Box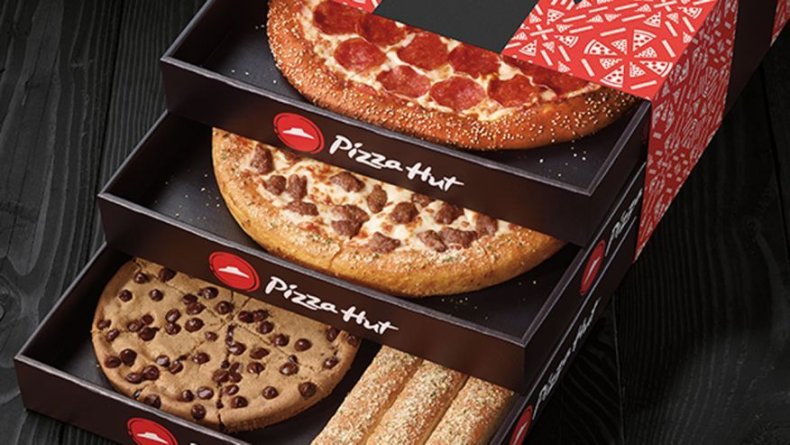 This isn't really that gross, but the idea that we're now literally ordering a chest of drawers full of Pizza Hut is disturbing.
10. Little Caesars Bacon-Wrapped Pizza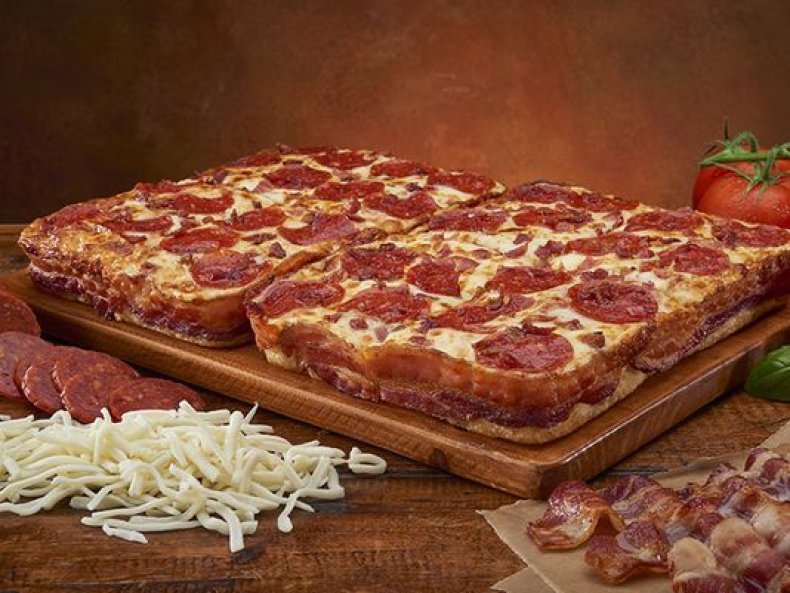 Sure, anybody can put bacon on a pizza, but not everyone can wrap a pizza in bacon. Brilliant, Little Caesars.
9. Burger King's Black Halloween Burger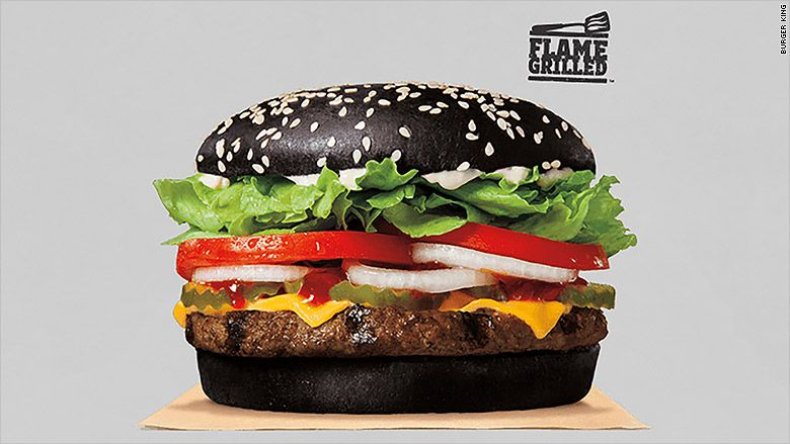 Ah, just what we've always wanted: a mold-colored hamburger bun!
8. Papa John's Epic Meatz Pizza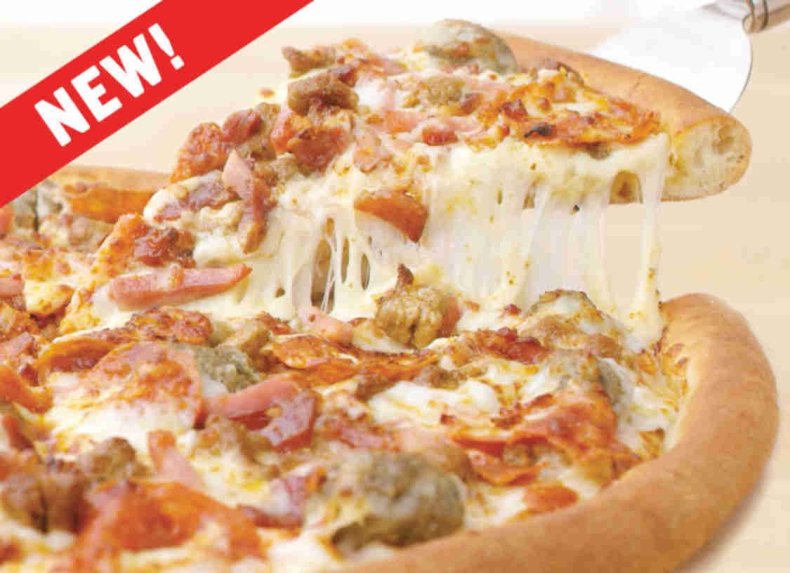 There isn't anything particularly abhorrent about this pizza. It's a lot of meat. Big deal. Allegedly, it's "all the delicious, mouth-watering meats we could fit inside a pizza box." It makes the list because of the name, "Epic Meatz," a pathetic combination of ending a word with a "z"—which stopped being edgy 10 years ago when Bratz dolls were peaking—and epic, which is also stupid and contrived. This is basically the clickbait of fast-food fare.
7. Arby's Pumpkin Cheesecake Shake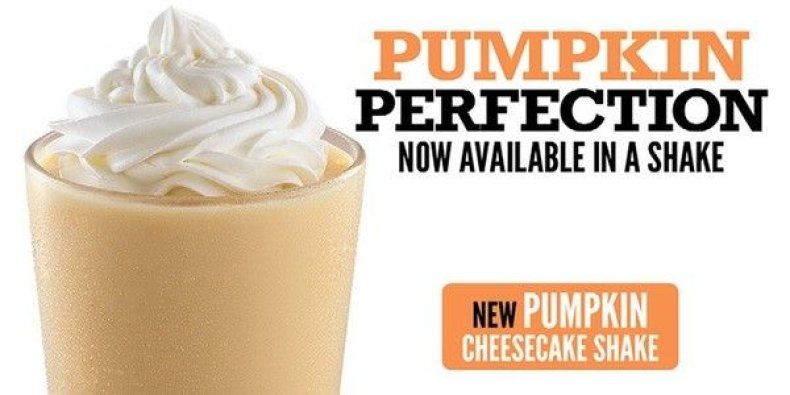 Just because it's fall doesn't mean your fast-food franchise is legally required to introduce a pumpkin-flavored item, especially when said fast-food restaurant's specialty is soggy roast beef. Hard pass.
6. Dunkin' Donut's Snickerdoodle Croissant Donut and Caramel Cheesecake Square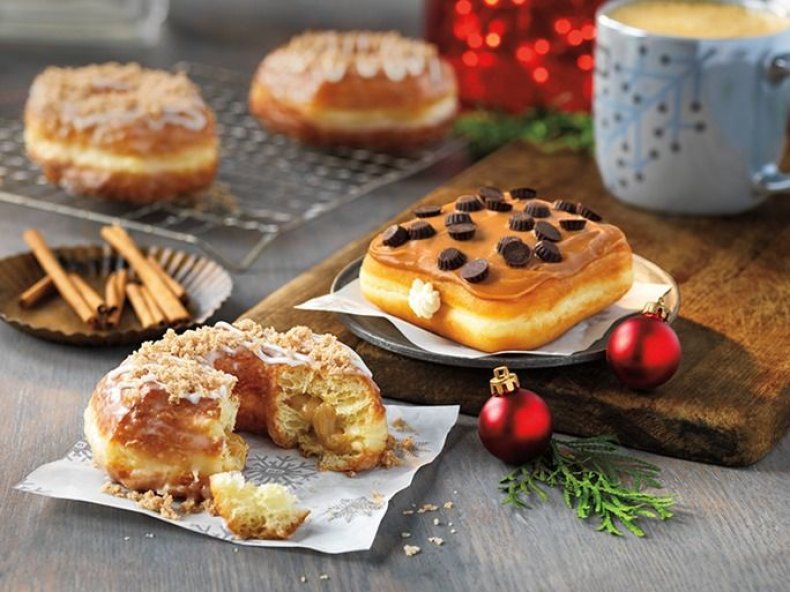 2015 taught us that we have yet to see croissant-based culinary innovations reach their stomach-turning conclusion. But snickerdoodle? Why? Even worse is this sad cheesecake square, on top of which Dunkin' Donuts has inexplicably sprinkled little chocolate turd pellets. God bless the rest of your day if you can actually bring yourself to finish one of these bad boys before 9 a.m.
5. Taco Bell's Cap'n Crunch Delights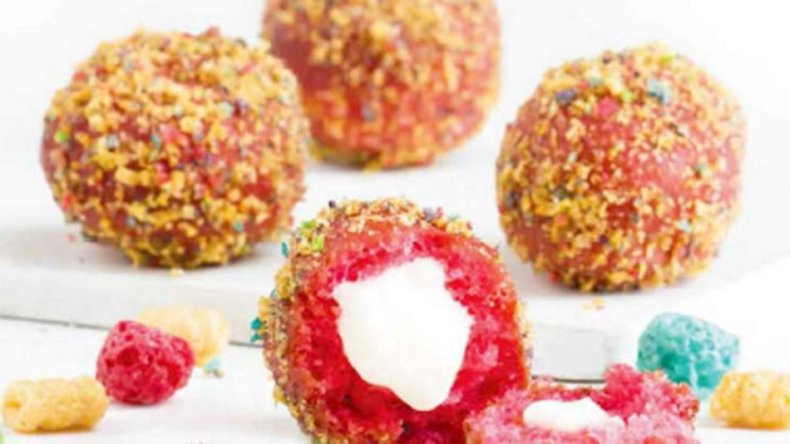 It's honestly hard for us to focus our attention on these balls of congealed diabetes for more than a few seconds without getting sick. What kind of suicide-cultish groupthink had to go down to make these happen? Easily the most inexplicable item on the list.
4. Pizza Hut's Hot Dog Bites Pizza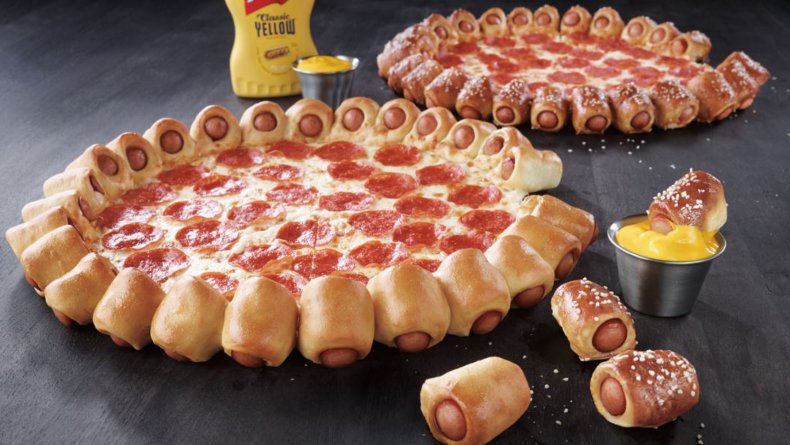 This was the clear winner as far as media attention goes.
3. KFC's Chizza
This is available only in the Philippines (for now), but we had to feature it because...I mean, look at it. Ever since KFC introduced its line of "Famous Bowls," which comedian Patton Oswalt memorably mocked, the chain has been the industry leader in just throwing a bunch of shit together and selling it. (A close second, as far as KFC's Philippine menu items go, is the Double Down Hot Dog. Click the link at your own risk.)
2. Carl's Jr.'s Most American Thickburger
A cheeseburger featuring not only a hot dog but also a handful of potato chips. Far too often are "Most American" and "revolting" synonymous. This is no exception.
1. Carl's Jr.'s Tex-Mex Bacon Burger
Are we really giving the top two spots to the same chain? Carl's Jr. left us no choice. Not only did no one ask for their Fourth of July picnic to be shoved between two pieces of bread, the video promoting our No. 1 abomination may be the most offensive minute of 2015, a year when Donald Trump ran for president. Truly remarkable, Carl's Jr. We'd say we're impressed if we weren't running to the bathroom to throw up.