With Worst U.S. Vaccination Rate, West Virginia Expected to Not Hit 70 Percent Until 2023
West Virginia has the lowest vaccination rate of any state in the country and if it maintains this pace, it's unlikely to have 70 percent of its adult population starting their vaccination process until February 2023, according to the Brown University tracker.
The 70 percent mark is believed to be the minimum amount of vaccinations needed to slow the spread of COVID-19. While the majority of states have already met that mark, only about 58 percent of West Virginia's adult population have received at least one dose of a COVID-19 vaccine, and the state's struggling to convince significant portions of its residents to get inoculated.
Governor Jim Justice has consistently encouraged people to get vaccinated against COVID-19, using prizes—including a new Corvette, college scholarships, a dream wedding and free gas for 10 years—and his bulldog, Babydog, to attempt to persuade people. However, he's bucked the possibility of vaccine mandates and on Friday, signed legislation requiring businesses to allow exemptions to their vaccine requirements.
During a briefing on Friday, Justice said he understands people have "strong" religious beliefs and medical considerations that impact their decision to get vaccinated. The bill isn't set to go into effect until 2022 and some critics pointed out that federal law could make it irrelevant.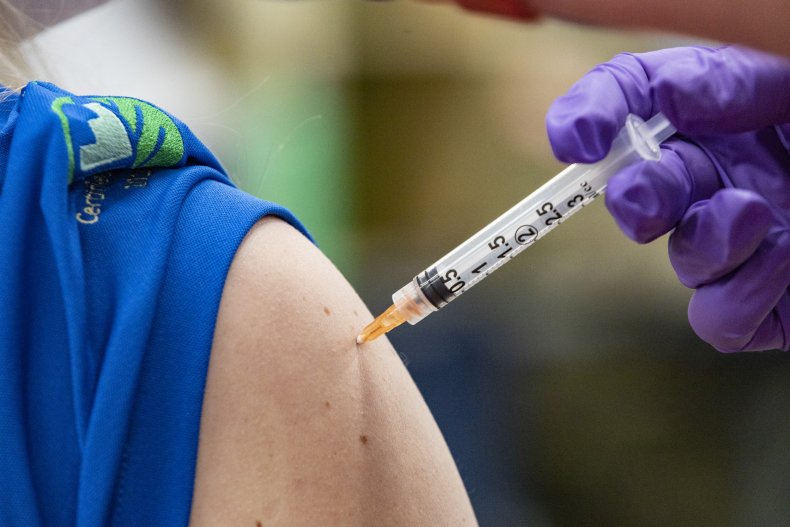 In September, President Joe Biden announced he instructed the Department of Labor to require employees at companies with at least 100 workers to get vaccinated or submit to weekly testing. Details of the mandate have yet to be released, but since employees have the option to get testing instead of being vaccinated, it's possible employers won't have to provide medical or religious exemptions.
The goal of Biden's proposal is to motivate people to get vaccinated and while vaccine mandates at hospitals have resulted in relatively small terminations, the testing option may prove a hurdle in pushing people to get vaccinated. In California, where state workers are required to be vaccinated against COVID-19 or succumb to weekly testing, only about 66 percent have gotten vaccinated, leaving about 58,000 workers opting to do weekly testing instead.
California's proof that vaccination rates alone aren't a guarantee against rising infections and the state saw a surge in cases over the summer despite a strong vaccination rate. However, the vaccine has proven to offer strong protection against hospitalization and death from COVID-19.
During the most recent surge in COVID-19 cases, West Virginia averaged about 70 deaths per 100,000 people, according to data from the Centers for Disease Control and Prevention (CDC). West Virginia's deaths were about five times higher than the death seen in states with some of the highest vaccination rates. West Virginia also had three times more cases than states with high vaccination rates.
At their current vaccination rates, 12 states are projected to hit the 70 percent milestone by the end of the year, according to the Brown University tracker. Wyoming, Indiana and Mississippi are on track to reach the 70 percent mark in 2022. West Virginia is the only state expected to not reach 70 percent until 2023.
Some experts are skeptical that the United States or the world will be able to eradicate COVID-19 with vaccinations because of the grip the virus has on the world. However, they continue to push vaccinations as a means of saving lives and the global health care system and as a preventative measure to more mutations.
Newsweek reached out to the West Virginia Department of Health for comment.