A Brief Timeline of Very Bad Years, From 2016 to 65,000,000 B.C.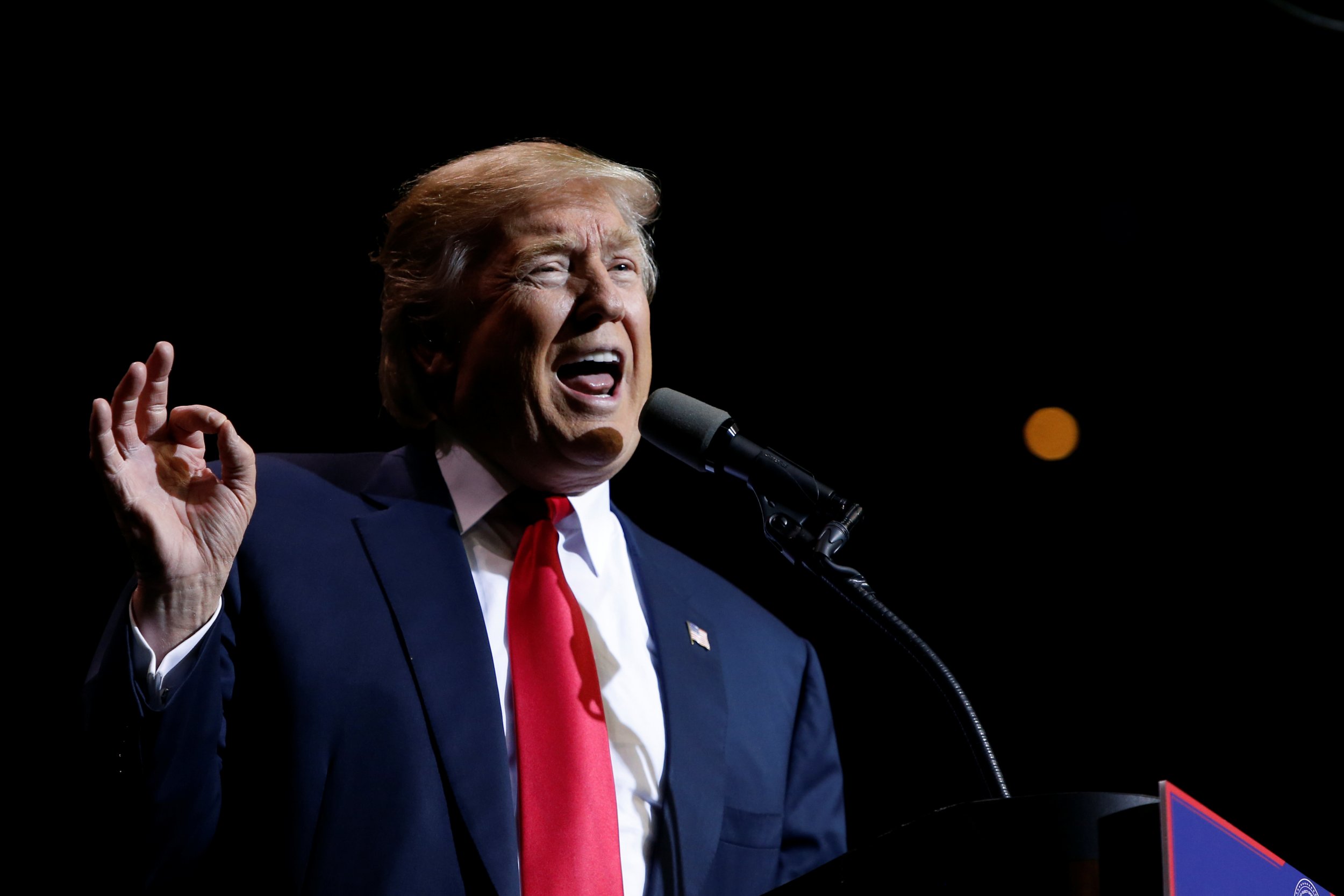 The past year has been a rough one. The evidence was relentless: We lost David Bowie, Prince, Muhammad Ali, and a host of other beloved cultural figures died. There was Brexit, Zika and Harambe. Mass shootings and police shootings left a trail of incomprehensible death and destruction.
All of this took place against the rage-filled backdrop of the 2016 presidential election, an exhausting, ludicrous test of American democracy that ended with an unhinged reality show host and admitted groper of women assuming control of the nuclear codes. Hate crime rates rose as white-supremacists became newly emboldened by their dear leader's hateful rhetoric. The very fabric of reality cracked apart in the chaotic mess of fake news and propaganda. Suddenly everything and nothing were simultaneously true. But hey, the Cubs won.
The media was quick to declare 2016 the Worst Year Ever. Slate and The Telegraph started way back in July. Other sites followed, like The Washington Post, BuzzFeed, Daily Dot, The Wrap, Daily Kos and others. John Oliver said the same on Last Week Tonight, going so far as to blow a prop that read "2016" to pieces. It seems that 2016 was so awful that it dethroned the previous Worst Year Ever, 2015, which dethroned 2014. I guess if we deem each new year the Worst Ever, then things can only get better, right?
Related: Joe Biden compares 2016 to 1968
As it turns out, 2016 isn't exactly unique in its badness. Pretty much every year has been terrible. Life is, for the most part, relentlessly sad and difficult. Maybe some people have had, until recently, the relative privilege to be sheltered from this reality. Good for them. For some perspective, here's a highly abridged timeline of a select few Very Bad Years, like a depressing alternative version of "We Didn't Start The Fire."
2015
Donald Trump reintroduced himself into the lives of Americans as a power-hungry xenophobe, which was amusing until he started winning. Internet users were subjected to the question of whether The Dress was black and blue or white and gold. Cecil the Lion was killed by a dentist from Minnesota. In January, terrorists stormed the office of satirical paper Charlie Hebdo in Paris, killing 11 people. In November, terrorists killed 130 people in one night in the same city. Walter Scott and Freddie Gray died at the hands of police. In June, a 21-year-old named Dylann Roof slaughtered nine people worshiping at the Emanuel African Methodist Episcopal Church in Charleston, South Carolina. The internet told us it was the worst year ever for movies, wildfires, commodities, the WWE, rhinos, Canada, sports in Philadelphia, murders in Baltimore and Khloe Kardashian. Humorist Dave Barry wrote a column of more than 5,000 words for the Miami Herald detailing the year's horrors. The first comment, posted on December 23, 2015, came from Facebook user Brian Stewart: "I could only imagine how much fodder would be created if Trump became president."
2014
Following the deaths of Michael Brown and Eric Garner at the hands of police, protests broke out nationwide. Sony was hacked and we started to fear North Korea again. Roger Goodell and the NFL were maligned for how they botched the handling of Ravens running back Ray Rice knocking out his then-fiancée in an elevator. Ebola spread in the United States. Malaysia Airlines Flight 370 and its 239 passengers disappeared and major news networks followed the story for months with mostly speculative information. Another Malaysia Airlines plane was gunned down over Ukraine. The internet told us it was the Worst Year Ever for teens, children, video games, hedge funds, rap, data breaches, terrorism, Shia LeBeouf, lethal injections, Justin Bieber and pollen hype in New Jersey. Robin Williams committed suicide.
2013
Global CO2 levels hit 400 parts per million for the first time in history, and global sea levels also reached a record high. These issues haven't corrected themselves. The Boston Marathon was bombed, killing 3 people and wounding 264. Edward Snowden exposed the realities of government surveillance. A fertilizer plant in West, Texas, exploded, killing 15 people. George Zimmerman was found not guilty in the 2012 death of Trayvon Martin. Gun control made no real progress despite the shootings that took place in 2012, as the proposed Assault Weapons Ban bill was struck down in the Senate. Nelson Mandela died. The internet told us it was the worst year ever for bond funds, aid workers, tigers in India, the internet and Pakistan's poultry sector.
2012
Another election year, but given the events of 2016, it's hard to call the Obama vs. Romney showdown a black mark on 2012. That's okay, though. There were plenty of other reasons the year was horrible. Four Americans were killed when an Islamic militant group attacked the U.S. consulate in Benghazi, Libya, sparking the exhausting four-year republican obsession with Benghazi. In February, George Zimmerman shot and killed unarmed 17-year-old Trayvon Martin. In July, James Holmes shot and killed 12 people attending a screening of The Dark Knight Rises in an Aurora, Colorado, movie theater. In December, Adam Lanza killed 20 elementary school students in Newtown, Connecticut. Hundreds of thousands of acres of the American Southwest caught on fire. Lance Armstrong was outed as a PED user. CIA Director David Patraeus was forced to resign after it was discovered he shared classified information with his biographer and mistress. Hurricane Sandy rocked Manhattan and destroyed large parts of the Jersey Shore. The internet told us it was the worst year ever for illegal ivory trade in Africa, voting rights, West Nile in the U.S., LED chip makers, and press freedom.
2011
Eight days into 2011, Arizona senator Gabby Giffords was shot in the head outside of a supermarket. She survived, but six others died. In April, tornadoes killed 300 people and ravaged communities in the southern United States. A month later, a tornado tore through Joplin, Missouri, killing 161 people. In Norway, Anders Behring Breivik shot and killed 77 people at a youth camp. It was the deadliest mass shooting in history. Occupy Wall Street began, bringing attention to America's income inequality, before it was swiftly and illegally stomped out by riot police in the middle of the night. The storied tradition of the Penn State football program was tarnished when former coach Jerry Sandusky was indicted for child molestation. Legendary head coach Joe Paterno was fired shortly thereafter. The S&P downgraded the U.S. credit rating for the first time. The internet told us it was the worst year ever for new home sales, natural disasters and greenhouse gases. Steve Jobs died.
2003
The United States invades Iraq based on false evidence that the country was housing weapons of mass destruction. Nearly 5,000 Americans would die in the Iraq War, and an estimated 150,000 to 500,000 Iraqis died. The United States would use torture throughout the war, housing suspected terrorists at the Guantánamo Bay detention camp in Cuba without trial.
2001
The World Trade Center was attacked by terrorists on 9/11, killing 2,996 people (including those in the four crashed planes in in the Pentagon). The attacks sparked a decade of open-ended war and encroachments on civil liberties.
1990
Ronald Reagan apologized for ignoring the AIDS epidemic while he was president, but it was too late. 18,447 Americans died of the virus in 1990 and the death total would increase every year until 1993 (and peak in 1995 at 48,371). Where Reagan ignored AIDS, he cracked down on drugs and the inner cities, and the U.S. incarceration rate rose precipitously while he was in office. The state and federal prison population increased from around 330,00 in 1980, to around 770,000 in 1990.
1986
The film Howard The Duck was released—and widely panned by critics.
1968
Martin Luther King and Robert Kennedy were assassinated. The Tet Offensive was launched in Vietnam, and footage of the campaign provided Americans with a new understanding of the war's horror. Richard Nixon was elected.
1963
Alabama Governor George Wallace tries to stop the desegregation of this state's schools. Medgar Evers, the head of the NAACP in Mississippi, is murdered. Four black girls are killed by white supremacists in the 16th Street Baptist Church bombing in Alabama. On November 22, John F. Kennedy is assassinated in Dallas.
1945
Hiroshima and Nagasaki were bombed, killing upward of 250,000 people.
1942
The Holocaust spanned more than a single year, but '42 was its deadliest. In total, 6 million Jews would die at the hands of the Nazis.
(This is one of the complications with deeming a single year as The Worst. History doesn't operate on the Gregorian calendar.)
1918
Not only does World War I continue to tear apart Europe, an influenza pandemic breaks out. The pandemic would ultimately kill 50 million to 100 million people, or 3 to 5 percent of the world's population.
1914
World War I begins, and with it modern warfare. Hundreds of thousands die in a matter of months.
1492
Christopher Columbus reaches the New World, setting off the prolonged enslavement and destruction of the native people of the Americas. In 1520, smallpox would make its way over from Europe, resulting in the death of millions indigenous Central and South Americans.
1347
The Bubonic Plague, or Black Death, spreads from Asia into Europe, ultimately killing over 100 million people, including between 30 to 60 percent of Europe's total population. Though today we might joke about blobs of foam as harbingers the apocalypse, the end of civilization was actually in play less than 700 years ago. There's a reason Hollywood keeps making movies that center around a disease outbreak. It's the most plausible phenomenon that could wipe out humanity that doesn't involve Donald Trump.
~65,000,000 B.C.
A 6-mile-wide asteroid slams into what is now Mexico's Yucatan Peninsula, resulting in the extinction of around 75 percent of life on Earth.
I guess it can't really get much worse than that.
Read more from Newsweek.com:
- Our favorite albums of 2016
- Revisiting anti-Bush protest music in the Trump era
- U.S. life expectancy drops, a first since 1993