Would Jackie Kennedy Wear a Crop Top? Lilly Pulitzer's Past and Future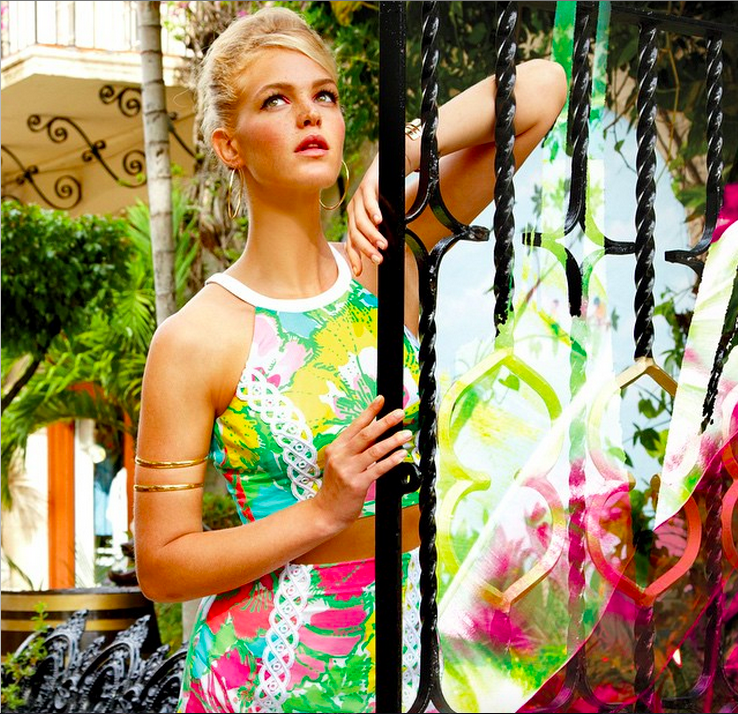 On March 10, I opened a promotional email from Lilly Pulitzer and stared at it, partially bemused and partially stunned. The model, a beautiful, freckle-faced blonde, was wearing a crop top. The company known for shift dresses, sophistication and outfitting Palm Beach's high society had designed a midriff-baring ensemble similar to those that have taken by storm fast fashion outlets like Zara and H&M over the past year.
Throughout the day, I went back and examined the crop top email dozens of times. The print was beautiful: large pink and yellow flowers. It was detailed with thick, white lace, a trademark accent of the brand. Lilly Pulitzer, the woman, designed the dresses to be extremely colorful—so colorful that if juice were spilled on them, you couldn't tell. With the exception of the two inches of exposed belly, this outfit looked much like many Lilly dresses I own and love: bright, sunny and made for a garden party.
As I faced my own crop top–induced turmoil, a larger, angrier storm had been brewing in the usually sunny land of Lilly.
In January, Lilly Pulitzer announced a collaboration with Target, which has created similar lines with other fashion houses, including high-end designers Joseph Altuzarra, Jason Wu and zigzag darling Missoni. Shoppers showed up in the middle of the night and stood in line for these high-low collections, clearing shelves before the sun went up. On eBay, a secondary market popped up for Target's designer collaboration items: a set of five Missoni for Target espresso cups, for example, sold for $260 though it retailed for just $40.
Housewives and Real Housewives, editors of glossy magazine and broke bloggers: All praised Target's partnerships with designers. Yet, when Lilly Pulitzer for Target was announced, an unusual backlash began. "Ew, ew, ew," one Twitter user wrote. "Lilly Pulitzer is turning over her grave right now that her legacy is being sold at Target," said another.
Also, a post critical of the collaboration appeared on Total Sorority Move, a popular blog frequented by women in the Greek community who love the brand perhaps above all others. "Imagining a $150 scarf being reproduced and sold for $20 is upsetting" the anonymous blogger decreed. "Is this incredibly superficial to think? If I want Lilly to continue to be exclusive, am I a horrible person?... I just hope a favorite brand of mine won't go from a tasteful treat to a thrifty bargain find."
At the Pink Palace, the brand's loving nickname for its headquarters, staffers were shocked by the negative reaction.
"I don't know if offense is the right word, but we believe this is a brand for everyone," said Jane Schoenborn, the vice president of creative communications, when asked whether the company was offended by the backlash. "Everyone will have opinions, but we know that the bright, happy colors and the prints, it's a party. And we are the kind of brand that is going to invite everyone."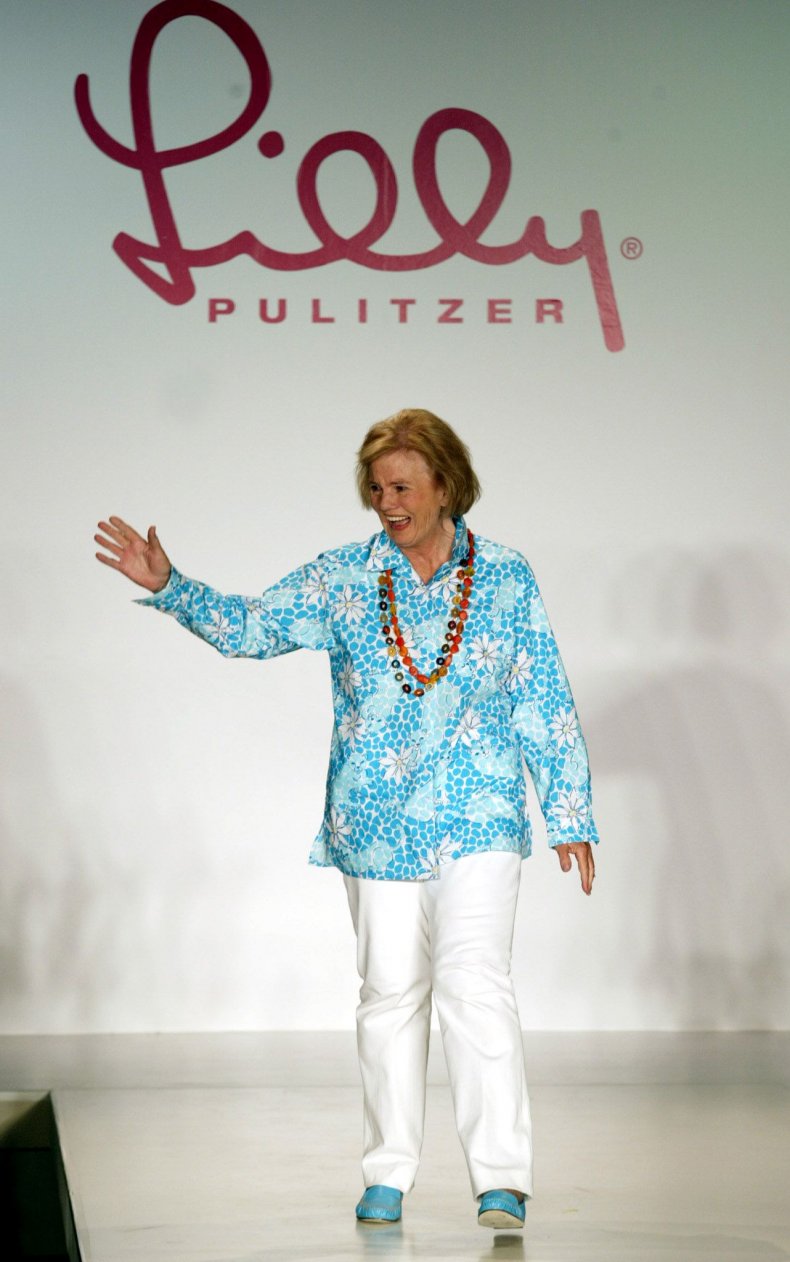 Those who knew Lilly, the woman, disagreed vehemently with the idea that she would find the collaboration distasteful or low brow. "I think she would've loved it," said Lisa Birnbach, author of The Preppy Handbook, True Prep: It's a Whole New Old World and personal friend of Pulitzer's. "I think the Target association is smart, and I've been sort of offended by the remarks that people have made that now 'common folks' can buy Lilly Pulitzer."
Schoenborn agreed: "Lilly would always have included everyone."
Pulitzer was so inclusive, in fact, that she would leave the door open to her Palm Beach estate, encouraging those who loved her to stop by. "She wanted everyone to be a part of it. She would've just loved this," said Mary Lane, whom Pulitzer named a 'Lilly Ambassador' for her love of the brand.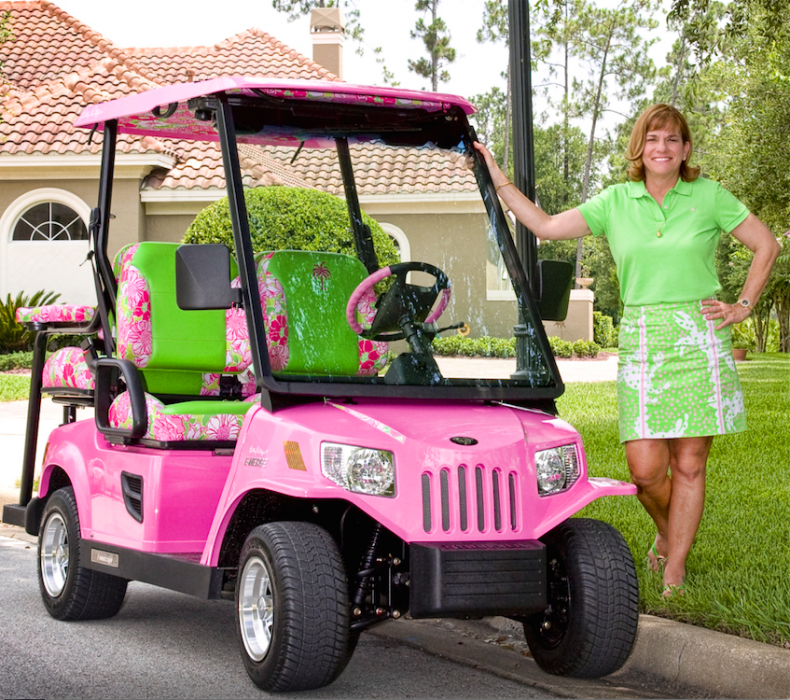 Lane, a Florida native, has been wearing the brand for five decades: She has two closets full of Lilly items, a Lilly-themed guest room, a dog named Lilly and a custom Lilly printed golf cart. She flew into New York City from Florida to shop the Target collaboration, which she praises, two days early. Her goal is to visit every single Lilly Pulitzer shop. When we met at Bryant Park, she was wearing head to toe Lilly, of course, and she estimates 99.9 percent of her outfits are composed of Lilly Pulitzer pieces.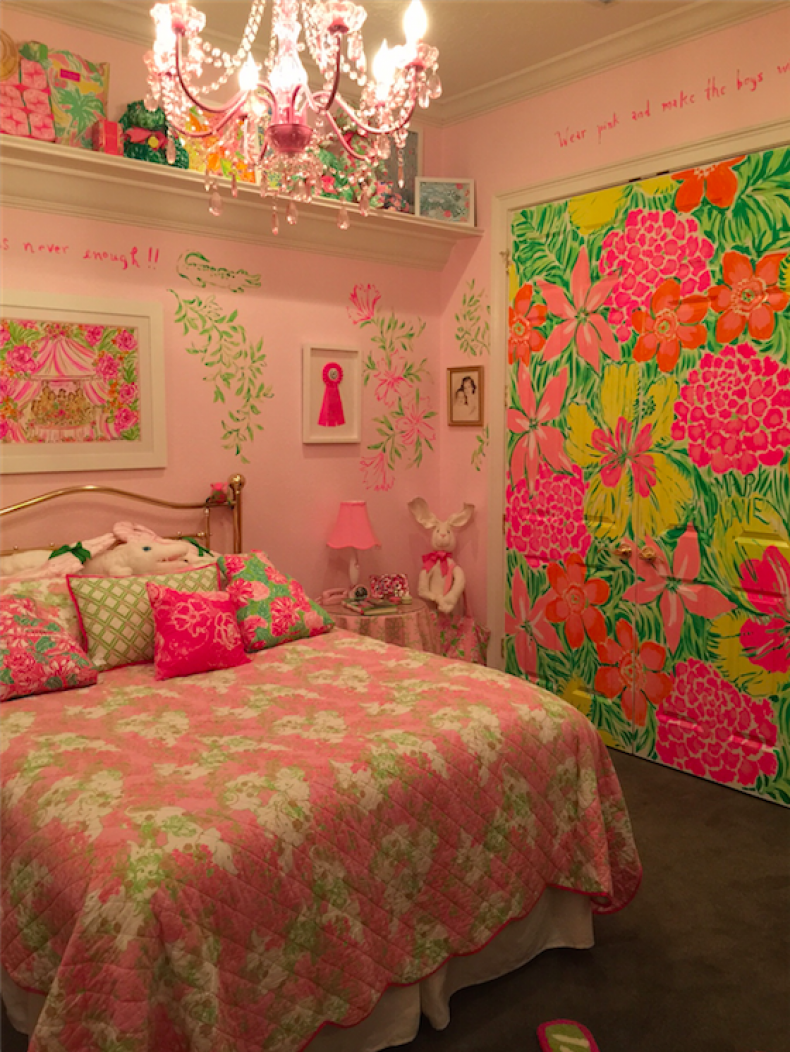 Lane's devotion to the brand might seem unusual to some, but this kind of connection is common to Lilly Pulitzer. In fact, this die-hard, emotional attachment is why Schoenborn believes some women were opposed to the Target collaboration. Change, especially if you've been wearing the same shift dress for years, is difficult.
"We understand that consumers hold our brand very close to their hearts. People love us enough to care. We are a multigenerational brand—mothers pass it down to daughters," Schoenborn said. "We see the Target collaboration as a wonderful opportunity to bring more people into what we do."
Veronica Ruckh, director of Total Sorority Move, said of her readers: "They grew up in these clothes, as did their mothers and their grandmothers. They feel connected to it. They are very brand loyal because of that nostalgia. It is a community that's very tradition based. Lilly has become part of the culture. To them, Lilly is theirs."
Although Ruckh's site published the takedown of the Target collaboration, she noted it was written not by a staff writer or a formal contributor, but by a community member.
"It definitely looks bad on sorority girls to be freaking out about this Target collaboration, but they did freak out," Ruckh said. "It was a really polarizing issue among sorority girls. Some were really stoked to see an affordable version of the brand that they love. Others felt slighted by it, like it was a luxury that they had, and making it more readily available makes it less special."
Ruckh, herself a former sorority girl, was surprised by the outrage, pointing to the retail price points of Missoni, whose dresses sell for as much as $2,755 to Pulitzer's $348, and Vera Wang, whose wedding gowns retail for tens of thousands of dollars but who went on to create a much lower cost line for mass market company David's Bridal. Though she recognizes many sorority girls might be upset by the brand's move, Ruckh doubts it will hurt Lilly Pulitzer's bottom line.
For Caroline Powell, a Southern sorority girl, the collaboration sets an uneasy mood. "Lilly plays a big role in sorority life. It's very popular with all of the sororities at my university. It's a fairly significant part of our lives," she explained, adding that she was apprehensive about the quality of the Target collaboration but would give it a try.
Wanting to determine the quality for myself, I waited in line at the Bryant Park preview of the collection. The press event was packed, and seemingly everyone had an armful of collaboration goodies. Between the leggy models, lemonade-swinging bartenders and large pink-and-green hammock, brand superfans grabbed entire runs of dresses off the racks, stuffed printed pillows into purses and bartered with one another for starfish printed towels, a crowd favorite.
A fan of the shift dress, I picked up two in my size and tried them on. The fit was the same as any Lilly Pulitzer–proper dress. The fabric, a stiff cotton, felt much more expensive than its $38 price tag let on. The dress was lacking tiny details a true Lilly enthusiast might miss—the hem was not lined with lace on the interior and the bra strap holder was not built in—but nonetheless it was beautiful. And it was $38, a fifth of the price of some of my favorite shifts.
Juggling five towels (including the elusive starfish print), I wandered around the preview. Flashlights blinding the crowd as the Lilly-wearing models Kate Bosworth and Ellie Kemper were photographed every few seconds. Across the room, I spotted the crop top ensemble in person.
The woman wearing it was not unlike the email model: leggy, blonde, wearing the same jewelry. She looked stunning, not at all like the she had donned one of the many crop tops on Forever 21's disarrayed racks. In person, the outfit had much more sophistication than what fast fashion brands had granted the crop top. The cotton was thick and sturdy, not sliding to reveal more of the midriff than intended. It took on an air of flirtation rather than sex appeal.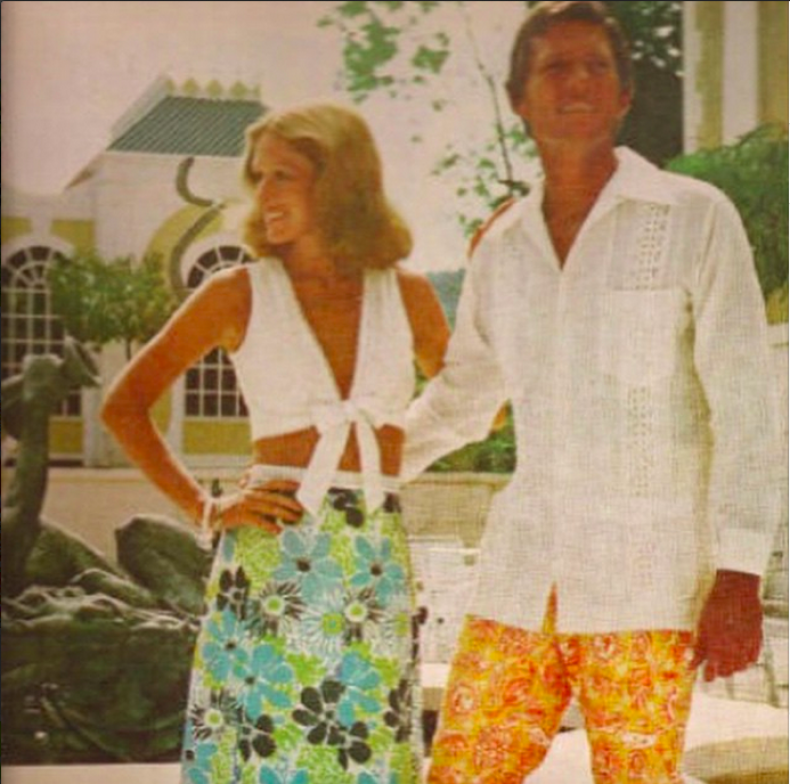 While the style has made a comeback, Schoenborn showed it has been popular before, digging through the archives to find an old photograph of Lilly herself in a long skirt and cropped white blouse, tied in a large bow. Another photo, taken by icon Slim Aarons, shows a whole crew of Lilly's friends in similar outfits.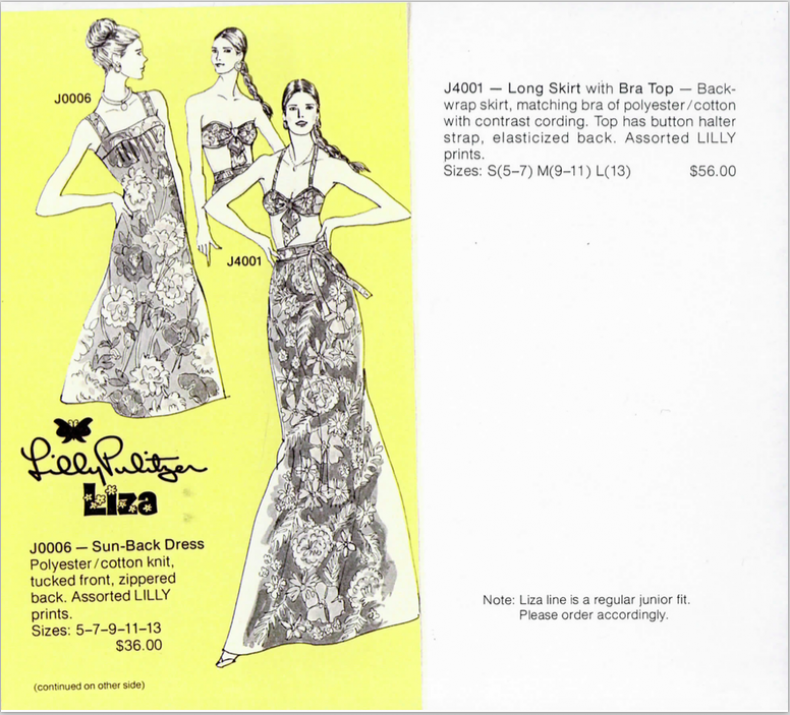 "We see the crop top as a vintage-inspired piece, not as something hopping on a trend that's happening now. She's been doing it since 1960," Schoenborn explained. "She was really the queen of the cut out and the interesting slit. That's where the shift dress came from, with the slits on the side."
Warming up to the crop top, I discussed with other brand enthusiasts whether Jackie Kennedy, Lilly Pulitzer's most iconic customer, would have worn the ensemble, as Lilly had certainly worn versions of it.
"I don't even like saying the word crop top," Birnbach said. "The idea of wearing something sexy that is also Lilly is kind of beside the point. You can look good in a Lilly without holding in your tummy." She was unsure whether Kennedy would have worn the two-piece.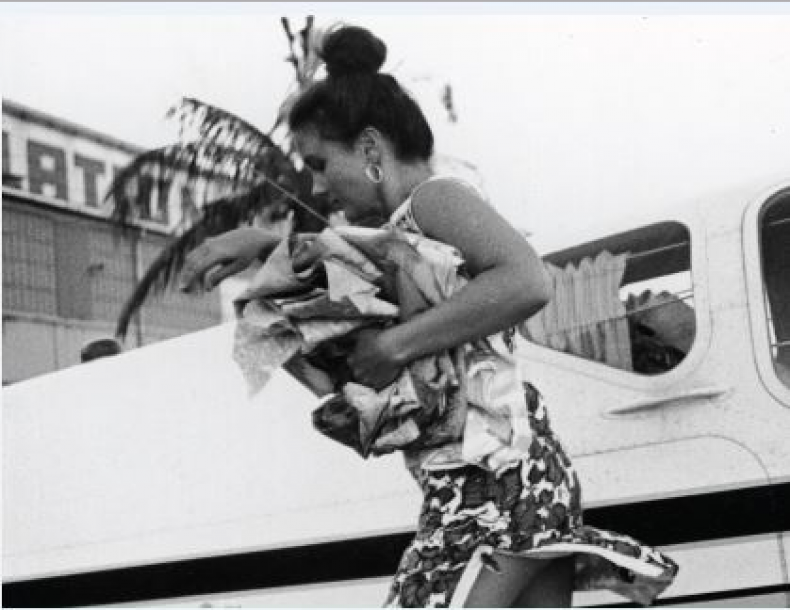 As for Ruckh, she also had trouble picturing a sexy Lilly dress, but thought perhaps Jackie might've been intrigued: "A 35-year-old Jackie Kennedy in the '60s, of course she wouldn't wear a crop top. But a 19-year-old Jackie Kennedy today, maybe!"
Lane felt confident both icons, Lilly and Jackie, would've slipped on a crop top in their youth.
With a newfound appreciation for crop tops, I headed toward a cab, bogged down with three shopping bags and a Lilly printed beach chair, a piece of Palm Beach I was determined to make fit into my New York City apartment.