Would Kim Kardashian Sleep With Donald Trump or Kim Jong Un? Plus Other Questions JLaw Has Asked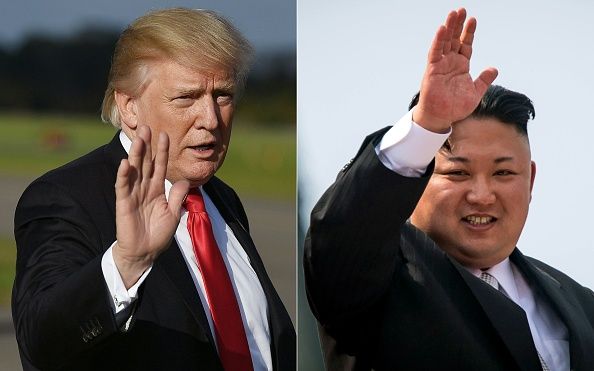 Jennifer Lawrence has a lot of questions for her dream bestie Kim Kardashian West. She got a chance to ask 18 minutes-worth of them as a guest host on Jimmy Kimmel Live! In the process, Kardashian revealed other questions Lawrence has asked her off-air, including one rather revolting doozy.
"Do you think that you could hack a president's Twitter and maybe stop a war? You could save the world, in theory!" Lawrence asked.
Kardashian responded with her memory of another inquiry Lawrence had once posed. "Yeah, it's kind of like that game we were playing at the house," she said. "You were like, 'Okay, if you could save the world, who would you rather sleep with: Donald Trump or Kim Jong Un?'"
The Oscar-winning actress is a huge fan of Keeping Up With the Kardashians, a fact she expressed in a Vogue interview in August. She revealed that the crew of the horror film Mother! had made her a "Kardashian tent," a "happy place" where she could decompress between scenes with the reality show playing on a loop. The following month she spoke again on E! News about how the show helped her de-stress while filming the Darren Aronofsky movie.
When Kardashian saw the interview, she gushed right back at Lawrence on Snapchat. Lawrence also once had a very memorable run-in with Kardashian's mother, Kris Jenner, who surprised the actress at her 25th birthday party in 2015. The two ended up on a bed with her in a moment posted for posterity on Instagram. Earlier that year, she had yelled, "I love your show!" at Kardashian from across a hotel lobby.
So there was history that preceding the moment Lawrence took a seat behind Kimmel's table and questioned Kardashian "with the tenacity of an investigative reporter," as Vox put it.
"Okay, let's do this!" she exclaimed at the start of the segment. "I have been obsessed with our first guest and her family for over a decade in a very, very healthy way." She went on to ask a slew of questions, including:
Lawrence: What is the weirdest thing that Kanye does?
Kardashian: He falls asleep anywhere. We'll be at a meeting or he'll introduce me to people I've never met before or we'll be at a restaurant and he'll be like snoring at the table.
Lawrence: Have you talked to O.J. [Simpson] since he's gotten out of prison?
Kardashian: I haven't. I haven't talked to him in years. I think I saw him at a club in Miami maybe eight, nine years ago.
Lawrence: Did you talk to him? … Did you ask him if he did it?
Kardashian: I just never really go there. I have so much respect for his children and I feel like my mom and Caitlyn both say a lot about it and are really vocal. I just feel like his kids—it must be really hard. I just try to stay away from it.
Lawrence: Do you and Kanye fart in front of each other? Do you talk about farts? Like do you fart in front of him?
Kardashian: I don't fart. What are you talking about?
Lawrence: One thing that a lot of people might not know if they haven't watched every single episode from the time the show started is that you run Instagram and social media, but you're also a bona fide hacker.
Kardashian: Totally. I'm retired, so I don't get in trouble, I'm fully retired.
Lawrence: But tell me about those days.
Kardashian: Yeah I used to be like the go-to "spy" that everyone would call and try to get info on their boyfriends or husbands.
And that's how the topic of hacking and the question about Kim and Trump came up. Sadly, fans may never know the answer to whether Kardashian, if humanity depended on it, would choose to sleep with the dictator of an isolated nation or the supposed leader of the free world who, you never know, might be inclined to "grab her by the pussy" before she had the chance to decide on her own.
"Who did you say?" Lawrence asked Kardashian when she brought it up.
"I think we were laughing so hard we didn't choose," Kardashian answered. Better laughing than crying at the prospect of such a decision.