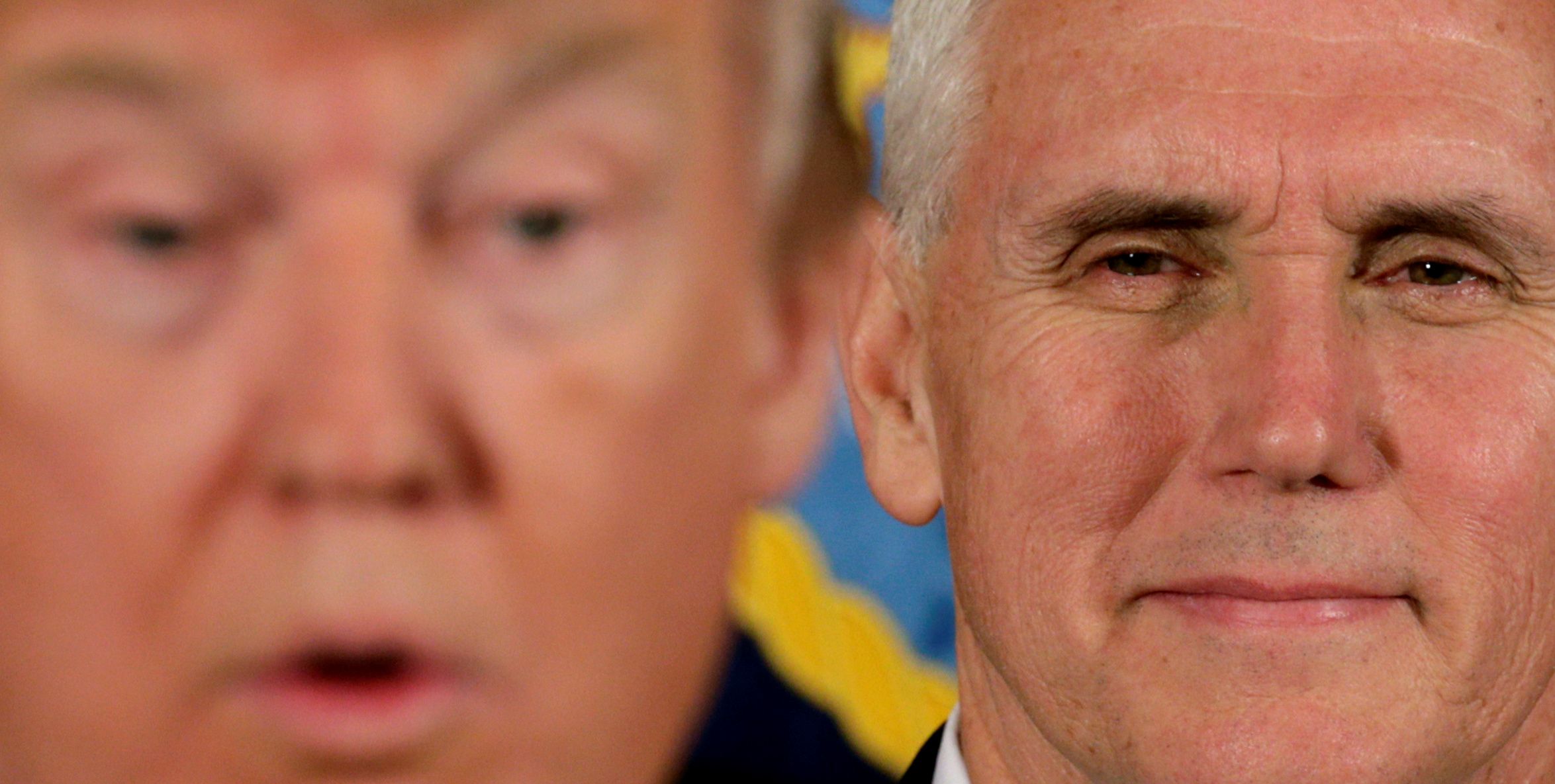 Donald Trump is president. That much is true. But apparently, nearly every politician in his party would prefer that Trump's No. 2 take his position in the Oval Office.
The news site Axios reported Monday morning that Republicans' overwhelming support of Vice President Mike Pence compared to the president is a potential "landmine" for the former reality TV star turned leader of the free world.
Trump's presidency has been defined by tumult: Calls for his impeachment have ramped up in recent weeks, and he faces multiple lawsuits over charges that he is violating a corruption clause in the Constitution. For GOP lawmakers, many of whom were never particularly thrilled with their presidential candidate to begin with, impeachment could mean getting a Republican they truly like in the Oval Office.
"Beyond his base voters, Trump has an even bigger potential problem looming with his base in Congress," Axios's Mike Allen wrote. "While Republican lawmakers won't say it publicly, it's widely known if they could pick between President Pence and President Trump, the Vice President would win 90 [percent] of the vote among the GOP."
Axios notes that when former President Bill Clinton was impeached, he was able to make it through because a large number of Democrats were in his camp. If things go sideways for Trump, he might not experience that same level of support, as many in the Republican Party would love to see Pence as president. When he was chosen as Trump's running mate, the former Indiana governor was showered with praise by the GOP establishment. The selection was seen as the billionaire reaching out to Republicans to try to bring the party together after Trump bulldozed his way through the primary with insults.
"It's a good move by Donald Trump. We look forward to enthusiastically supporting the ticket," Senate Majority Leader Mitch McConnell said at the time.
Since Trump took office, calls for his impeachment have grown in number and in vigor, with even some Republicans bringing it up. On Monday, Representative Brad Sherman (D-Calif.) proposed an article of impeachment, saying Trump had obstructed justice. But even if Trump were impeached—which, in and of itself, is unlikely because Congress is controlled by Republicans—there would be a long way to go before the president was removed from office. Even if the House passed a resolution authorizing an inquiry into impeachment, two-thirds of the Senate would have to convict the president of an impeachable offense. Neither of the two U.S. presidents who were impeached, Andrew Johnson and Clinton, was actually removed from office. Richard Nixon left office before he could be impeached.