Would Regulation Kill Consumer Genetic Testing?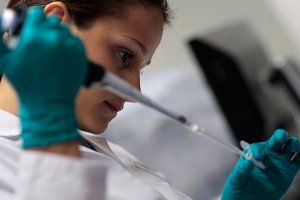 At the Consumer Genetics Conference in Boston this week, it was nearly impossible to go an hour without hearing the words "Pathway" or "Walgreens." That wouldn't have been the case had the meeting been held before May 11, when Pathway Genomics of San Diego made a deal to sell its genetic testing service in the nationwide drug chain. The product lets consumers spit in a $20 test tube, send the results to a lab, pay $250 or more, and find out some of what's lurking in their DNA.
Easy, over-the-counter access to tests that consumers may not fully understand is spurring regulators to action. But as with any emerging industry, there's concern that stringent or misguided government rules could hamper growth and innovation. Certainly, after going unregulated for three years, direct-to-consumer (DTC) genetic tests are about to face their biggest challenge.
Apparently blindsided by the Pathway-Walgreens news, the Food and Drug Administration signaled that it might, for the first time, regulate DTC genetic tests. Congress quickly got involved, sending letters to Pathway and two similar firms, Google-backed 23andMe and Navigenics, asking for documentation on almost everything the companies do. The deadline for the companies' response is this weekend, and Capitol Hill hearings are probably on the horizon.
DTC genomics companies are already regulated in New York and California, and most experts agree that some federal oversight is needed. If done right, FDA rules could be good for the industry, consumers, and pretty much everyone, except perhaps the random firm promoting the genetic equivalent of snake oil. But if regulation is done wrong or overdone, it could+harm the industry or send genomics startups packing for countries with less stringent laws.
"The complexity of some of these tests is such that it is really hard to come to consensus" on what to do about them, says Joann Boughman, executive vice president of the American Society of Human Genetics. "But it's time we just had to grapple with this and understand that no matter what happens, not everybody is going to be happy."
The FDA's reluctance to regulate health-related DTC genomic tests so far has frustrated some in the industry—and critics outside of it—who would have preferred more guidance from the beginning. But the agency has not been ignoring the tests since 2007, when they first appeared. It has been gathering information on them all along. Even in 2000 the FDA was aware of some of the concerns it now has to confront; they were invoked in a report from the secretary's Advisory Committee on Genetic Testing that year.
Some of the report's conclusions were reflected in the FDA's draft guidelines for regulating in vitro diagnostic multivariate index assays that were released in 2006 and again, in a second draft, in 2007. The industry reacted badly to those two proposals. "They were vague, and it would have been expensive for independent labs to comply with them," says Dan Vorhaus, an attorney at Robinson Bradshaw & Hinson who focuses on genomics. "There was a lot of ambiguity in what the FDA was proposing. It wasn't clear how it would be applied."
Recently, FDA officials have said they hope to revamp those guidelines yet again. The current rules do not cover DTC genetic tests, but theoretically, they could be expanded to do so. That might mean that DTC companies would need premarket clearance from the FDA to sell their tests—a rule that would raise the barriers to entry, possibly discouraging startups or driving them overseas. China, in particular, might look appealing: institutes there have lately been buying genetic sequencing machines in droves.
But many observers think the FDA won't go so far as to require premarket clearance for the tests because the agency itself may not want to deal with the "insane and unsupportable burden" that would present, says Paul Kim, an attorney at Foley Hoag who briefed the Consumer Genetics Conference audience on the issue. "Does the FDA really want to have an obligation to clear thousands of new tests every year?" he says. "It's unsustainable, and I can't imagine the FDA would welcome or look for that kind of responsibility."
Perhaps an easier solution would be to piggyback onto the genetic-test registry that the National Institutes of Health is already planning to build so that consumers will have a way to compare different testing services side by side. So far, the NIH's plan is for the registry to be voluntary, but Vorhaus argues it could be mandatory instead, with companies required to explain what genes they test for, how they do it, and how they interpret and aggregate the results for consumers. "The companies may already show you the [basic science] studies they're using," says Vorhaus, "but all those algorithms that go into producing their reports—those are the kind of things that are going to concern the FDA."
At the very least, says Boughman, under new regulations, DTC genetics companies should have to start proving some basic cred: that their labs are CLIA-certified (most already are) and that they can correctly identify the variants for which they're testing. Boughman would like to see the labs regularly checked by an outside agency such as the College of American Pathologists. "We think there should be a way to confirm a result in another laboratory, either with people flipping samples or sharing a [sample with a disguised identity] once in a while," she says.
The FDA has not yet revealed its intentions; the agency told NEWSWEEK on Thursday that it "continues to look at tests being marketed directly to consumers, and will take appropriate steps as necessary to make sure that public health needs are met in a safe and effective manner."
But Kim says there's at least one concrete indication of what may be in store—at least from the Hill. Last week, Reps. Patrick Kennedy (D-R.I.) and Anna Eshoo (D-Calif.) reintroduced a personalized medicine bill that first surfaced three years ago under the sponsorship of a certain then-senator from Illinois. (Yes, that one.) The new, Kennedy-Eshoo version of the bill has several tweaks, among them the creation of a new office focused on personalized medicine; a proposal for a registry like the NIH's; and a call for the FDA, the Federal Trade Commission, and the Centers for Disease Control to evaluate DTC genomic tests. The FDA is not involved with the legislation, but the bill may be "a good bellwether" for future regulation, says Kim, who has advised Kennedy's office.
"What people like most of all with regulation is certainty and clarity," Kim adds. "If you have a pathway laid out, even if it's stringent, you know what you're dealing with."