Would You Feed Your Baby Breast Milk From a Lab? | Opinion
Breast may be seen as best, but scientists are now devising a motherless alternative.
Labs in Singapore and the U.S. are creating breast milk without involving a mother. In a time when cottagecore and sourdough bread are the hashtags du jour, the idea of taking one of the world's most organic, precious commodities and recreating it in a lab may seem rather risky. But what you may be surprised to know is that this milk isn't an imitation–it's the real thing.
Biomilq from the U.S. and TurtleTree in Singapore are taking live cells and using them to create human breast milk.
North Carolina-based Biomilq is using live mammary epithelial cells and encouraging them to multiply in a bioreactor with the help of a nutrient dense liquid. The lab made breast milk contains the same nutrients as the human version, including oligosaccharides, fats and carbohydrates. They even have the option to personalize the cultured milk.
Pregnant moms can have a biopsy of their cells taken and Biomilq will be able to reproduce their milk to have a constant supply for their baby. A mother's milk production can shut down to save energy, but the Biomilq's cells can keep producing.
Critics have questioned that Biomilq and TurtleTree are taking the humanity away from the human agenda. While others have said that it might become a cult product as mothers seek the best version of the milk.
But the start-ups say that this isn't aimed at moms who can breastfeed—instead focusing on parents who can't. While the movies make it seem as if breastfeeding comes naturally, it can be a bumpy ride for some and impossible for others. For moms who have HIV or are taking cancer drugs, breastfeeding isn't an option and parents who have adopted or used a surrogate need an alternative way to feed their child.
"Yes, we are pioneering next-generation lactation science," said Michelle Egger, CEO of Biomilq. "But, more than that, we're offering support for new parents."
TurtleTree plans to sell its products to infant nutrition companies in 2021, while Biomilq is aiming to sell direct to consumers in a few years' time.
They come with serious financial backing. TurtleTree is supported by Singapore's Temasek Foundation and Biomilq by Jack Ma and Bill Gates. But the infant nutrition market is big business. It is set to reach $103 billion by 2026.
While the cell-based milk solves some concerns for parents and babies, it does come with limitations. The cell-based breast milk does contain the same nutritional make-up as human breast milk, but it doesn't contain the antibodies that would be passed on through the mother's bloodstream. It also can't adapt to suit the needs of the child.
"Breast milk is unique to each parent and baby. It changes from day to day to meet the child's needs. Because of the ever-changing and specificity of breast milk for each dyad, it's unlikely that any formula will truly replace breast milk," said lactation expert Chrisie Rosenthal, who wrote The First-Time Mom's Breastfeeding Handbook.
Like with other cell-based foods there is what's known as a "yuck factor."
Some people balk at the idea of food being created in a lab, but what's the alternative? Parents can use formula, milk banks or turn to classified sites where moms who have excess milk sell it to help other parents. Unlike milk banks where the milk is screened for viruses, classified sites work on an honor system.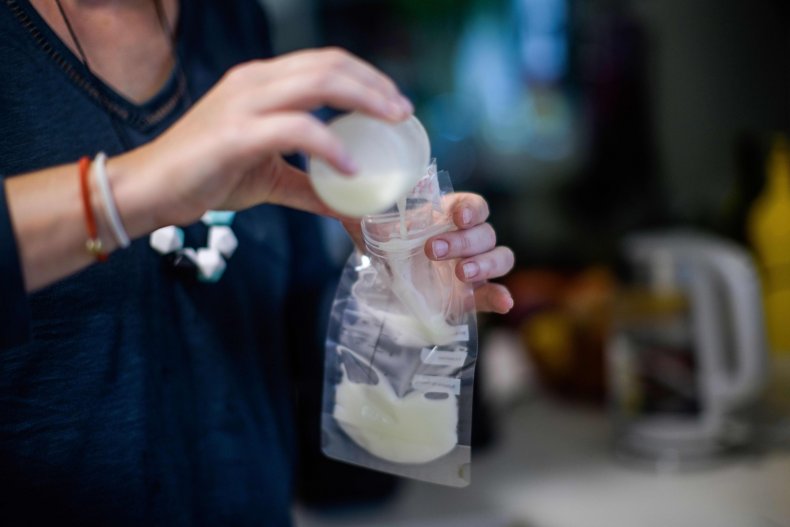 When it comes to the cell-based milk, American obstetrician-gynecologist Tara Scott said that breastfeeding was one of the hardest things she's done. Scott sees the positives for tiny tummies who struggle with formula.
"Many children have food sensitivities to the formulas as they are not the same as breast milk, so as [cultured milk] contains the two components of breast milk [lactose and casein], it looks promising," she said.
TurtleTree Labs hopes to reduce the price of development as time goes on, which is what the cell-based market has done with other food products, said Harith Bahren, chemist and business analyst for TurtleTree Labs.
"Our early products could be at a more premium price point. However, as the technology matures and the ecosystem around the technology develops, we are confident the cost of production will drop considerably," he said.
Agnes Nemes-Chow, mom of eight, who is a volunteer for the Breastfeeding Mother's Support Group in Singapore, found it difficult to breastfeed her youngest daughter. She wasn't able to produce enough breast milk so Nemes-Chow's friends gave her their frozen breast milk until she was able to build up her own supply.
Nemes-Chow says she's not yet swayed by the idea of cell-based breast milk.
"My first preference would be to use donor breast milk from other breastfeeding mothers. Formula and in my understanding, cell-based breast milk too, doesn't have antibodies and microbes that support the baby's gut health the same way as real breast milk does. I would need to see more information about the safety and health impact of cell-based milk before I bought it," she said.
While this futuristic solution might not be for everyone, when it does launch it could create a solution for some people who need extra help.
The decision to breastfeed or not is highly personal. But whatever your mom decided for you, remember that mother knows best.
Claire Turrell is a freelance journalist based in Singapore. Her work has been published by U.S. News & World Report, National Geographic and the BBC.
The views expressed in this article are the writer's own.