Wounded Arctic Seal Pup Found Swimming in Scottish Waters
A baby ringed seal has been found in the waters of Scotland, far from his home in the freezing Arctic. The seal pup was reportedly suffering from injuries at the time of his rescue, but he is now making a slow recovery thanks to a Scottish animal welfare organization.
In contrast to common seals, ringed seals are only found in the iciest areas of the northern hemisphere. According to National Oceanic and Atmospheric Administration (NOAA) Fisheries, the species gets its name from the light, ringed pattern across their backs.
Fully-grown ringed seals are four to four-and-a-half feet in length, weighing between 110 and 150 pounds. They live in frigid climates year-round and "use their sharp claws to make and maintain their own breathing holes through the ice."
Ringed seals are an abundant species, but their populations are concentrated in regions with sufficiently low temperatures. Due to their proclivities for the cold, they are rarely spotted in areas with warmer waters.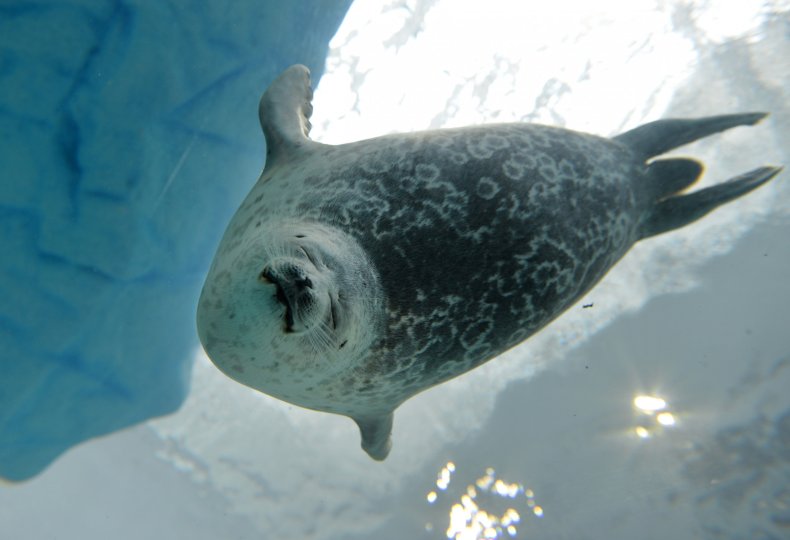 This seal pup found in Aberdeen, Scotland, has been estimated to be between six and eight weeks of age. He had abrasions on his back and seemed lethargic at the time of his rescue, according to BBC News.
First mistaken for a common seal, the pup was soon identified as a ringed seal—a species rarely spotted in the region. Specifically, there have been fewer than thirty ringed seal sightings in the United Kingdom over the past hundred years, reported The Scotsman.
The seal was initially noticed by the British Divers Marine Life Rescue in Aberdeen harbor but was soon taken in by the Scottish Society for Prevention of Cruelty to Animals (SSPCA). There, he was given the name "Hispi."
"We were very surprised to have a ringed seal arrive in our care as they are found in arctic waters and can venture as far south as Greenland or Norway so it's very unusual that he was found in the Aberdeen area," said SSPCA wildlife assistant Sian Belcher, according to The Scotsman.
She explained that due to Hispi's extremely young age, it's likely that his mom had traveled to the area and given birth to him nearby. "We think his mum may have been searching for food and it brought her to the north of Scotland," said Belcher. "She must have then given birth to this wee pup who has now found himself in our care."
She added that it's "unlikely" that Hispi's mom had traveled south in response to global warming, "as ringed seals need colder water, not warmer." However, that does not mean that ringed seals as a whole are immune to the threats caused by climate change. As the NOAA notes, global warming has the potential to melt and therefore destroy seals' icy habitats.
"He wasn't too underweight when he arrived but is eating well and putting on some weight," said Belcher. "He will most likely stay with us in to October and then we will need to get as far north as we possibly can to release him so he can find his way back home."
Newsweek has reached out to the SSPCA for additional comment.