On Sunday, an estimated 50,000 runners participated in the New York City Marathon, all with their own reason for tackling the 26.2 miles. For Army Staff Sergeant Earl Granville, crossing the finish line was a reminder that we can't control our fate, but even in the darkest of times we still have a choice.
Granville's time with the National Guard spanned nine years and three deployments, including a life-altering tour to Afghanistan in 2008. His vehicle struck a roadside bomb, killing two of his friends, Specialist Derek Holland and Major Scott Hagerty, and injuring Granville's leg to the point that it had to be amputated at the knee.
"I was moved last-minute. That saved my life and took theirs," Granville told Newsweek. "I'm grateful that I'm here, and I'm not gonna forget Derek and Scott. That could have been me."
After recovering at Walter Reed National Military Medical Center, Granville returned to snowboarding and got involved in sled hockey. Two years after he was injured, his twin brother, Staff Sergeant Joe Granville, took his own life, and Granville plunged into a dark place.
"I get a second chance at life, and Joe gets his taken away. I lost my leg, my career and my twin brother in a short period of time," Granville said. "I started playing the victim. I thought the world owed me something."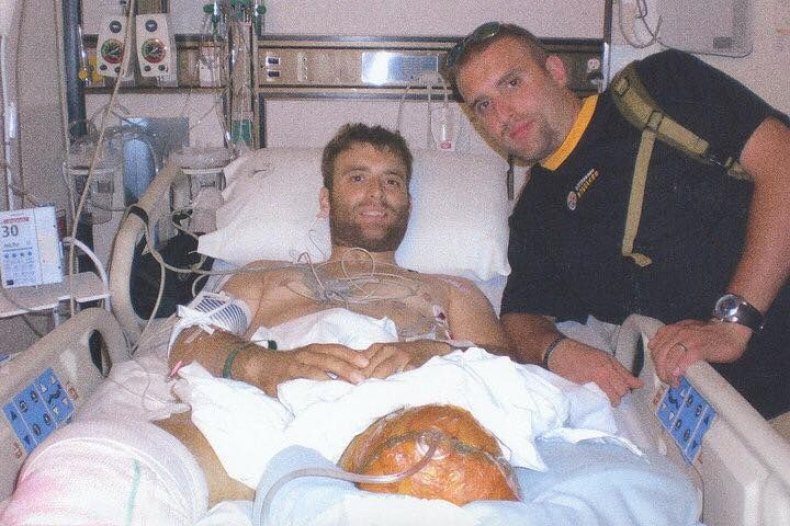 Instead of wallowing in self-pity, he decided to move forward and honor Joe by constantly tackling athletic challenges.
A journey that started with a 5K race here and a road race there turned into half marathons, and the half marathons became eight handbike marathons and four running marathons.
"Everything was about me," Granville explained. "Then I turned it around and made it about Joe. 'I gotta start moving forward, what can I do in honor of Joe?'"
On Sunday, after nine hours and 26.2 miles, Granville crossed the finish line of the New York City marathon with his guide, veteran Johnny Lopez, who lost his left arm after being hit by a drunk driver. Along with the memory of his brother and his own drive to rise above despair, Granville took each step in honor of late Senator John McCain.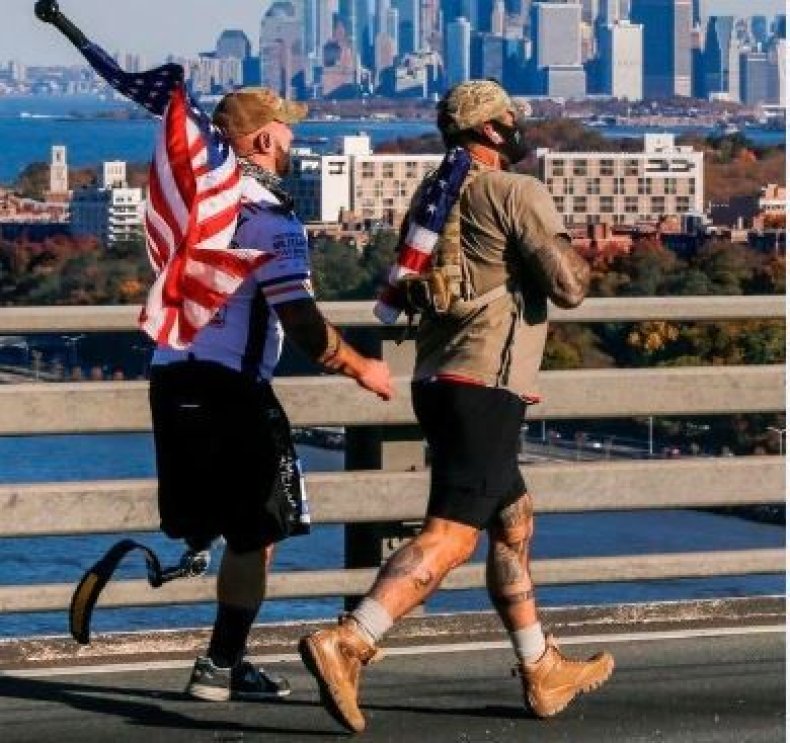 Years prior, Granville met McCain's daughter, Meghan, whom he called a "huge supporter" of Achilles Freedom, an organization that helps wounded veterans participate in mainstream marathons. Over the years he built a friendship with Meghan and had the opportunity to meet the senator, so when he was asked to run in honor of John McCain, Granville immediately agreed.
Granville's fortitude and conviction were contagious to the point that 26.2 miles started to seem easy. But Sunday's marathon proved exceptionally challenging for him because he was taking each step with a brand-new socket in his prosthetic leg.
"Toward mile 20 and 21 is when I started getting a lot of issues, and I hung onto [Lopez]," said Granville, adding, "What option do I have now? I'm not gonna quit. I had a mission and I had to do it, so I wasn't gonna stop."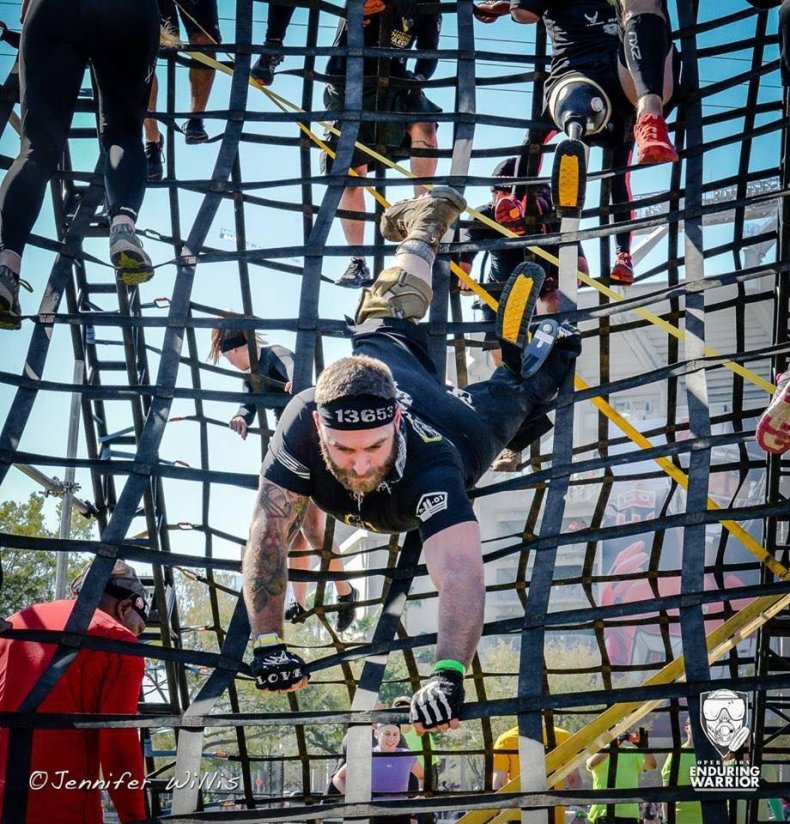 Along the way, Granville and Lopez traded off holding an American flag. When asked why the flag was brought along, Granville asked, "Why not?"
"I don't care what your political beliefs are or where you stand in politics, voicing your opinion, being upset about things—that's what this nation is about," he said. "We have the ability to do that because of this nation, and whether it's right or wrong, that's what makes this nation so awesome."
Thousands of people lined the New York City streets to watch runners go by, and Granville said it was humbling to hear society cheering on and showing their appreciation for veterans, noting that it was a very different story for people coming home from Vietnam only decades earlier.
Granville's races are run as a team, whether it's Operation Enduring Warrior, Oscar Mike or the Achilles Freedom Team. It wasn't until he once again became part of a team that he realized how much he valued it. Starting and finishing the race together, as a team, gives veterans the opportunity to embrace the armed forces culture after their careers have ended. After experiencing his own dark years, Granville is now able to mentor others in a similar position.
"When adversity falls in our lap, we still have the ability to make choices," he said. "How I handle these situations defines who I am. I don't want pity from people. That gets you nowhere. It's gonna happen, but you still have choices to make, to learn from these experiences."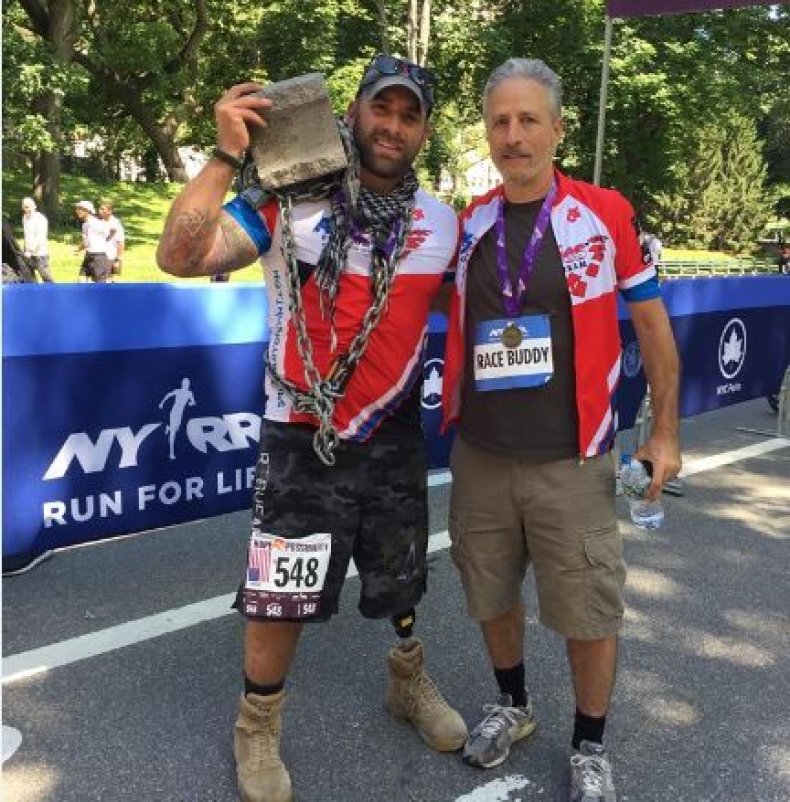 In some races there's an added member of their team: a cinderblock appropriately named "Cindy." Cindy isn't just about carrying a physical weight; it's also a metaphor for allowing others to take on some of the emotional burden.
"She represents all the adversity we face in society that holds us down and stops us from enjoying life," Granville explained. "When that weight gets too heavy, you have the choice to pass that weight off to someone else—you can ask for help."
Completing the New York City Marathon earns participants a nice long winter's nap, but for Granville there's no time to rest. He's gearing up to go to Iceland in December, where he'll complete a Spartan Ultra 24-hour endurance event with Operation Enduring Warrior.