WrestleMania 34 Matches: AJ vs Shinsuke, Brock vs Roman and More
WrestleMania 34 is finally here! The biggest show on the WWE calendar will air April 8 in front of a packed stadium in New Orleans with a stacked card featuring some of the best performers in WWE fighting for the biggest belts in the company. Some storylines are only weeks old while a few are years in the making.
The WrestleMania 34 Kickoff starts Sunday at 5 p.m. EDT with the main show beginning at 7 p.m. so prepare for a lot of wrestling.
Every match for WrestleMania 34 is confirmed, with the only outlier being the suspected John Cena and Undertaker match. However, Undertaker did not show up on RAW last night as expected so that match is in jeopardy.
Here's every match on the WrestleMania 34 card including backstory behind each feud.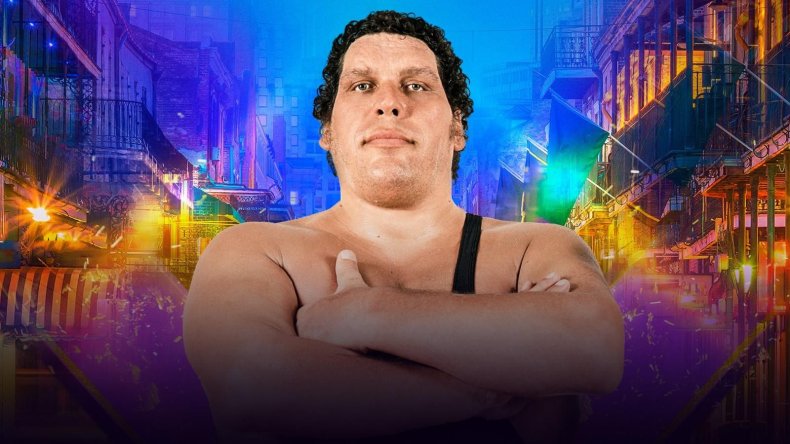 ANDRE THE GIANT MEMORIAL BATTLE ROYAL
WrestleMania 34 will host the fourth annual Andre the Giant Memorial Battle Royal. While the WWE promotes the match as a chance for a Superstar to give a jolt to their reputation and standing within the company post-Mania, the last few winners have not lived up to this promise.
The confirmed entrants for this year's battle royal include: Dolph Ziggler, Baron Corbin, Mojo Rawley, Tyler Breeze, Fandango, Tye Dillinger, Dash Wilder, Scott Dawson, "Woken" Matt Hardy, Goldust, Heath Slater, Rhyno.
WRESTLEMANIA WOMEN'S BATTLE ROYAL
The Women's Evolution continues with the first ever WrestleMania Women's Battle Royal. Controversial name choices aside, the WWE is looking to push the winner of this multi-woman match after WrestleMania 34. The biggest story going into this match is the growing animosity between Sasha Banks and Bayley.
The confirmed participants include: Bayley, Sasha Banks, Natalya, Lana, Ruby Riott, Sarah Logan, Liv Morgan, Becky Lynch, Naomi, Mickie James.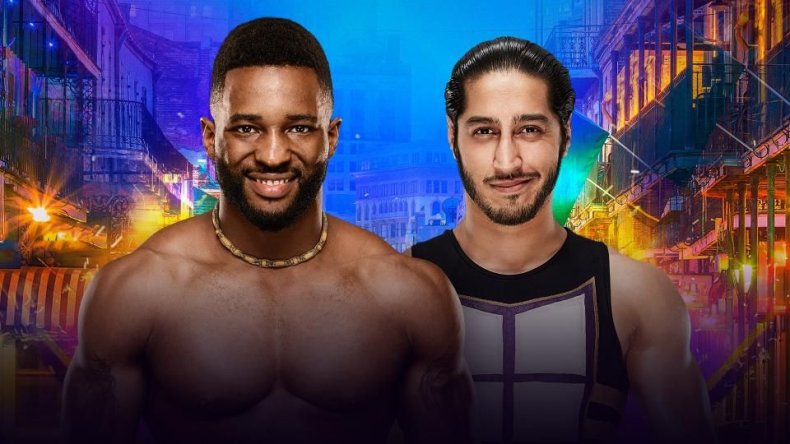 CEDRIC ALEXANDER VS MUSTAFA ALI - CRUISERWEIGHT CHAMPIONSHIP MATCH
The journey to obtain the vacant Cruiserweight Championship ends at WrestleMania 34. After weeks of a grueling tournament on 205 Live, Cedric Alexander and Mustafa Ali advance to the final match to crown the new champ in New Orleans.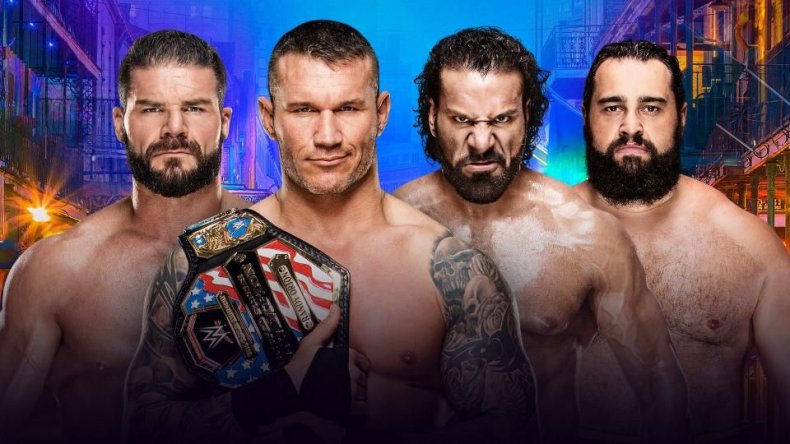 RUSEV VS RANDY ORTON VS JINDER MAHAL VS BOBBY ROODE - UNITED STATES CHAMPIONSHIP MATCH
Like the build to Fastlane, the U.S. Championship match at WrestleMania 34 is pretty lackluster. The crux of the feud revolves around Randy Orton and Bobby Roode not trusting each other while Jinder Mahal uses various tactics to get the two Superstars to fight one another. The match at 'Mania was supposed to be a Triple Threat but after Rusev pinned Randy Orton on the March 27 edition of SmackDown Live, he was inserted into the match making it a Fatal Fourway.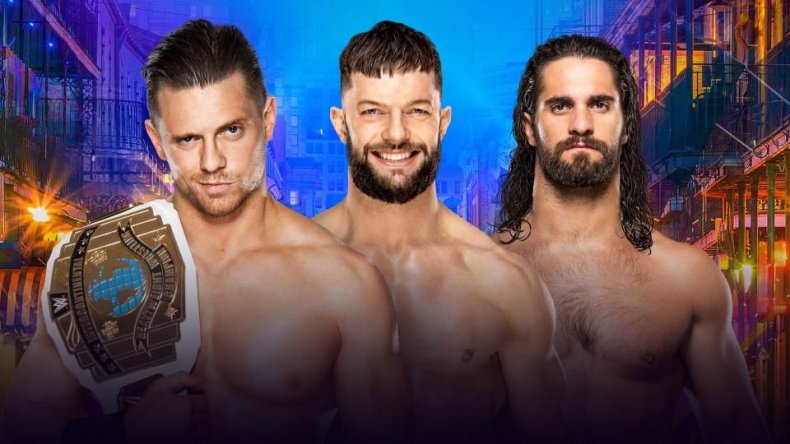 THE MIZ VS FINN BALOR VS SETH ROLLINS - INTERCONTINENTAL CHAMPIONSHIP MATCH
The Miz looks to retain his IC title and become the longest reigning champ in WWE history. Standing in his way are Seth Rollins and Finn Balor, two of RAW's top stars who have had run-ins with The Miz and the Miztourage over the last few months. However, with Balor and Rollins going at it the last couple of weeks, will The Miz find a way to come out on top?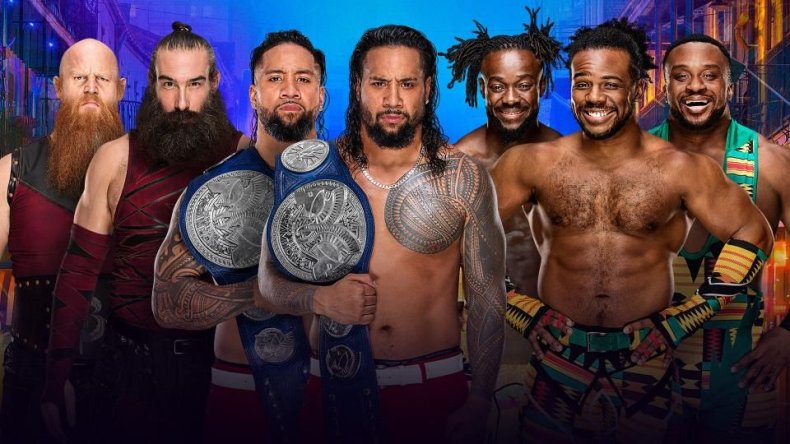 THE USOS VS THE NEW DAY VS BLUDGEON BROTHERS - SMACKDOWN TAG TEAM CHAMPIONSHIP MATCH
What started as another chapter in the Usos and New Day rivalry was turned upside down after the Bludgeon Brothers interfered in their Fastlane match. What followed was weeks of the Bludgeon Brothers getting the best of both teams.
The three teams now will fight in an all-out war for the SmackDown Tag Team belts.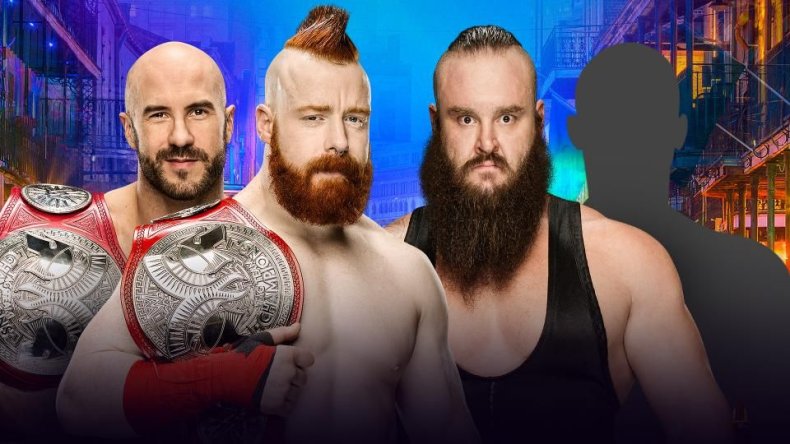 THE BAR VS BRAUN STROWMAN AND MYSTERY PARTNER - RAW TAG TEAM CHAMPIONSHIP MATCH
The Bar has dominated the RAW tag team division for months, which led to a tag team battle royal to determine Sheamus and Cesaro's opponents at WrestleMania 34. Lacking a 'Mania match of his own, Braun Strowman inserted himself into the match and ended up winning.
RAW management is forcing Strowman to have a partner for his match against The Bar at 'Mania, but who will it be? No developments on RAW last night leave this as big a mystery as the Undertaker's appearance as we head into the show.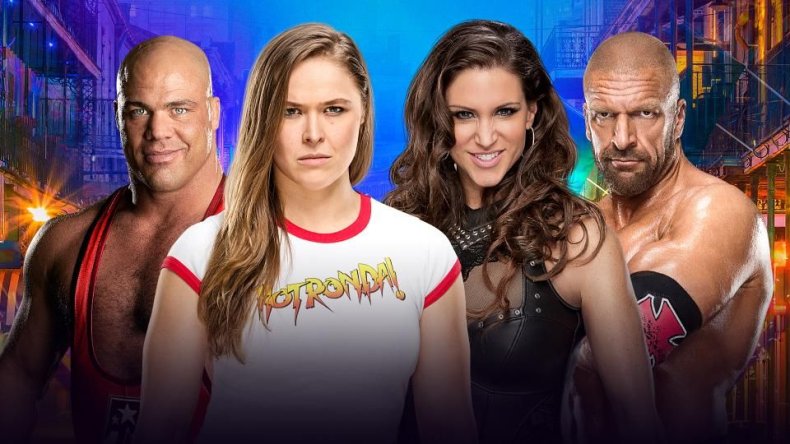 KURT ANGLE/RONDA ROUSEY VS TRIPLE H/STEPHANIE MCMAHON
Ronda Rousey makes her in-ring debut against Triple H and Stephanie McMahon in a mixed tag match. The story revolves around the notion that Trips and Steph are trying to control Ronda after their confrontation at WrestleMania 31, something that Kurt Angle doesn't want to see happen.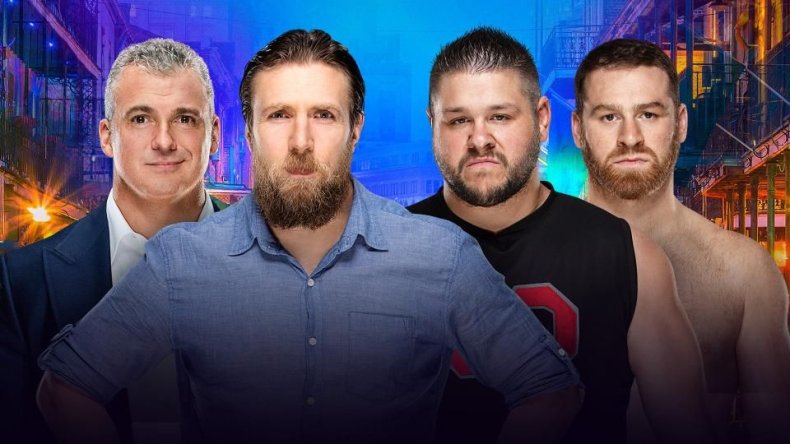 DANIEL BRYAN/SHANE MCMAHON VS KEVIN OWENS/SAMI ZAYN
Daniel Bryan being cleared for in-ring action was the biggest news of the past week, but now he and Shane McMahon must team-up to put an end to Kevin Owens and Sami Zayn's reign of destruction.
Bryan is giving KO and Sami one more chance to save their jobs after they brutally beat down the SmackDown GM. If KO and Sami win, they get their jobs back but if Daniel and Shane win they are gone from the company.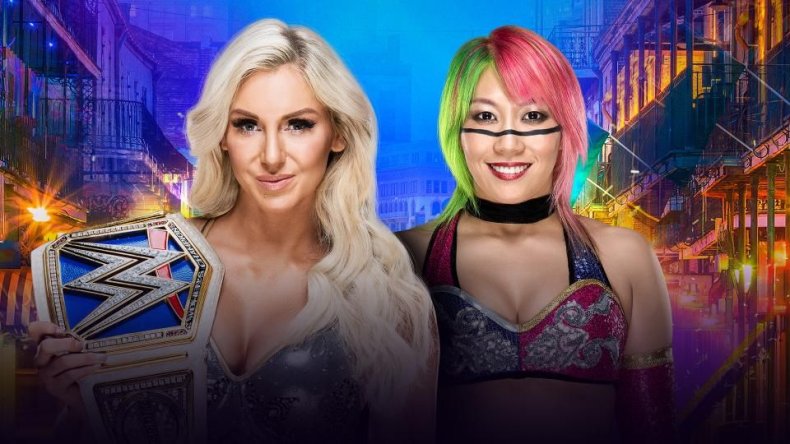 CHARLOTTE FLAIR VS ASUKA - SMACKDOWN WOMEN'S CHAMPIONSHIP MATCH
After winning the first Women's Royal Rumble, Asuka chose to go after Charlotte Flair and her SmackDown Women's title. Asuka chose Charlotte because she's the best champion WWE has and welcomes the challenge to take her down.
Charlotte looks to not only retain her title but to end Asuka's undefeated streak.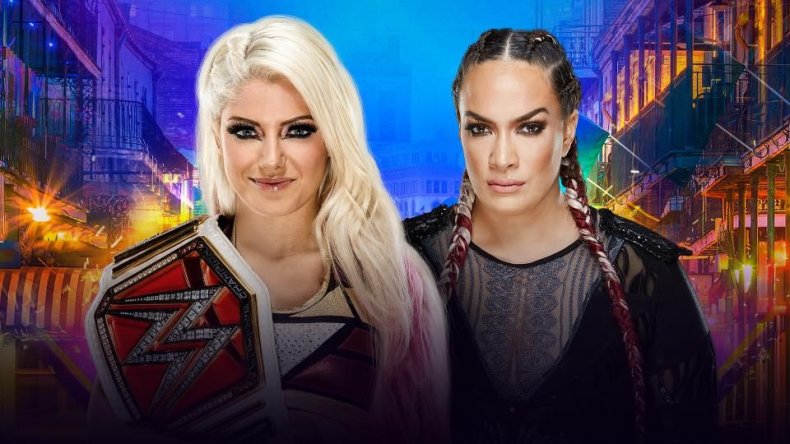 ALEXA BLISS VS NIA JAX - RAW WOMEN'S CHAMPIONSHIP MATCH
With Asuka choosing to face Charlotte, that left Alexa Bliss without an opponent at WrestleMania. It seemed like no one would challenge Bliss for the RAW Women's Title until Little Miss Bliss and Mickie James' were caught making nasty comments about Nia Jax. This turned their friend against them and Jax was granted a match against Bliss at WrestleMania 34 in one of the more lopsided matchups on the card.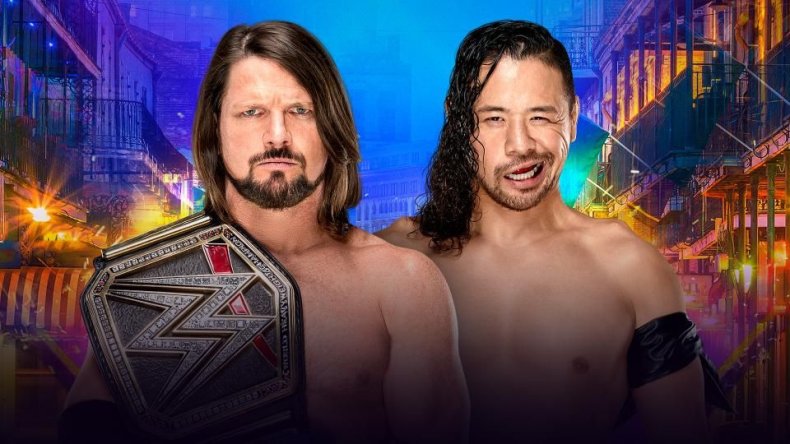 AJ STYLES VS SHINSUKE NAKAMURA - WWE CHAMPIONSHIP MATCH
The dream match WWE fans have wanted to see since Nakamura was brought up to SmackDown. AJ Styles puts his WWE Championship on the line against 2018 Royal Rumble winner, Shinsuke Nakamura in a rematch from a classic match the two had in Japan in 2016.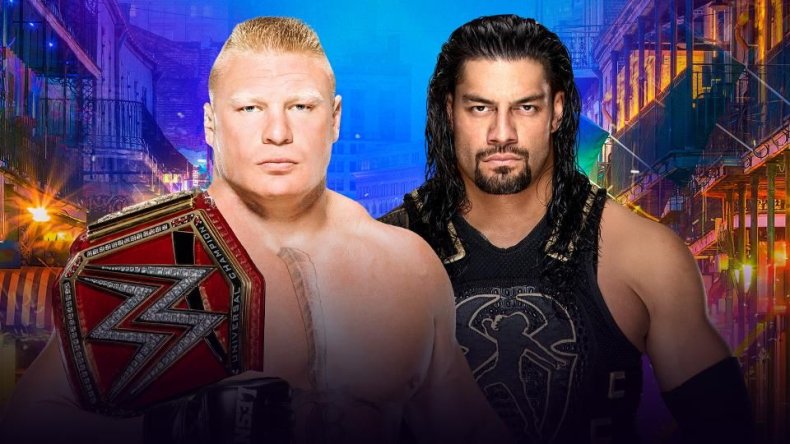 BROCK LESNAR VS ROMAN REIGNS - UNIVERSAL CHAMPIONSHIP MATCH
Brock Lesnar's year-long reign as Universal champion goes into WrestleMania 34 against Roman Reigns in a rematch from their WrestleMania 31 bout (that was famously interrupted by a Seth Rollins MITB cash-in.)
The only two WWE Superstars to defeat The Undertaker at WrestleMania return to New Orleans where Lesnar first broke Taker's 21-year undefeated streak. This match is expected to be a brutal and hard-hitting fight, and with the future of Lesnar's career in WWE seemingly on the line,Roman may stand tall.
What match are you looking forward to the most? Is this the best 'Mania card you've seen? Let us know your thoughts in the comments section below.