WrestleMania 34: Bruce Prichard Talks The Undertaker, Moolah and Brock vs Roman
Every WrestleMania is the culmination of a year's worth of storylines in the WWE, and this year's event is no exception. In fact, WrestleMania 34 in New Orleans is looking like one of the better shows in the event's history, filled with newcomers and veterans.
Royal Rumble winners Shinsuke Nakamura and Asuka will make their WrestleMania debuts in championship matches, while Brock Lesnar and Roman Reigns have their long-awaited rematch for the Universal title. And there's even the possibility of John Cena bringing The Undertaker out of his semi-retirement to square off for the first time at WrestleMania.
To make sense of all the moving parts heading into WrestleMania 34, we spoke with Bruce Prichard, best remembered by wrestling fans as Brother Love. Prichard was a longtime producer for WWE and now hosts the Something to Wrestle podcast with Conrad Thompson.
Editor's note: This interview was conducted prior to the WWE's decision to change the name of the Fabulous Moolah Battle Royal. This interview was lightly edited for length and clarity.
On paper, the WrestleMania 34 card looks to be one of the best in recent history. Where does the card stack up to past shows?
Prichard: Every show is its own thing. They are all unique in their own way, there are good ones and bad ones. This is a big one. We're returning to New Orleans and you have a lot of things happening that people are trying to second guess. The best WrestleManias are the ones you can't pick and they can go either way. I think that's what's unique and special about this one coming up.
What's on the card you're looking forward to the most?
The one I'm looking forward to the most is Roman Reigns and Brock Lesnar, frankly.
Really?
Yea! Regardless of how you look at it, Brock Lesnar is the Universal Champion and he's a monster and a top draw. I'm looking forward to that, from the aspect of "what are they going to do?" Everyone thinks the obvious pick is to go with Roman Reigns, but who knows?! That's the beauty of WrestleMania and that's the beauty of being able to book something that people can't call.
Some of the other matches I'm looking forward to are Shinsuke and AJ Styles. They'll probably steal the show as far as matches go. But there's the intrigue of Triple H and Steph versus Kurt and Ronda Rousey. So there's a lot going on. There's something for everybody, which is what WrestleMania is all about.
Speaking of Roman and Brock, the weeks leading up to 'Mania 34, creative is flipping the script to have the crowd go against Brock and for Roman. How do you feel it's been handled?
We're talking about it, so it's been handled very good. [Laughs] You know, the more people talk about it, the better it is... As long as they are talking about a promotion or a match, that's a good thing.
What about the part-timer aspect of Brock? How do you feel the number one belt being on a part-timer like Brock?
It depends on your perspective. In a situation where Brock is champion, he's coming in for a certain number of days doing what he does, and when he comes in, he draws people. People are interested in what he does. So from my point of view, not having to overexpose the talent is a great thing. People become complacent and used to the talent. When you're only getting them every once in a while, that adds to the talent's mystique... Whether it's Brock's idea or WWE's idea, I think it's a good one for a big draw to only be seen in a limited way.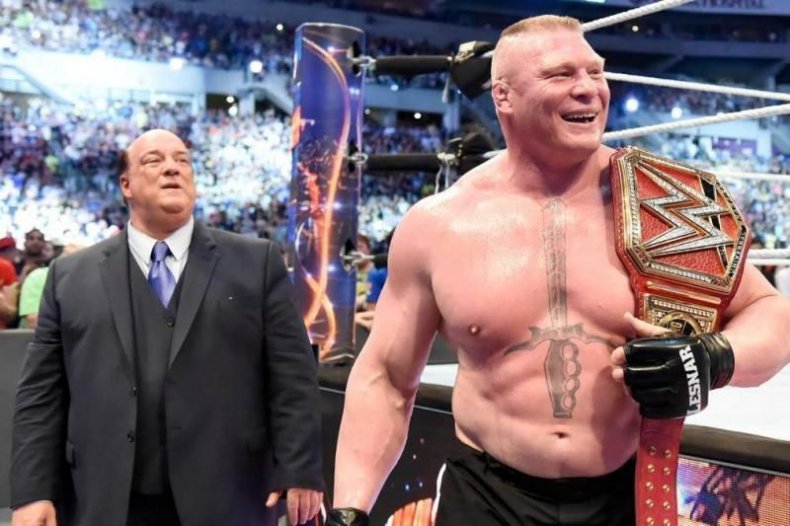 On the other side of the coin, Roman Reigns hasn't received the crowd support that the WWE is hoping for.
I do know that Roman is someone the company is high on, and rightfully so. It's interesting, I always use this analogy: what hurt Roman Reigns is that everyone wanted something new, they wanted something different. And the guy everyone wanted was Roman Reigns. That's because Daniel Bryan was out [with an injury], so they gave them Roman Reigns. Everyone was ready for him, and we get to the Royal Rumble in Philadelphia, set to anoint Roman Reigns, and they bring back Daniel Bryan and the people wanted him! Prior to Daniel Bryan being a part of all of that, they wanted Roman.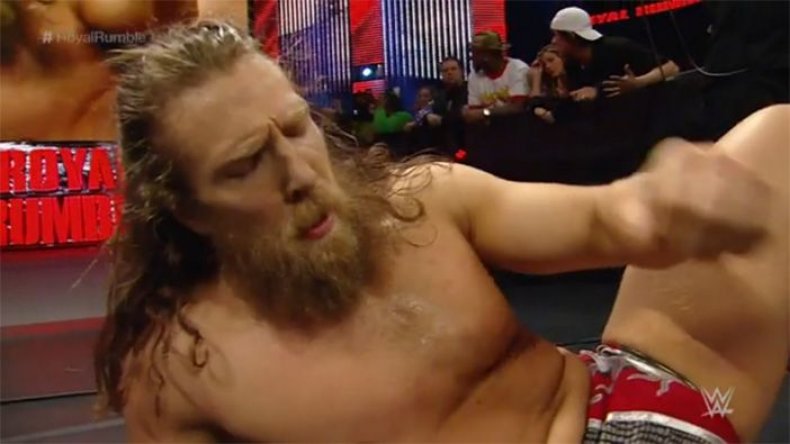 I would have held off on Daniel Bryan and kept Roman Reigns in the right spot, in the right place. Everything would have been completely different. But bringing back Daniel Bryan when they did, it hurt Roman Reigns. So people who remember that want to hate him. It's not [Roman's] fault, and I do think that there's a large segment of the audience, whether they love him or hate him, man, they react to him. And that's a good thing.
Do you believe that's really what the WWE wants? Just to get a reaction?
You want them to care about them, yes. Whether they love them or hate them, as long as they care. What they don't want is no one caring and just not reacting at all. But if they're booing or cheering, you've hit a home run.
AJ Styles' rise in the WWE is something else. I don't remember another Superstar having the rise he had in recent memory. Have you seen anything like it?
No, I can't really either. Kurt Angle is the best example I can give that had that meteoric rise. AJ Styles has been in the business for a long time, so him coming to the WWE was new, but to that audience it was a completely different deal. And he completely capitalized on showing them what he can do.
I find it interesting that the current crop of WWE talent aren't necessarily "WWE Guys," AJ, Shinsuke being two of them. Wrestlers coming from other promotions or simply leaving and returning to the WWE. Is that normal for the company?
It's the evolution of the business. I think that they are WWE Guys now, and when history is written they are going to go down as WWE Guys. Because of the success they had there. They were exposed to a limited number of people in their previous lives, and now they are being exposed to the world, in a bigger sense. Somebody like AJ Styles, with all of his accomplishments prior to coming, people will remember him for what he did in the WWE. That's going to be the genesis of his career, and he's done a lot of great stuff.
Shinsuke, he was a big star in Japan. However, worldwide, outside of Japan who really knew him? So his first time on the world stage is what he's doing in the WWE, and I think he's one of those guys that is interesting, he delivers, and without having to speak the language has been able to communicate and get over with the audience.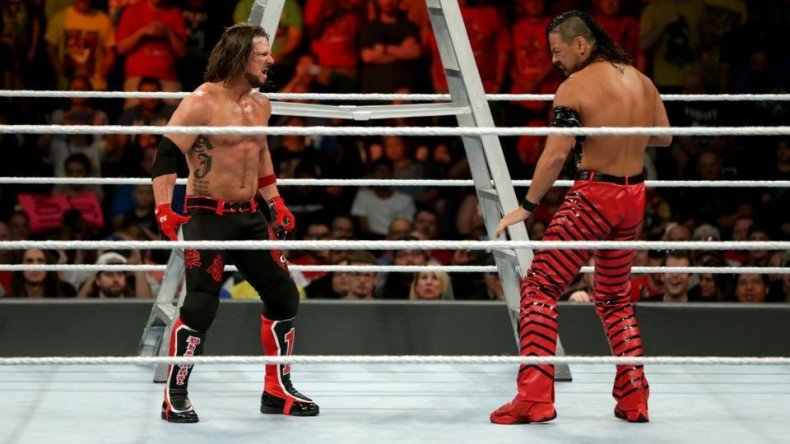 It hasn't been confirmed, but it looks like we're getting John Cena vs The Undertaker. After last year's match against Roman, it seemed like Taker was done. Does Taker need to return?
I think the Undertaker can come back every WrestleMania for the rest of his life, even if he's on a walker, and the audience will be happy to see him. The match last year was the match last year. I saw him recently, around Thanksgiving, and I haven't seen him look that good in 10-15 years.
I think him coming back right now is great. I don't know if he's fully committed to it, but that's his decision whatever he wants to do.
Just to clarify, this is the best he's looked physically?
The best physically he's looked, yea.
Ok, that's good to hear, because I know he's been dealing with issues.
Yea, he was skipping up steps and looked great.
How about matching up with John Cena, is he the perfect person to come back for?
I think it'll be an iconic match. It's taking the poster boy of the WWE for the last 10-12 years and putting him up against "The Icon," The Undertaker. It's something that hasn't happened on WrestleMania and with the iconic status of both of those talents, it's a huuuge attraction and can be a great match.
The women competitors today are some of the best in-ring talent we've seen in quite some time. What are your thoughts on the rise of the women in the WWE?
They are some of the most entertaining matches the WWE is putting out right now, they are top-notch. The athletes they have, like Charlotte Flair, Ronda Rousey, Asuka are fabulous. [Asuka's] another one that, I don't know how well she speaks English, but she doesn't have to say a word and it translates. I'm completely intrigued by her. Becky Lynch, I'm a fan of. There's a lot of great female talent that made that Women's Division as good, if not better than the Men's Division.
When you compare it to the Women's Division of old, the Divas Division and things like that, I think it's some of the best athletes they've ever had in the company, and we've had some great ones. I hate when people say "oh, well, the old women's division..." Come on, man! We had Lita, Trish Stratus and Victoria. Those ladies were athletes and they could go and they had some great matches. Holly Molly, holy cow. There were great athletes then, they just weren't featured as much. It was a different time, in how we portrayed the Divas and the females in the sport. I'm glad that it's come around, that they are being portrayed on an even playing field and presented in the light that they are in now. I love it!
Do you think there is a reason for the drastic shift in how the women are being presented?
There was an influx of great athletes that came in at the same time. There were more people to dance with, sorta speak, and you're only as good as your partner. The level of talent that has been in and go through NXT, there was a lot of it at the same time. And man, they brought it when they had to.That wasn't always the case in the past.
I'd be remiss if I didn't ask about the Fabulous Moolah Battle Royal at WrestleMania. There was a lot of backlash on social media that got picked up by press. Were you surprised by the reaction?
I haven't seen a whole lot of [the backlash], just bits and pieces. But no matter what, in today's society, you're going to get backlash in whatever you do. There's always going to be a segment that is going to want to dwell on the negative.
Moolah's past, the woman that I knew, was always very classy and a very sweet, giving lady. And without her, frankly, there wouldn't be a Women's Division. She pioneered it, she was the one who worked the roads. The rumor and innuendo and other stuff, I don't know if there's any truth to it or not. A lot of times, where there's smoke, there's fire. But from my personal experience, I always found Moolah to be a wonderful human being. She was always good to me, and she treated me well. From my dealings with her, I don't have anything bad to say. I'm not going to say anyone else is right or wrong, because I don't know. That would be speaking out of ignorance and I don't want to do that.
WrestleMania 34 will air on April 8.