With 15 confirmed matches, WWE's WrestleMania 35 looks set to be the longest show in the company's history.
So of course our group of wrestling "experts" had to discuss who they feel will win each match at the "show of shows." While there is some commonality between the four, there's plenty of different choices for winners - especially with so many multi-person matches.
There's a lot to get through so read on to get into the heads of our office wrestling fans or you can watch the predictions below.
WRESTLEMANIA 35 PREDICTIONS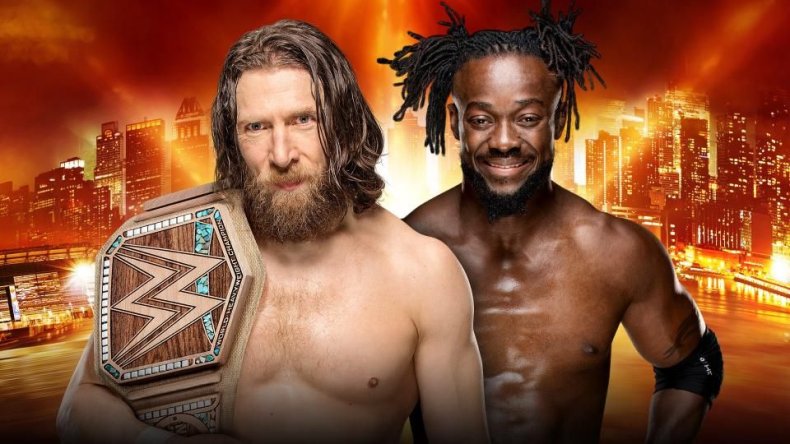 KOFI KINGSTON VS DANIEL BRYAN (c) - WWE CHAMPIONSHIP MATCH
Arguably the match with the most steam behind it, Kofi Kingston looks to finally capture his first WWE Championship against Daniel Bryan. While Bryan has done great work as a heel, anything other than Kofi winning would fall very flat.
Bob - Kofi
Phil - Kofi
Rocco - Kofi
Mo - Kofi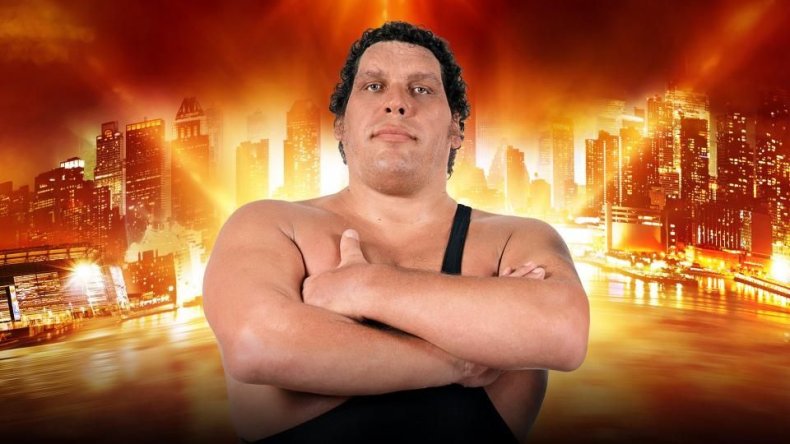 ANDRE THE GIANT MEMORIAL BATTLE ROYAL
The only notable members in this 30-man battle royal are Braun Strowman and the SNL guys, Michael Che and Colin Jost. It would seem the win would go to one of those three men and Bob, Mo and Phil agree. Bob and Mo are picking the monstrous Strowman while Phil is going with Michael Che who is established as the wrestling fan between him and Jost. Rocco feels this is Andrade's time to get a big win and ties into a pick later on this list.
Bob - Strowman
Phil - Michael Che
Rocco - Andrade
Mo - Strowman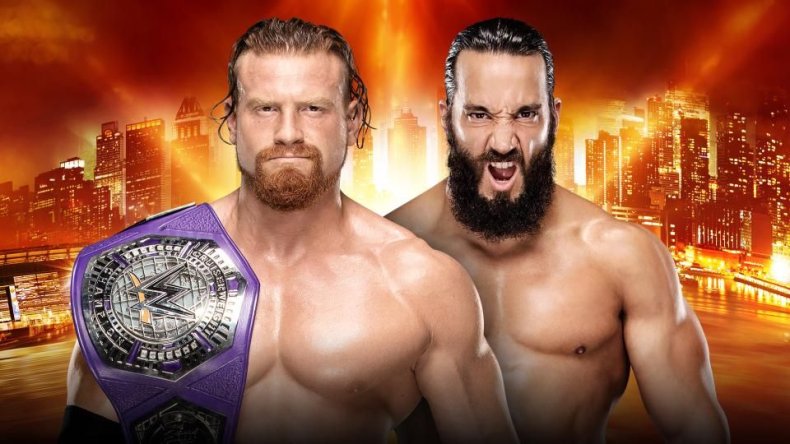 BUDDY MURPHY (c) VS TONY NESE - CRUISERWEIGHT CHAMPIONSHIP MATCH
Buddy Murphy has been the monster heel 205 Live deserves - and frankly needs - so it's hard for any of us to go with Tony Nese. Although Nese is great, we feel a bigger name needs to be the one to take the belt off of Murphy.
Bob - Murphy
Phil - Murphy
Rocco - Murphy
Mo - Murphy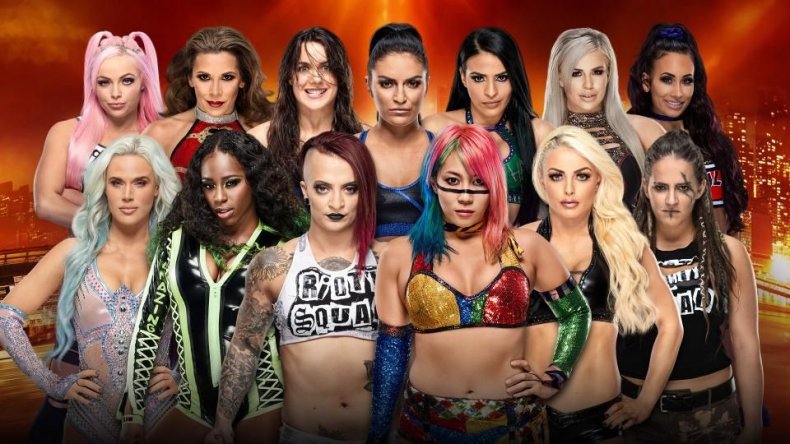 WOMEN'S BATTLE ROYAL
Another battle royal with no heat behind it, so there's a ton of possibilities for winners this year. Bob and Mo feel Asuka is the most dominant person in the match so she should win - especially after doing the job to Charlotte weeks prior - but Rocco feels Zelina finding a way to win and joining her client, Andrade as the winners of the 'Mania battle royals is a good story.
Phil feels this could be the payoff for all those weeks of Lacey Evans appearing and disappearing.
Bob - Asuka
Phil - Lacey Evans
Rocco - Zelina Vega
Mo - Asuka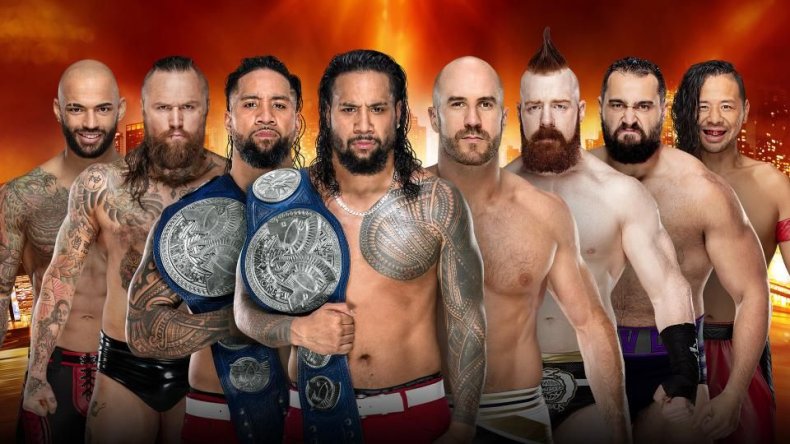 THE USOS (c) VS ALEISTER BLACK/RICOCHET VS THE BAR VS RUSEV/NAKAMURA - SMACKDOWN TAG TEAM CHAMPIONSHIP MATCH
The Usos are being punished for helping out the New Day during their gauntlet match on SmackDown Live a week ago. Because of that, Phil feels the SmackDown Tag Team Champions need to pull out the victory. Looking at the other competitors, Rocco and Bob feel the titles are best suited on The Usos.
Mo is the lone outlier who believes the NXT call ups, Ricochet and Black will find a way to win and grab their first main roster titles in their first WrestleMania.
Bob - Usos
Phil - Usos
Rocco - Usos
Mo - Ricochet/Black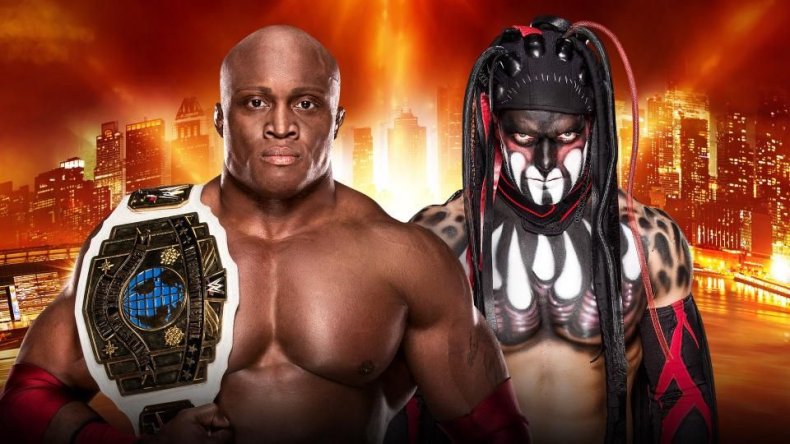 BOBBY LASHLEY (c) VS "THE DEMON" FINN BALOR - INTERCONTINENTAL CHAMPIONSHIP MATCH
Before "The Demon" was confirmed for Sunday, this matchup between Bobby Lashley and Finn Balor was a toss up. Now it's a foregone conclusion. Finn wins.
Bob - Finn
Phil - Finn
Rocco - Finn
Mo - Finn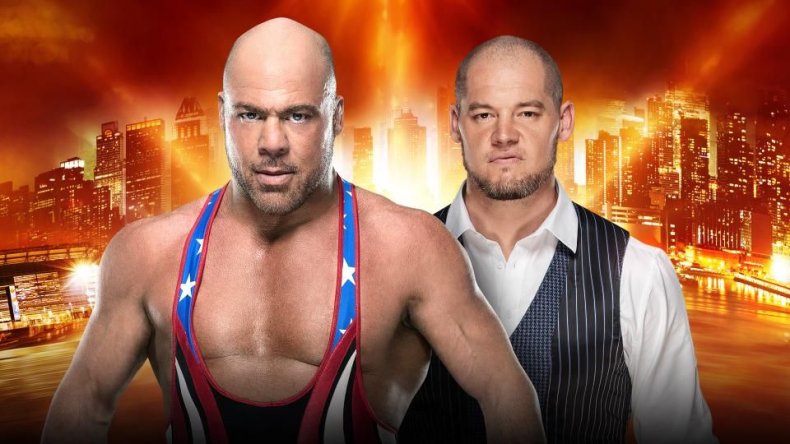 KURT ANGLE VS BARON CORBIN - KURT ANGLE FAREWELL MATCH
Kurt Angle's farewell match may be against an opponent we didn't want to see, but it will finally end the story between the two superstars. Phil, Rocco and Mo believe Angle going over Corbin doesn't hurt Baron and gives the crowd a happy moment. Bob is keeping to the time-honored tradition of "going out on your back" and giving Corbin the victory.
Bob - Corbin
Phil - Angle
Rocco - Angle
Mo - Angle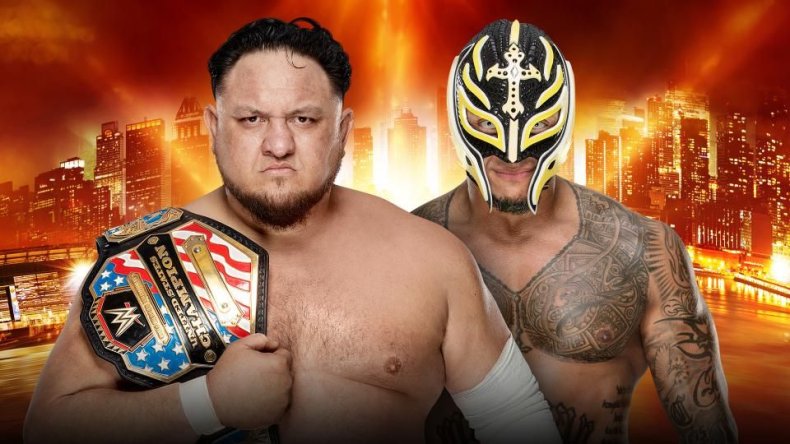 REY MYSTERIO VS SAMOA JOE - U.S. CHAMPIONSHIP MATCH
Rey's injury notwithstanding, everyone feels it's too soon for Samoa Joe to drop the belt and would give the U.S. Champion a strong victory at 'Mania.
Bob - Joe
Phil - Joe
Rocco - Joe
Mo - Joe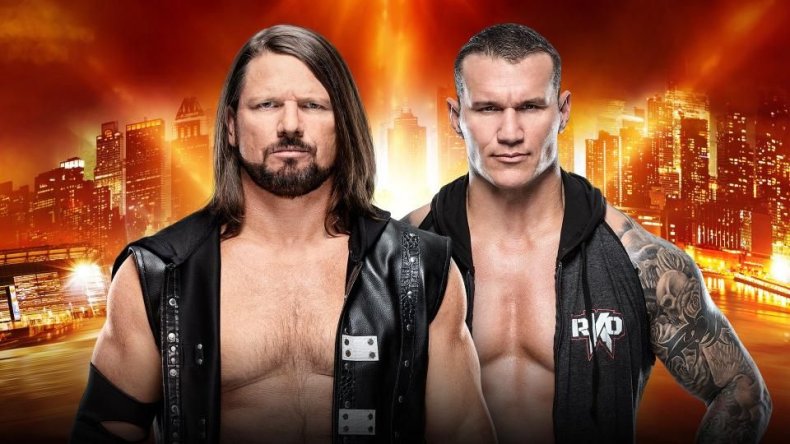 AJ STYLES VS RANDY ORTON
Surprisingly, our experts all feel Randy Orton will go over AJ Styles in their match on Sunday despite The Viper standing tall on Tuesday. While Orton does lose at 'Mania, something about this matchup has us feeling Randy will find a way to hit the RKO.
Bob - Orton
Phil - Orton
Rocco - Orton
Mo - Orton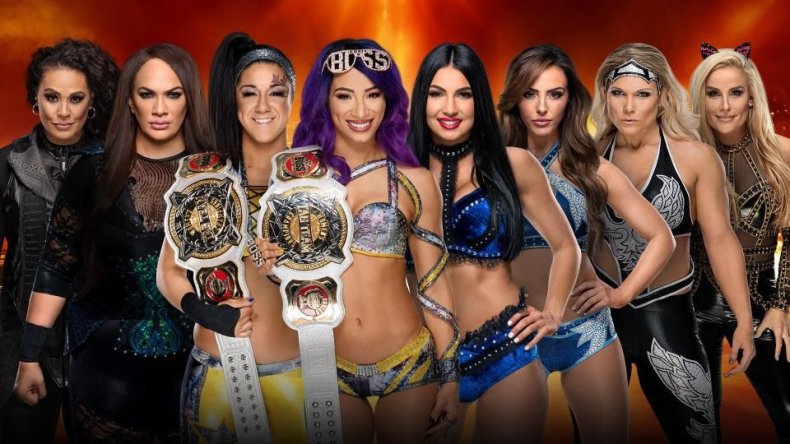 NIA JAX/TAMINA VS SASHA BANKS/BAYLEY (c) VS THE IICONICS VS NATALYA/BETH PHOENIX - WOMEN'S TAG TEAM CHAMPIONSHIP MATCH
All four teams have a shot at the titles in this match, but Phil believes Bayley and Sasha continue their run post-Mania. Mo sees this as a perfect time to put the belts on Natty and Beth for their time in the company - and possibly capitalize on Natty's father being inducted into the Hall of Fame the night before - while Rocco and Bob see the IIconics stealing a victory.
Bob - IIconics
Phil - Bayley/Sasha
Rocco - IIconics
Mo - Natty/Beth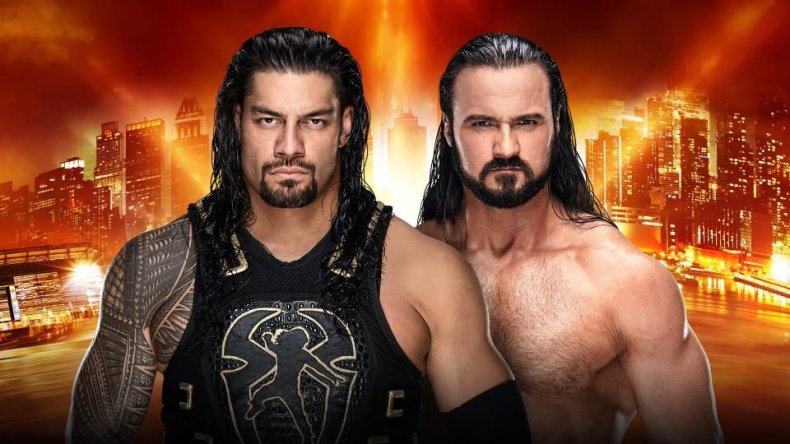 ROMAN REIGNS VS DREW MCINTYRE
While the WWE could swerve the audience, Roman Reigns' first WrestleMania back from his battle with leukemia seems like a no-brainer that the former Universal Champion will pick up the victory.
Bob - Reigns
Phil - Reigns
Rocco - Reigns
Mo - Reigns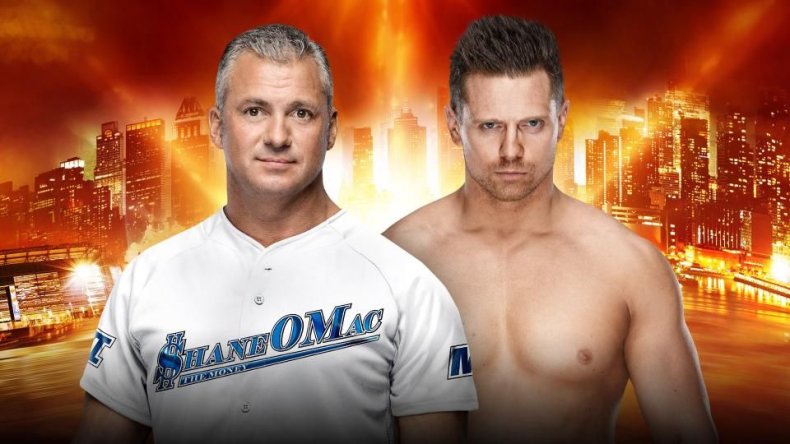 SHANE MCMAHON VS THE MIZ - FALLS COUNT ANYWHERE
While The Miz has been fantastic as a face, Shane would do well with a strong singles victory at WrestleMania. A victory over The Miz would continue his story as the heel authority figure on SmackDown with The Miz getting his revenge later down the line.
Bob - Shane
Phil - Shane
Rocco - Shane
Mo - Shane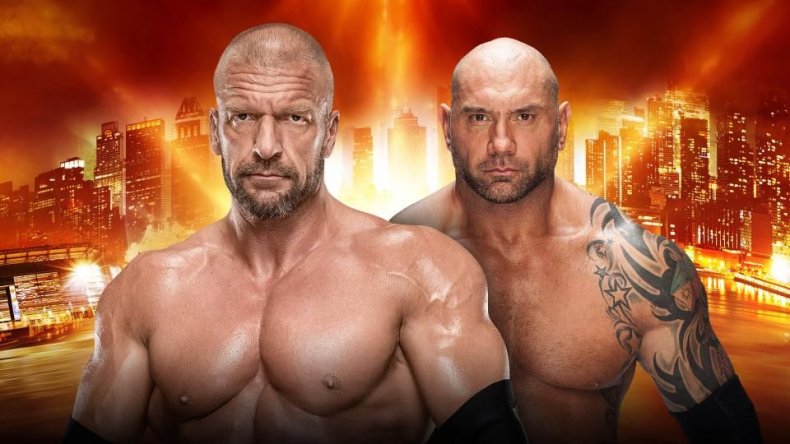 TRIPLE H VS BATISTA - NO HOLDS BARRED MATCH
The added stipulation that if Triple H loses he must retire from in-ring competition is a dead giveaway that The Game will finally beat Batista.
Bob - Triple H
Phil - Triple H
Rocco - Triple H
Mo - Triple H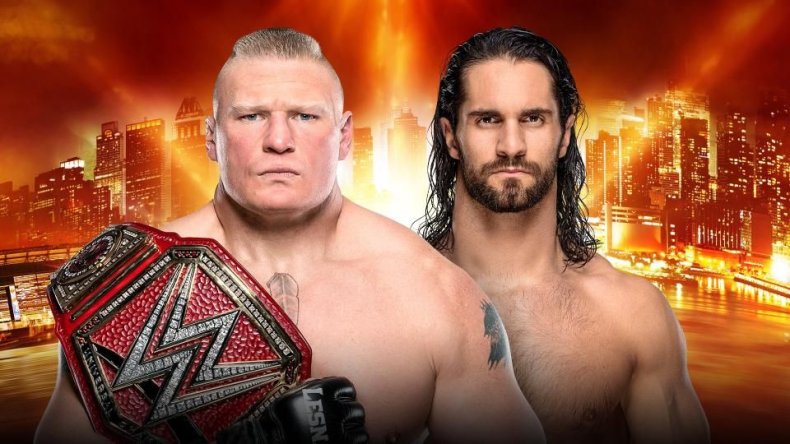 SETH ROLLINS VS BROCK LESNAR (c) - UNIVERSAL CHAMPIONSHIP MATCH
This is the match where our experts split. Bob and Phil feel that the WWE won't give the audience three happy endings - the other two being Kofi and Becky - so one of those matches will have to go the heel's way and this seems the most likely.
Mo and Rocco, however, are thinking it's finally time to get the title off of Lesnar and onto Monday Night RAW regularly.
Bob - Brock
Phil - Brock
Rocco - Seth
Mo - Seth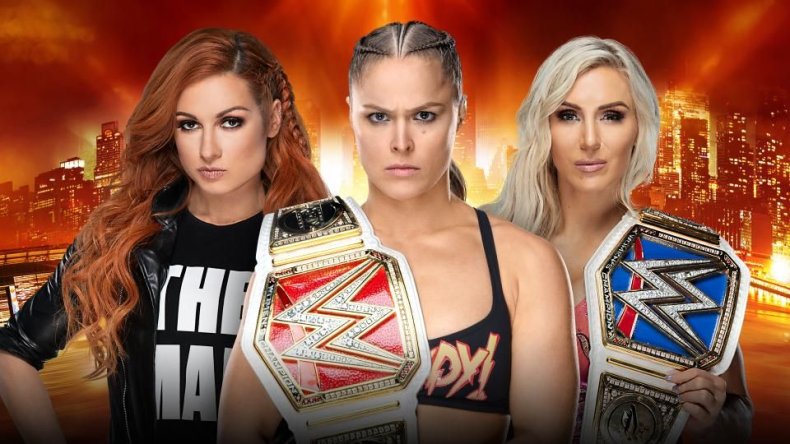 BECKY LYNCH VS CHARLOTTE FLAIR (c) VS RONDA ROUSEY (c) - RAW and SMACKDOWN WOMEN'S CHAMPIONSHIP MATCH
The first-ever WrestleMania main event occupied by the WWE women, has so many different possible outcomes. However, Bob, Phil and Rocco see Becky ending the story of her meteoric rise on top.
Mo sees Charlotte Flair winning to win all the belts and put the most amount of heat on her for post-'Mania.
Bob - Becky
Phil - Becky
Rocco - Becky
Mo - Flair
WrestleMania 35 will take place Sunday, April 7 at 5 p.m. EDT.
What do you think of our picks? Which match is a lock? Let us know your thoughts in the comments section below.
Uncommon Knowledge
Newsweek is committed to challenging conventional wisdom and finding connections in the search for common ground.
Newsweek is committed to challenging conventional wisdom and finding connections in the search for common ground.
About the writer
Phillip Martinez is a game and culture reporter for Newsweek. Prior to joining Newsweek in 2018, he was a reporter and editor for iDigitalTimes and Player.One. A Bronx native, he graduated with his Bachelor's degree in Journalism from St. John's University in 2010. An avid Nintendo fan and wrestling mark, he's always looking to become a Pokémon Master while fantasy booking this year's WrestleMania. You can contact him at p.martinez@newsweek.com