Wrestling with Coronavirus: WWE and Beyond, Pro Wrestlers Are Worried About Their Income and Their Mental Health
Like most industries, professional wrestling has been hit hard by the coronavirus pandemic and not even World Wrestling Entertainment (WWE), the multimillion-dollar brand most synonymous with the sport, is immune.
Social distancing measures and limits on public gatherings across the U.S., as well as around the world, have effectively placed the industry in limbo: No live shows means no ticket sales revenue, which for most small independent leagues is their lifeblood. For full-time professional wrestlers who aren't under contract with a major televised league like WWE or All Elite Wrestling (AEW) that in turn means their main source of income is gone.
Independent wrestling veteran David Starr, who has been leading efforts to unionize wrestling talent in a similar way to other entertainment industries, tells Newsweek the timing couldn't be worse.
"Springtime is typically the time when independent wrestlers make the most money [because of] WrestleMania weekend," says Starr, referring to WWE's biggest event of the year that attracts nearly 100,000 fans to its host city. Smaller companies, too, put on shows in the nearby locale hoping to capitalize on the large concentration of wrestling fans. "And a lot of the bigger [independent] companies tend to have their big shows around this time. Now all these shows are canceled, so people are missing out on wages."
Chicago-based AAW Wrestling has not run a live event since February and has so far canceled four shows due to the COVID-19 pandemic. "We don't know when we're going to run again. Without running shows that means there's no money coming, there's no money for the wrestlers coming in, or any way for the bills to get paid," says AAW owner Danny Daniels.
Daniels says he is in the fortunate position to have another full-time job, operating his wrestling league on the side as a passion project. But, he says, "What's truly affected is the wrestlers—this is how they fed their families. I feel bad for the ones that are struggling right now because this was their only source of income."
In the absence of bookings, Starr, 29, and other independent performers are having to rely on sales of their merchandise—including T-shirts, baseball caps and other apparel—online. However, for many wrestlers, that revenue isn't enough to make ends meet.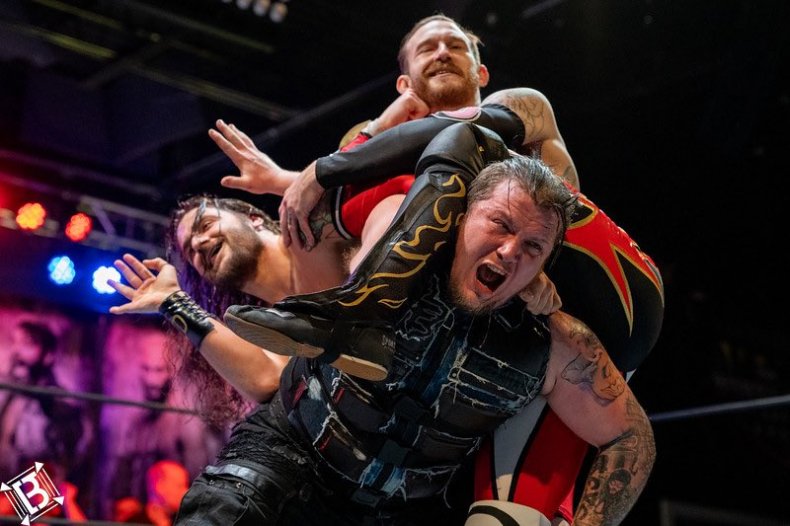 "I'm pretty much relying on merchandise right now," says Starr. "I had to file for unemployment and if that doesn't come through, I'll have to try and find a job, whether it's as a delivery driver or working at a market."
The repercussions of the coronavirus pandemic on wrestlers aren't just financial. "It's really affecting a lot of our mental health," says Philadelphia-based Starr.
The wrestler says that he and other performers who deal with mental health issues find a much-needed release in the showmanship and athleticism that comes with stepping into the ring.
"We all have our own issues and pro wrestlers are not immune to those issues. The feeling that you get being in front of a crowd, [it's] kind of external validation," says Starr. "And on top of that, it feels different than just working out in a gym."
Must the show go on?
The ongoing pandemic has dealt a knockout blow to small mom-and-pop wrestling leagues, but it's also shaken up the titan of the industry, WWE.
In mid-April, WWE culled over 20 wrestlers from its books, as well as several office employees working at its Connecticut headquarters, in response to COVID-19 disrupting business, particularly live touring. The company told investors it hopes to save $4 million a month by reducing headcount and other measures.
Deonna Purrazzo, 25, was released from her contract with WWE's NXT brand on April 15. She left with 30 days severance pay, after which, Purrazzo says, she will be in a similar situation to other independent wrestlers and millions of Americans who are out of work.
"The scariest part is that we're in this worldwide pandemic and I can't go and get a job tomorrow," says Purrazzo.
Before joining WWE, Purrazzo, from Livingston, New Jersey, made a living as a full-time independent wrestler and worked as a kindergarten teacher before that. She, like Starr, hopes that selling merchandise online will keep her afloat. "It's scary when I stop to think about it. But since I got that phone call, I've tried to get T-shirts out and get my merch back up and just find that hustle that I had to have to be a successful independent wrestler. If need be, I'd love to go back to teaching."
In April, eyebrows were raised when Florida Gov. Ron DeSantis deemed WWE events an "essential service," paving the way for the company to film its weekly programs for the USA Network and Fox at its training facility in Orlando, provided they are closed to the public. The decision seemed at odds with the governor's executive order for Floridians to maintain social distancing of at least 6 feet between people.
WWE has continued to put on matches, which require close proximity and physical contact between performers, through the pandemic despite other major sports leagues, like the NFL, suspending operations indefinitely.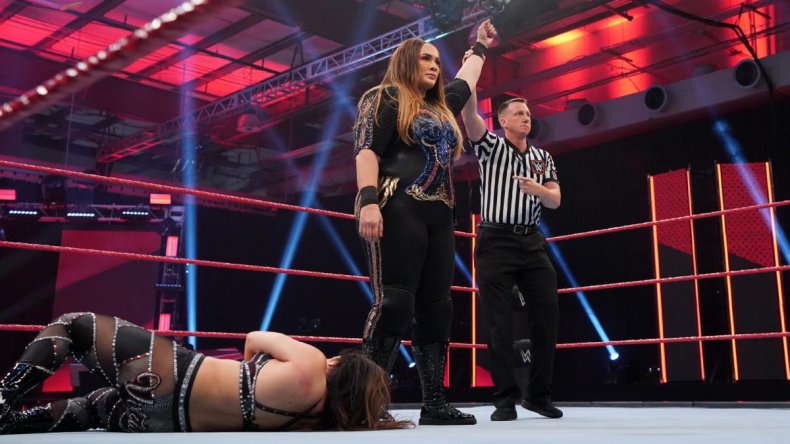 WWE has previously said it takes precautions to ensure the safety of all the performers and crew members involved in these events. In a statement last month, the company said: "All WWE performers and staff are required to participate in medical screenings prior to entering any closed set. Only essential personnel are on-site and social distancing is practiced outside of performances. After each performance, the set goes through 'pandemic-level cleaning.'"
Before her WWE exit last month, Purrazzo performed at a closed set television taping for USA's Monday Night Raw in a match against fellow competitor Nia Jax. She says talent were given the option whether they wanted to risk competing or not, but feels the company should not put performers in that position given the severity of the virus and what is required of them. A WWE spokesperson says competing amid the pandemic is "voluntary and WWE has made accommodations for individuals upon request."
"We were given the option and were told had we said no, it wouldn't be held against us. I don't believe that," says Purrazzo. "I feel like a lot of people do feel pressured. It's a very presumptuous thing to ask people to do right now—to choose to work or not. Especially in the political company that we work in, people don't believe they're not going to lose their job or their spot [on the show] if they say no. It's a really hard choice to ask people to make."
Purrazzo says that in her experience WWE took precautions to limit the number of people in the building. She also had her temperature taken upon arriving to work. Yet the wrestler is conflicted. "I do feel a bit of a hypocrite because I did go and I did work. But when you leave [work] and reflect back on the rooms you were in, and the situations you were put in, it's kind of like, oh, that probably wasn't the smartest thing."
"It's just a scary thought because you don't know who's been exposed to what. And then we're touching each other, we're sweating on each other," adds Purrazzo. "I don't think, no matter what precautions can be taken, that it's necessarily the safest option."