'A Wrinkle in Time' Gets Barbie Treatment—Oprah Winfrey Will Be A Doll Before Becoming President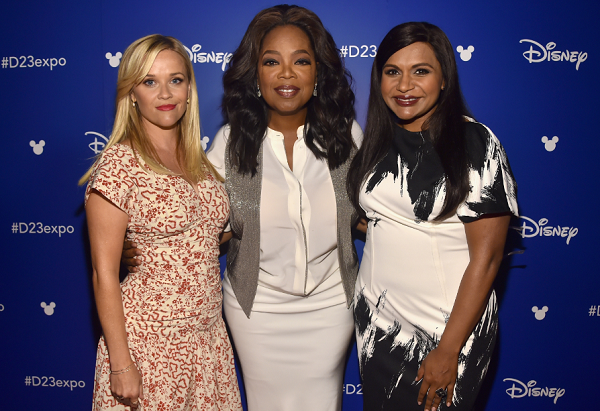 Oprah Winfrey, Reese Witherspoon and Mindy Kaling are getting the Barbie treatment. The trio's "Mrs. W" characters, in the Ava DuVernay-directed A Wrinkle in Time, have been turned into a set of collectible dolls in honor of the book adaptation, premiering in theaters in March.
The dolls are "for the adult collector," according to Barbie's website. They have yet to hit toy store shelves, and no debut date has been listed. However, Winfrey's Mrs. Which, Witherspoon's Mrs. Whasit and Kaling's Mrs. Who are expected to retail for $50.
DuVernay gushed over the collectible dolls on Twitter on Wednesday, writing: "When Disney makes Barbies of your movie's characters and you just want to stare at them all day in disbelief because you loved Barbies as a girl but never had any like these."
DuVernay, 45, has already been immortalized with her own Barbie. Back in 2015, the award-winning director announced she would get her own doll as part of Mattel's "Shero" campaign, which paid homage to the accomplishments of six women in the entertainment industry. Emmy Rossum, Kristen Chenoweth, Eva Chen, Trisha Yearwood and Sydney Kaiser were also miniaturized for the collection. Proceeds were donated to Color of Change, a civil rights advocacy group, and Witness.org, a human rights nonprofit aimed at teaching people in impoverished areas how to use video and technology.
The Wrinkle in Time Barbie doll is a first for Kaling. A Barbie doll made after Witherspoon's Legally Blonde character, Elle Woods, was released in 2003.
As for Winfrey, the Mrs. Which doll will be the second Barbie modeled after the media mogul. She revealed her first doll, which sported her famous curled hairstyle and a red gown, in a Twitter post in 2016. Winfrey had paired her Barbie with DuVernay's.
Winfrey has been in the news of late, for widespread speculation that she might run for president in 2020. This was following her impactful speech as she accepted her Cecil B. DeMille award at the 2018 Golden Globe Awards on January 7.
Three weeks before she gave that speech, Winfrey told In-Style magazine that she wasn't interested in becoming president. "I actually saw a [#Oprah2020] mug the other day. I thought it was a cute mug. All you need is a mug and some campaign literature and a T-shirt," she said.
"I've always felt very secure and confident with myself in knowing what I could do and what I could not," Winfrey continued. "And so it's not something that interests me. I don't have the DNA for it."
Again, Winfrey said this before the her speech and the subsequent groundswell of support for her candidacy. Also bear in mind that many a presidential candidate has denied that they are running before they actually do. So maybe take Winfrey's denial with a grain or two of salt, and invest in a potential collector's item come 2020.