Writing 'Black Lives Matter' in Chalk Now Illegal in City of Selah
Those writing sidewalk messages with chalk could now face criminal charges in Selah, Washington, including jail time and a fine up to $5,000, after rising tensions over local Black Lives Matter chalk art.
A family who had shown their support for the Black Lives Matter cause in chalk outside their home in Selah received a letter from Selah Police Chief Richard Hayes, who stated their markings were "by definition, graffiti," meaning they could be punishable by law.
Twenty-year-old Latino protester Gabriel Fabian began by writing messages for the Black Lives Matter on his dead-end street. A street sweeper wiped away this messages the same week.
Fabian's friends repeatedly wrote messages on the concrete, all of which were repeatedly removed by officials. "Water buckets will never silence us! #BLM #SelahPride" read one sidewalk chalk message.
A witness posted a video on July 6 showing an official spraying down the chalk on a sidewalk as youths lay on it, holding protest signs.
Selah City Attorney Rob Case warned the local family involved that their chalk messages could be considered third-degree malicious mischief, "that is punishable by 364 days in jail and a $5,000 fine," reported The New York Times.
"At this point, your clients have merely been warned," Case said to the family's attorney, reported the Yakima Herald-Republic. "The city does not desire to prosecute anyone over this, but neither will the city give repeated warnings ad nauseum or let your clients (or anyone else) create unauthorized graffiti on public property with impunity."
The family's attorney, Joseph Cutler, has argued that erasing the Black Lives Matter chalk art is in violation of the family's right to free speech, as outlined in the First Amendment. He used an example of other chalk art that has been allowed to remain in the city, with phrases like "Selah Class of 2020" to celebrate local school graduations.
"Targeting minorities for selective law enforcement and quelling constitutionally protected speech, the color of law is illegal," Cutler said. The attorney also argued that water-soluble chalk is not graffiti.
Under Washington State law malicious mischief is if a person "knowingly and maliciously causes physical damage to the property of another, under circumstances not amounting to malicious mischief in the first or second degree" or "writes, paints, or draws any inscription, figure, or mark of any type on any public or private building or other structure or any real or personal property owned by any other person unless the person has obtained the express permission of the owner or operator of the property."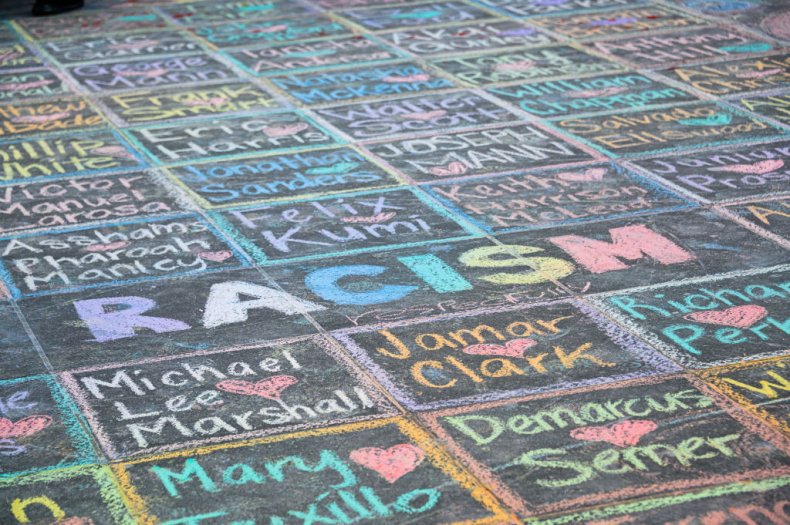 Chalk art is often used as a form of activism in the U.S. In San Diego, a man was charged with 13 counts of misdemeanor vandalism in 2013 for his chalk messages in front of three banks, but he was found not-guilty on all counts. If found guilty he could have faced 13 years in prison and be fined more than $10,000. Former Mayor of San Diego Bob Filner called it a "nonsense prosecution."
Newsweek has contacted Selah Police Department and attorney Joseph Cutler for further comment.