My Brother Won't Help Look After Our 100-Year-Old Mom—What Should I Do?
Dear Newsweek, My brother and I were adopted as infants, we are not blood related. Our dad passed away in 1997 and our mom has just turned 100 years old. Despite her age she is healthy and active. I live about 30 miles away from our mother, he lives six miles away and does nothing to help. He calls but never goes to visit her.
If I mention to our mother what a lousy son he is for never showing up, not even at the holidays, she just makes excuses for him. I spent six months planning her 100th birthday and he didn't even show up. Family from all over the U.S. came but he couldn't bring himself to travel six miles down the road. I'm 59 and I work full time, he is 63 and retired. I always have to take time off work to take mom to run errands, and she pays the neighborhood kids to do the lawn and other household repairs she can't do herself.
I don't understand why he doesn't have any interest in seeing our mother. We were born and raised in Arizona and had an awesome childhood and our mom has been nothing but outstanding as a wife, mom and grandma.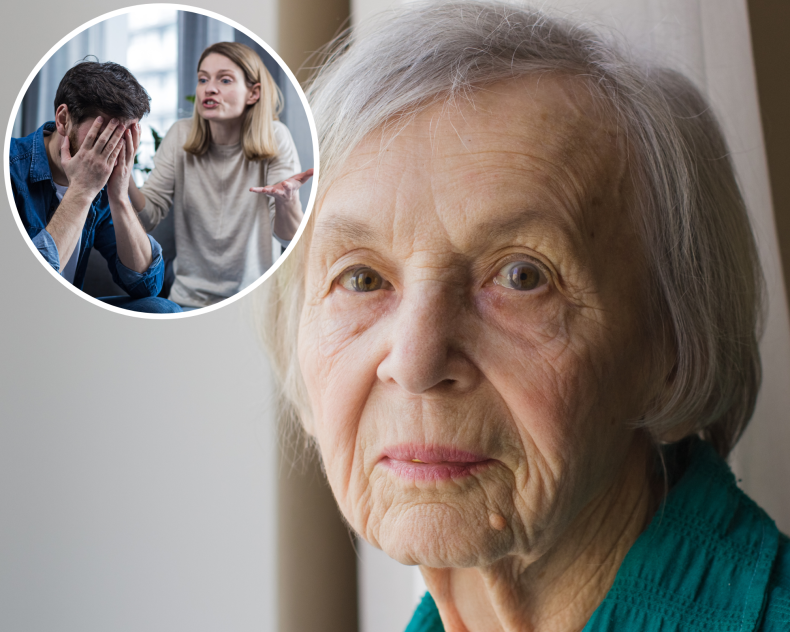 He was never very attentive to our mother however now she's 100 years old it's his last opportunity to see her. He hasn't seen her since last Christmas and I don't know why. Nothing was done to him to make him neglect our mother and it makes me so sad to hate him for it.
Am I wrong for feeling anger and hatred towards my brother? I strongly believe he should be more attentive to our mother!
Kelly, Arizona
Newsweek's "What Should I Do?" offers expert advice to readers. If you have a personal dilemma, let us know via life@newsweek.com. We can ask experts for advice on relationships, family, friends, money and work and your story could be featured on WSID at Newsweek.
Your Brother's Behavior Towards Your Mother May Not Change
Peter Lobl is a clinical psychologist specializing in relationship issues with adults and couples, with a private practice in New York City.
Hello Kelly,
Of course you have strong feelings about your brother's behavior: it appears deliberately neglectful of your mother. Your brother is retired, lives only six miles from her, and yet makes no apparent effort to help her or be present in her life. Though your mother is healthy and active, she is also 100 years old, and nowadays is indeed his last opportunity to see her. Moreover, your brother's behavior may also be directly impacting you—not just your mother: his absence means you have to shoulder more of your mother's caretaking, and the three of you are not getting to experience this stage of your mother's life together.
Several times in your letter, I also noticed you wrote that you "don't understand why" or "don't know why" your brother acts this way. These phrases made me wonder what kind of communications you have with him. Have you asked him why he has so little contact with your mother? Is it possible he had a different experience of his childhood and of your mother than you did?
If you decide to ask him any questions, I suggest you keep your approach light and easy. You have very valid reasons for your strong feelings towards him, but if you lead with those feelings, he will probably get defensive, clam up, and withdraw.
Consider instead inviting him to join you on some errand for your mom, for instance. If he joins you, I suggest you emphasize the positive. For example, if you appreciate his company on the errand, tell him so. Hearing something positive from you may help him open up. If he doesn't volunteer any explanation and you are otherwise having a decent time with him, you might ask casually how come he doesn't come around more often.
Your brother may not change his behavior towards your mother at this late date, but perhaps you might at least receive some explanation for why he acts the way he does.
Caregiver Burnout Is a Serious Issue
Dr. Chloe Carmichael, Ph.D., is a clinical psychologist and the author of "Nervous Energy: Harness the Power of Your Anxiety."
Kelly, thank you for your heartfelt note. Your frustration with your brother is understandable. However, there is likely nothing you can do to change him. I'm assuming you've already tried explaining to him what you need from him, but he resists. This means that the healthiest thing to do is to stop ruminating about something you cannot change.
It may be helpful for you to create a list of "silver linings" to read whenever you are tempted to ruminate about him. For example, your list might include how wonderful it is that your mother has lived to be 100, and that you get to spend time with her. It might also include the positives of having an able body and sufficient financial resources and energy to care for her.
Speaking of resources: I understand your letter is not about the finances, it is about your brother's unhelpfulness—nevertheless, if the time and effort spent caring for your mother present financial or logistical burdens, consider checking if there are city or state programs that would compensate you as a caregiver.
Finally, I would encourage you to visit with a trusted friend, clergy, or therapist. Caregiver burnout is a serious issue. Ensure that you have a good support network. Rather than telling your mother "what a lousy son she has", vent to a friend or therapist. As you have indicated, her responses only upset you—a friend or therapist would be much better equipped to provide the support and validation you deserve regarding your understandable feelings about your brother.
Wishing you all the best.