I've Been Blocked by My Family for 5 Years—What Should I Do?
Dear Newsweek, I have two sisters and I am the middle child. My younger sister originally moved to Florida for the military but decided to stay for the weather. My older sister lived about an hour away, but since I wasn't married, I was the aunt who attended baseball, soccer, basketball, marching band events, PTA meetings, school art shows, church functions, baptisms, confirmation, and graduation from high school and college.
Holidays were together looking at Christmas lights after Christmas Eve service. No other aunts or uncles or cousins participated. Some lived an hour away, some lived in Florida too. I even went to the funeral of my brother-in-law's dad. Their family went out to dinner afterward and I wasn't invited which I understood—they hadn't all been together for a while.
My oldest niece got married two days after I had gastric bypass and I had to have someone drive me the hour there. I left after the ceremony because I was in some pain. I also went to the nephew's wedding but left after service because I knew they were short on funds. No problem.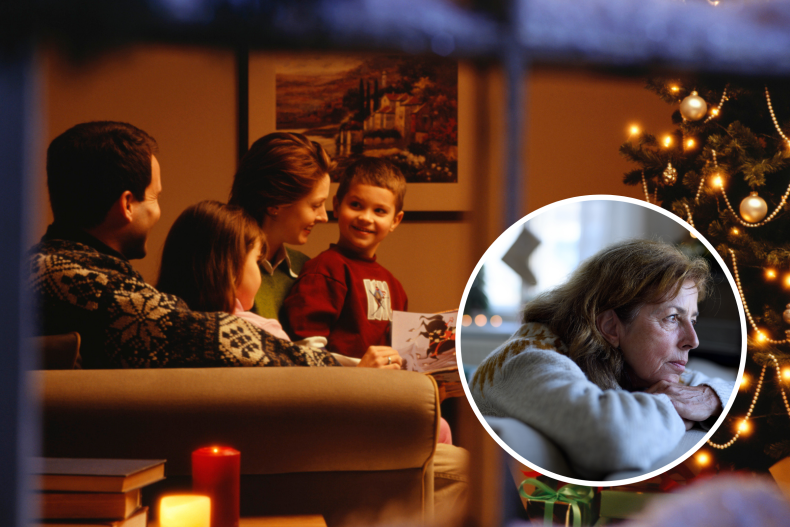 The youngest daughter gets married and I didn't even find out until afterward. The excuse was no money. Again, like older siblings, I would have been happy just to see the ceremony and leave. All the years and all the events I went to and don't even get notified about this huge event.
The other excuses were they couldn't invite me and not all the other aunts and uncles. Even though none of them made effort to come to any other event. I posted on Facebook I was disappointed and hurt and was promptly "voted off the island."
I have not been invited to holidays, baptisms or birthdays for over 5 years now. There are three great nieces and nephews I have never met. At family holidays with my aging dad, my older sister said if I came the kids would not come. I wrote letters apologizing for whatever happened but nobody has responded and my sister said she's not getting into it... Am I the "you know what hole"?
Doreen, Florida
Newsweek's "What Should I Do?" offers expert advice to readers. If you have a personal dilemma, let us know via life@newsweek.com. We can ask experts for advice on relationships, family, friends, money and work and your story could be featured on WSID at Newsweek.

Focus on the People in Your Life Who Bring You Love and Laughter
Marni Goldman is a post-traumatic stress disorder survivor, life coach and author.
Dear Doreen,
I am so sorry you have to experience pain and anguish from family members. We're supposed to experience love and support, not disrespect and betrayal. Remember, it's not you, it's them.
You are a ray of sunshine, and everyone else seems to be dark bitter clouds. It's easier said than done, but when people show you who they are, family or not, believe them. Your kindness seems to have been mistaken for weakness.
You've heard the saying "misery loves company" and "birds of a feather flock together"
This behavior is unimaginable to you because you would never behave that way. Your light shines too bright for them. Again, easier said than done but focus on the people in your life who bring you love and laughter, those are your people.
Personally, the saying "blood is thicker than water" is kind of antiquated. Family or not, your peace is the most important thing for you to protect.
It Is Time to Focus on Yourself and to Put Yourself First
Gilza Fort-Martinez is a licensed marriage and family therapist and founder of the Resolution Counseling Center.
Dear Doreen,
The need to belong, to feel loved, and be part of a group, usually our family, is one of the basic psychological needs we all share as human beings. Being cut off from one or all parts of our family can be exhausting, confusing, painful and isolating. While there are times when we need to separate for our survival, estrangement often happens due to longstanding negative interactions.
It sounds like you are feeling many of these things and more, especially the confusion part, as you relate that you are unclear why this happened. Without knowing more about you and your other family relationships and history, I can only suggest some general ways to manage the sadness of separation.
If this is only happening with your nieces/nephew from your older sister, do you have others that you can interact with? Does your younger sister have children?
Is there someone else in the family that would be willing to intervene? Someone willing to create a space to gather the family and encourage an open dialogue about what is happening? It does not have to be a direct family member. It could be a longtime family friend or a godparent. This could be challenging as many people "don't want to get involved," yet it could be very helpful. If there is someone, I would encourage you to thoroughly discuss the situation from your perspective with this person and have them ask the other people's versions before getting into a room together. A therapist could help you prepare and set the tone.
If no one is willing to intervene, it is time to pivot your attention back to yourself. You shared that you have written apology letters and requested information from the family to no avail. Those are gestures of good faith that, although ignored and painful, must now be respected. Turning to your own healing will take effort, yet it will benefit you in the long run. It sounds like you have been a "giver" and now feel at a loss. Acknowledging your feelings around this loss and going through the grieving process can help you redirect yourself.
Some examples include setting your own boundaries clearly and lovingly, establishing or returning to a self-care routine, exploring your triggers, focusing on other relationships in your life, and developing self-compassion. Establish a self-care routine if you don't have one already. What soothes you? What allows you to quiet your internal critic (that voice we all have in our head that shames us, creates guilt, and holds our fears)? What people, places, or things trigger your sense of loss? The holidays are a big one for many of us.
These are tools that you could develop with professional help. Therapy can provide a safe space to explore this painful situation and the feelings surrounding and maintaining it. I'd encourage you to try it before you label yourself an "a******"!