My Son Prioritizes His New Mother-in-Law Over Me—What Should I Do?
Dear Newsweek, I asked my son to exclude his stepmom (whom he had known for about two to three years at the time) from parent pictures about six months prior to his wedding.
I explained that she could be in any family group photos, but as they didn't have a close relationship, that parent pictures would make me uncomfortable. He agreed, although his fiancée (now wife) was a bit put out.
Fast-forward to the wedding day and picture time. The photographer asked if it was time to bring stepmom in for photos. I looked at my son and daughter-in-law and they both said, "It's just one picture." Turns out, it was her mother's idea because "She IS part of the family."
The wedding took place in California. I live in New York. My father, sister, brother-in-law, four nieces, niece's boyfriend, stepson, and I, all flew in for the wedding. My son's sister and her fiancée flew in from Chicago. When we received the wedding album, it was filled with photos of the bridal party, bride and groom with her family, but no pictures of my son's family other than parent photos, one of the bride and groom with my dad, and one of the mother-and-son dance that zoomed in on my butt.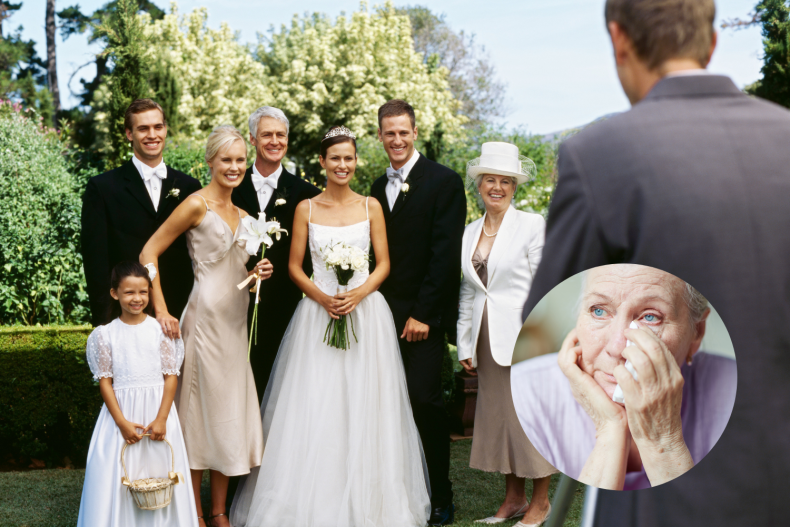 Her mother is deemed to be "the nicest person ever" yet she approached me and whispered rude things to me and expected me to take it. I, of course, am then deemed the b**** because when I respond (how dare I!) I don't whisper.
The day after the wedding, we were at my son's home while they opened wedding gifts. We were told to be there at 1 pm. Turns out they had gone out to breakfast with her family, as well as my sister and her family. My father, niece, her boyfriend, my son's siblings, and I were not invited. As we were leaving for the airport, my dad, who loved everyone and everyone loved him, said of my son's mother-in-law, "I'm glad we left when we did. That woman is a b****."
When I asked my son about it, he said I was making too big a deal out of it. I said he disrespected me and my feelings by ignoring my request and siding with her mother over his own. Our relationship was very strained for a very long time. It's still not great, but I want to be a part of my granddaughters' lives.
Kathleen, Unknown
Newsweek's "What Should I Do?" offers expert advice to readers. If you have a personal dilemma, let us know via life@newsweek.com. We can ask experts for advice on relationships, family, friends, money and work and your story could be featured on WSID at Newsweek.
A Wedding Is About The Couple Getting Married, Not The Family
Zoe Burke is the editor of Hitched, a U.K.-based wedding planning website.
Dear reader,
Weddings are wonderful occasions for bringing people together—but they can also bring drama because they bring so many different people together.
It can be really hard, especially when you feel like the family on the other side is treated differently and I empathize with you. The wedding is done now, and all you can change is what happens next, not what has happened.
I would always say that ultimately, a wedding is about the couple getting married. There are so many roles that make up a wedding, sure, but the newlyweds are at the heart of it all, so you must respect their wishes—whether it's how they want to celebrate or which pictures they decide to include in their album.
I would recommend asking your son and his wife for access to their wedding photos to make your own album of the photos that mean lots to you—as the couple, it's up to them who was in the photos, but in making your own album, you get to choose which photos you use.
Perhaps it might help to solve some of the issues if you calmly explain to your son's mother-in-law (rather than your son) how you feel—keep it rational, give examples of what has happened that caused you hurt, and suggest ways you might get past this. Maybe you need to spend some time together just the two of you to build a friendship?
If you're not local, and you don't spend all that much time together, I say keep it as civil as possible and understand that your son will most likely have equal weighting in the decisions made with his wife. Respect his choices and understand that his decisions might be different from yours, as it will help you to be able to continue to be in your grandchildren's lives.
Stop Putting Your Son in a Difficult Situation
Dr. Shadi Shahnavaz has over 25 years of experience in her specialized field of systemic family therapy.
Dear reader,
The only advice I can give to you is to stop thinking about your needs and the respect you deserve so much and to focus on your son's happiness. The whole dilemma is about you and your feelings being hurt, which I understand and empathize with. But you should try to make sure you don't put your son in a difficult situation where he has to choose between you and his stepmom or mother-in-law.
If you don't want to be isolated by your son and his wife then you need to accept that they are all a part of his family. You need to put your pride aside and try to be there for your son. If you focus on what may make him happy then you will feel more integrated into your son's new family and be a part of your grandchildren's lives.