I'm Being Bankrupted By My Friend's Wedding—What Should I Do?
Dear Newsweek,
I have a wedding dilemma. I am a 20-year-old female and have a 21-year-old female friend who is getting married next year.
When she asked me to be in her bridal party I was super excited and honored, but now it's stressing me out financially. I am working to pay my way through college at the moment.
A few months ago out of the blue, each bridesmaid was asked to pay $260 for the concert the bride wanted to go see. It was pricey and I really had to budget but I managed to save it and be there to support her and celebrate her big day.
Recently, we've been asked to buy a $200 bridesmaids gown and pay another $200 for professional hair and makeup for the big day.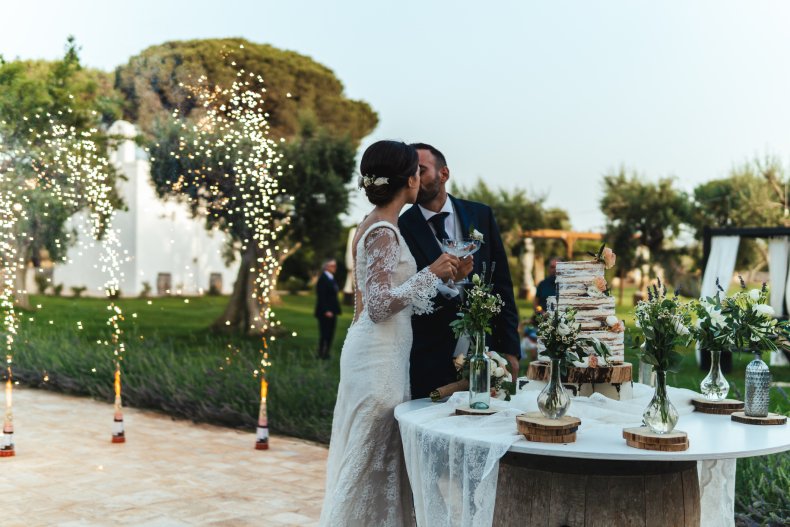 I want to celebrate with her and I'm so happy for her, but I thought bridesmaids' dresses were at most $80 a piece, and that only the bride got professionally done hair and makeup. I can't justify those two big costs, especially not the hair and makeup... But, I don't want to come off as rude.
As a struggling student I don't know how I'm going to save and set aside $400 by November this year, and also pay for a new car and school. It's really stressing me out and I don't know what to do.
In total, the entire cost of the wedding for me would be $660, and I'm worried about what other expenses might pop up!? I'm taking notes of what not to do for my own wedding, but I just want to know, do I come across as a jerk or is this a normal amount to spend, being part of the bridal party?
Andrea, New York
Approach The Situation With Some Potential Solutions
Rima Barakeh is the Deputy Editor of Hitched.co.uk, the UK's most popular wedding planning resource site.
Andrea, I'm sorry to hear you're going through this right now. It sounds like the last thing you need on your plate! But one thing's for sure, you aren't the first person to be concerned about the cost of attending a wedding - and you definitely won't be the last. Being part of a wedding party can be expensive, but there are a few things you can do.
First thing first, you need to talk to your friend. Whilst she may be a bit blinded by her big day, I'm sure she'd really appreciate the honesty. Explain the implications that the wedding plans are having on your own financial situation and your mental health. I'm sure that once you explain your concerns she'll understand and it may even make her re-think some of the costly plans she's put in place.
During this conversation, you also need to request some clarity around any further costs. Explain that to alleviate some of your own concerns, you'd really appreciate knowing about any more upcoming costs such as wedding accommodation and pre-wedding celebrations. Talk about the realities of what spending this sort of money right now means to you. Then you can try to work out between the two of you which items are the most important and urgent, and compromise on the remaining costs.
The next thing I would advise is approaching the situation with some cost-effective solutions. For example, instead of paying $200 for your hair and makeup, could the bride-to-be share the make-up look and hairstyle she wants you all to have? This way, you can spend some time practicing the look yourself to ensure yours is the same as the others. With the bridesmaid dress, is there an option for you to rent yours instead of purchasing it? Whilst it's not uncommon for bridesmaids to buy their own dresses, it's good practice to consult people about costs before deciding on a style - so is your friend completely set on this design, or is there a more cost-effective doppelganger you can opt for instead?
Finally, consider ways you can retrieve some of your money after the wedding. If your friend isn't willing to budge on the bridesmaid dress, take extra good care of it on the day and sell it afterward. There are plenty of people out there who will pay for a second-hand bridesmaid dress instead of forking out for a brand new one and you could get up to 50% of the cost back if it's in good enough condition. Second-hand and rented gowns are huge right now, so this is a great solution if the bride really won't compromise on the gown in question.
A Good Friend Will Show Understanding And Flexibility
Peter Lobl is a Clinical Psychologist specializing in relationship issues with adults and couples, with a private practice in New York City.
Hello Andrea,
This is a stressful situation: you want to show support for your friend, but you also need to live within your budget. So, what now? As I see it, you don't have to choose between one or the other. I think you can do both. First, your financial discipline may be a current necessity, but it's also a hallmark of long-term financial success. So continue to align the use of your income with your longer-term priorities, i.e. your schooling and your car - not the gown, hair, and makeup for the one day of someone else's wedding. Second, I suggest you speak with your friend about your stress – in person if possible. Here's a possible outline for that conversation:
1) Stick to the facts: e.g.: You feel honored to join her bridal party; you look forward to celebrating her wedding day with her; you are currently working and paying your way through college; after paying your upcoming bills, you won't have enough remaining funds to pay for the gown, hair, and makeup
2) Tell her how this situation makes you feel: You're stressed because you want to be there for her but you also have to live within your means
3) Suggest a solution: Would she be ok if you got a friend or you found another studio to do your hair and makeup? Would she be ok if you remained in the bridal party but wore a dress you already own?
4) Anticipate counteroffers: After hearing this, your friend may accept your solution or offer new ones, such as paying for the hair, makeup and/or gown. Be prepared for possible offers so you know ahead of time what you do and don't feel comfortable accepting from her.
Andrea, you are not being rude if you speak about your stress with your friend. You're just being open and candid with her about the realities of your life. If you don't express your needs within this relationship or any relationship, your unexpressed needs will over time morph into resentment. Your friend, for her part, may feel disappointed to learn of these constraints, but a good friend will also show understanding and flexibility even when disappointed.
---
Newsweek's "What Should I Do?" offers expert advice to readers. If you have a personal dilemma, let us know via life@newsweek.com. We can ask experts for advice on relationships, family, friends, money and work and your story could be featured on WSID at Newsweek.