WSJ Editorial Board Says Trump Should Concede: 'He Has No Legal Alternatives'
The Wall Street Journal editorial board called on President Donald Trump to concede on Sunday.
In an opinion piece titled "Trump's Challenge Is Over," the board said after the president lost the Supreme Court, "he has no legal alternatives and ought to concede."
On Friday, the Supreme Court denied the lawsuit filed by Texas attorney general Ken Paxton against four battleground states—Michigan, Pennsylvania, Georgia and Wisconsin—with the goal of overturning the election outcome.
Before the Supreme Court denied the case, Trump requested to join the lawsuit and over 100 Republicans in the House of Representatives signed a brief in support of the litigation.
The case was one of many filed across the country by the president and his Republican allies, baselessly claiming President-elect Joe Biden's victory was a result of widespread voter fraud. However, many of these cases were dismissed by state courts.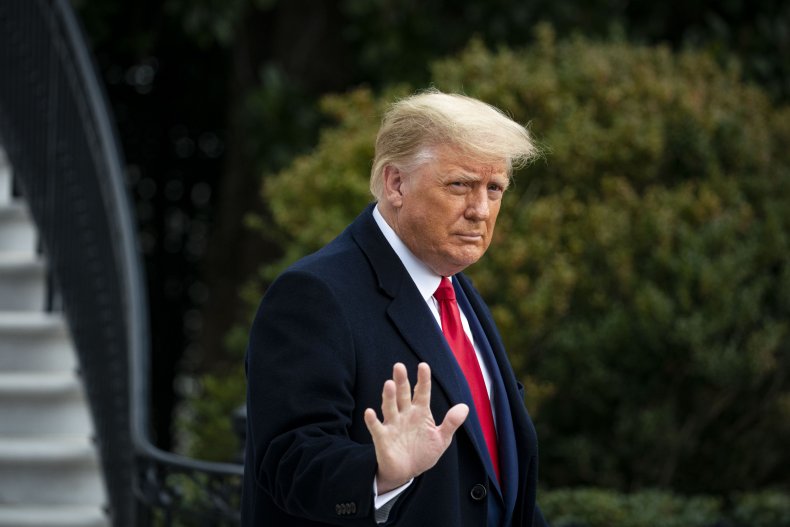 "Mr. Trump and his camp are attacking the Court, and the President is deriding the 'standing' point as a dodge. It is much more than that," wrote the Journal's editorial board. "If anyone can sue without a cognizable injury and the possibility of remedy, the courts would be overwhelmed with frivolous claims."
The paper also faulted Democrats for promoting claims of Trump's own illegitimacy as president throughout his term but noted that "none of this excuses" Trump's attempt to delegitimize Biden's victory.
"Even if Mr. Biden's narrow victory was overturned in one of the closely contested states, he would have more the 270 electoral votes," wrote the board.
Although Trump has yet to formally concede the election to Biden, on Monday the Electoral College is expected to make his loss official, with electors across the nation casting the votes for their states.
According to the Associated Press, Biden won both the popular vote and the electoral vote. The president-elect won 51.4 percent of the popular vote and 306 electoral votes, surpassing the 270 votes needed to win—while Trump collected 46.9 percent of the popular vote and 232 electoral votes.
"Mr. Trump has had his innumerable days in court and lost," wrote the board. "He would do far better now to tout his accomplishments in office, which are many, and accept his not so horrible fate as one of 45 former American Presidents."
However, during an interview with Fox & Friends on Sunday, Trump said his team will continue to present legal challenges in several swing states, despite the Supreme Court's dismissal of the Texas suit.
"No it's not over," said the president. "We keep going and we're going to continue to go forward. We have numerous local cases."
The Wall Street Journal editorial board didn't respond to Newsweek's request for comment in time for publication.