WSJ Editorial Board Says Trump is 'Trafficking in Trash' Over Joe Scarborough Conspiracy
The Wall Street Journal's editorial board accused President Donald Trump of "trafficking in trash" in an opinion article published Tuesday evening. The piece was written in response to comments the president has made in recent days on Twitter regarding MSNBC host Joe Scarborough.
When Scarborough was a Republican congressman representing Florida's 1st District in 2001, Lori Klausutis, a member of his staff, died while in his office of what coroners determined to be natural causes. Even so, Trump has given the issue a sudden resurgence by accusing Scarborough of having some kind of involvement in Klausutis' death, reviving what many critics—including conservative politicians and writers at the Wall Street Journal—have described as unfounded conspiracy theories.
"Suggesting that the talk-show host is implicated in the woman's death isn't political hardball. It's a smear," the board said. "Mr. Trump rightly denounces the lies spread about him in the Steele dossier, yet here he is trafficking in the same sort of trash."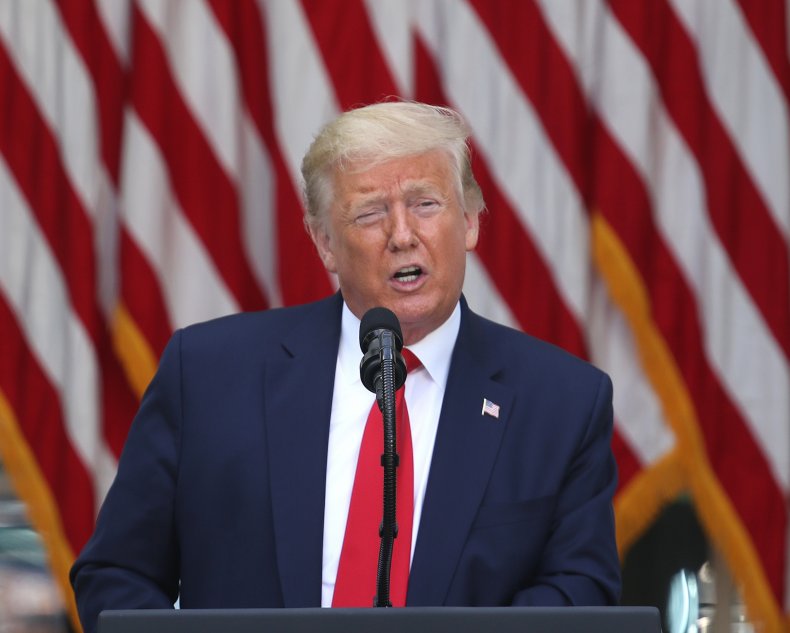 An autopsy conducted after Klausutis' death in July 2001 found that Klausutis had an undiagnosed heart condition. The condition caused her to fall and hit her head, with fatal results.
The president has repeatedly discussed the incident on Twitter throughout May, calling Scarborough—who has been openly critical of the president's handling of the coronavirus pandemic—names like "Psycho Joe Scarborough" and "Nut Job" while calling for a new investigation into Klausutis' death.
"A blow to her head? Body found under his desk? Left Congress suddenly? Big topic of discussion in Florida...and, he's a Nut Job (with bad ratings). Keep digging, use forensic geniuses!" Trump tweeted on May 23.
Klausutis' widower is one of many who has requested Trump to stop openly debating unfounded theories of Scarborough's involvement in Klausutis' death. In a letter to Twitter CEO Jack Dorsey obtained by The New York Times, Timothy Klausutis asked Dorsey to delete the president's tweets about the Scarborough theory, which Klausutis claimed were both difficult for him to read and in violation of Twitter's rules.
Lawmakers have also called on the president to stop debating the issue. Congressman Adam Kinzinger, a Republican representing Illinois, asked the president to stop spreading the "completely unfounded conspiracy" in a tweet on May 24.
"Stop spreading it, stop creating paranoia. It will destroy us," Kinzinger tweeted.
Republican Senator Mitt Romney of Utah joined Kinzinger on Wednesday while defending Scarborough and Klausutis' widower on Twitter. Though Romney said Scarborough could handle "vile, baseless accusations," he said "enough already" when it came to Timothy Klausutis.
In its editorial, the Wall Street Journal said it wasn't uncommon for Trump to promote conspiracy theories but said this latest one concerning Klausutis' death was "ugly even for him."
"Mr. Trump is debasing his office, and he's hurting the country in doing so," the board said.
The White House did not respond to Newsweek's request for comment in time for publication.