WSJ Editorial Board Suggests Biden Should Call Dems Off Impeachment, Trump Should Resign
The Wall Street Journal editorial board on Friday, suggested that President-elect Joe Biden should shut down Democrats' called for President Donald Trump's impeachment and, instead, Trump should resign.
In the op-ed, titled "Donald Trump's Final Days" the editorial board discussed the riots at the Capitol building on Wednesday.
"The related but separate question is whether impeachment or forced removal under the 25th Amendment now is in the country's best interests. The latter seems unwise unless Mr. Trump threatens some other reckless or unconstitutional act," the op-ed said. "After Wednesday he has promised to assist an 'orderly transition' of power. A Cabinet cabal ousting him would smack of a Beltway coup and give Mr. Trump more cause to play the political victim."
The op-ed continued, stating that impeachment "would further enrage Mr. Trump's supporters in a way that won't help Mr. Biden govern, much less heal partisan divisions. It would pour political fuel on Wednesday's dying embers."
Following Wednesday's events, numerous Democrats have called for Trump's impeachment or for Vice President Mike Pence to invoke the 25th Amendment, which outlines a procedure to replace the president in the event that he is unfit to govern.
Chuck Schumer, who will soon bcome the Senate Majority leader, called the riots "insurrection at the Capitol incited by the president" and called on Pence to invoke the 25th Amendment.
"If the Vice President and the Cabinet refuse to stand up, Congress should reconvene to impeach the president," Schumer said during a press conference on Thursday.
Later on Thursday, House Speaker Nancy Pelosi echoed Schumer's comments and said, "I join the Senate Democratic leader in calling on the vice president to remove this president by immediately invoking the 25th amendment."
"If the vice president and Cabinet do not act, the Congress may be prepared to move forward with impeachment. That is the overwhelming sentiment of my caucus and the American people by the way," Pelosi said during a press conference.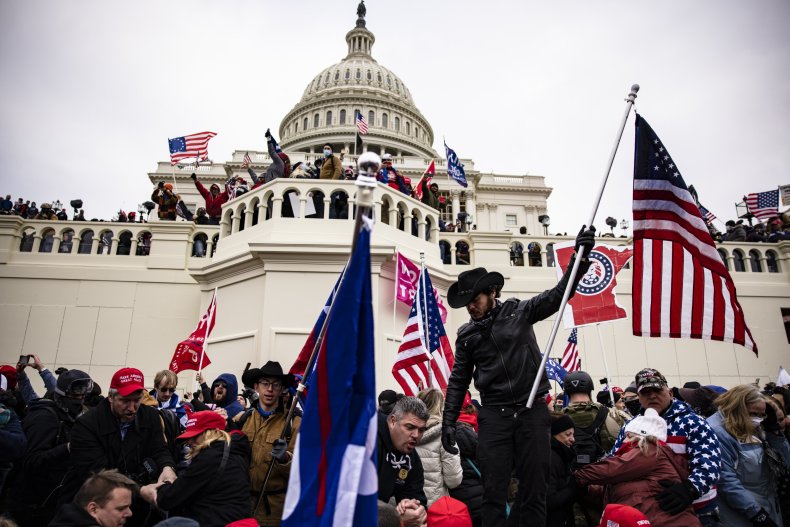 At least 38 Democratic Senators and 200 House Members have also come out in support of impeaching Trump.
Despite calls from lawmakers, the Journal's editorial board suggested that "If Mr. Trump wants to avoid a second impeachment, his best path would be to take personal responsibility and resign."
"This would be the cleanest solution since it would immediately turn presidential duties over to Mr. Pence. And it would give Mr. Trump agency, a la Richard Nixon, over his own fate," the op-ed said. "This might also stem the flood of White House and Cabinet resignations that are understandable as acts of conscience but could leave the government dangerously unmanned."
In a video posted to Twitter on Thursday night, Trump stated that "A new administration will be inaugurated on January 20," and added that his "focus now turns to ensuring a smooth orderly and seamless transition of power."
Newsweek reached out to Trump's campaign and Biden's transition team for comment but did not receive a response in time for publication.