Wall Street Journal Hacked With "Apology to Pewdiepie"
Felix "Pewdiepie" Kjellberg has an army of fans that have gone to crazy lengths to show their love for the YouTuber. Printers have been hacked, ads have been bought and billboards have been plastered with messages asking others to "subscribe to Pewdiepie." The technological espionage continues this week, with a fan of the content creator changing a sponsored post on the Wall Street Journal website.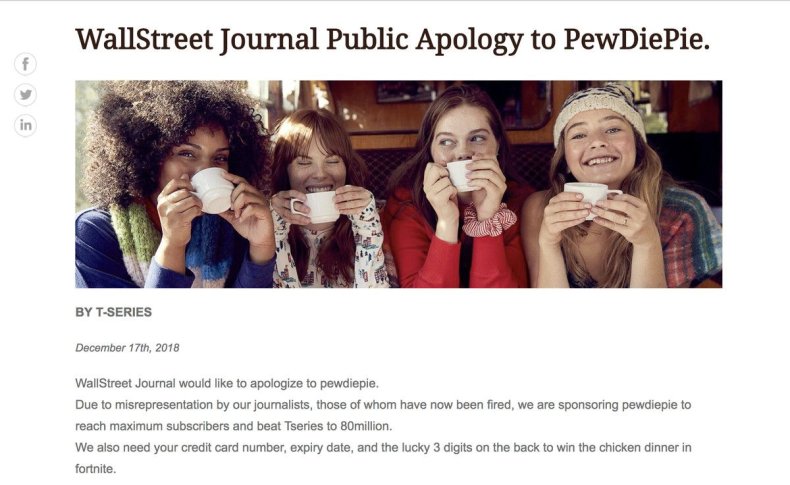 The post, originally about technology-boosting revenues, was hacked to read "WallStreet Journal (sic) Public apology to Pewdiepie." The original content of the article was deleted and replaced with a message saying that "due to misrepresentation by our journalists, those of whom have now been fired, we are sponsoring pewdiepie." The post ends with a message asking readers to give away their credit card information "to win the chicken dinner in fortnite." The edit lasted for just over an hour before the WSJ website pulled the page down.
The hacker also mentions the "fight against T-Series", alluding to the ongoing contest to see which YouTube channel will gain the most subscribers. The contest between Bollywood production company T-Series and the Swedish YouTuber has been a constant point of conversation over the past few weeks. T-Series is currently falling behind Kjellberg by a million and a half subscribers, all thanks to the movement of his fanbase, which he describes as an "army of nine year olds."
In February of 2017, The Wall Street Journal posted a story about Kjellberg being "anti-semitic" after paying two strangers to hold up a sign reading "Death to all Jews", leading to Disney severing its ties with the content creator. Some fans have viewed the "mainstream WSJ" as the antithesis to their beloved content creator. One spitting out "clickbait misinformation" while the other is a shining beacon of YouTube free speech. It's unsurprising that this particular fan of Kjellberg would feel that this is an appropriate way to show affection for the content creator. Kjellberg responded in kind, retweeting the story and giving that fan the satisfaction of appeasing Pewdiepie.
The Wall Street Journal has released this statement:
"We are aware of the issue and the page has been taken down. The page was owned by WSJ. Custom Solutions, a unit of the advertising arm, which is not affiliated with The Wall Street Journal newsroom. We have launched a full investigation."