Wuhan Coronavirus Death Rate Far Lower than Thought, with 1.4 Percent Mortality from COVID-19
The death toll in Wuhan from COVID-19 is far lower than it was first thought to be, scientists have announced. After analyzing all the symptomatic cases in the city where the outbreak of the new coronavirus is thought to have begun, the team found 1.4 percent of those infected died.
The findings, published in Nature Medicine, come as the city announces it has had no new cases of the virus for the first time in over two months. Chinese health officials also announced it had no new local coronavirus cases—all of the 34 new cases reported were imported infections.
When the outbreak began and the number of cases surged, estimated death rates from the virus varied widely. At the start of March, the World Health Organization put the rate at around 3.4 percent.
According to the Johns Hopkins coronavirus tracker, there have been over 81,000 cases, with more than 3,200 deaths and 7,500 recovered. Of these, 3,130 were in the Hubei province, where Wuhan is located. According to the study authors, Wuhan had 48,557 cases and 2,169 deaths as of February 29.
In the study, the researchers built on previous work looking at transmission dynamics of the virus, adding in more data, to understand how severe the virus had been on the city's population. They used models to work out the overall symptomatic case fatality risk—the number of deaths divided by known infections. This does not take into account the number of people who did not show symptoms and were not confirmed with having had the coronavirus.
"Estimation of true case numbers—necessary to determine the severity per case—is challenging in the setting of an overwhelmed healthcare system that cannot ascertain cases effectively," they wrote. "Therefore...our approach has been to use a range of publicly available and recently published data sources...to build a picture of the full number of cases and deaths by age group."
As many mild cases may have been missed early on, they said, they used the number of infections in travelers to work out the true infection rate in Wuhan.
After taking this information into account, they found the overall case fatality risk for Wuhan was 1.4 percent, "which is substantially lower than both the corresponding crude or naïve confirmed case fatality risk (2,169/48,557 = 4.5 percent)."
They said that compared to the death rate for people aged between 30 and 59, people 29 and under were slightly less likely to die. After symptoms developed, those 60 and above were 5.1 times more likely to die.
Stephen Baker, Director of Research at the Cambridge Institute of Therapeutic Immunology & Infectious Disease (CITIID), University of Cambridge, U.K., said the study was an important one that provides an insight into the behavior of the epidemic in China. Baker, who was not involved in the research, told Newsweek that it was "probably amongst the most comprehensive studies estimating key clinical and epidemiological characteristics of the disease, specifically fatality."
He continued: "Notably, the data shows, as previously suggested, that age is a key component for both symptomatic infection and fatality. The case fatality risk here was as 1.4 percent, which is lower than previously estimated, however this was largely associated with those aged above 59 years, which was five times greater than those aged between 30 and 59 years. This risk drops again for the under 30s. There are multiple reasons that this observation may be true, but it seems that age is also pivotal for developing symptoms. Therefore, it is not just a matter that the young get ill and then recover."
Baker warned that because the cases assessed all came from China, the findings may not be applicable elsewhere in the world. He also said other factors that may impact fatality rate, such as healthcare facilities and the level of experience in treating infections, were not estimated for. "Furthermore, the numbers may be an underestimate of the number of cases and deaths associated with COVID-19 due to limited access to all cases during the development of the epidemic in Wuhan."
He added: Whilst it seems that overall this is good news; this is still a high mortality rate and we need to continue to break transmission cycles. Specifically, limiting contact with the old and vulnerable is vital, additionally we should prioritise treatment for this group should they present with symptomatic disease."
Harish Nair, Chair of Paediatric Infectious Diseases and Global Health at the University of Edinburgh, U.K., who also was not involved in the research, reiterated that the findings in this study may not be the same in other parts of the world. "I would advise caution when extrapolating from Chinese data to rest of the world or even to U.S., U.K. and Europe," he told Newsweek. He said the level of healthcare in Wuhan was probably high, so death rates in developing countries may be far higher.
"In developing countries where testing is very poor and majority deaths occur at home, this could be several fold higher than in China," he said. "A lot of these data are from patients in higher socio-economic strata, where intensity of contact is less than what we would see in urban slums, proportion of diagnosed and well-managed co-morbidities and nutritional status [is] very different from [a low and middle-income] population. So to me this estimate is optimistic and represents best case scenario."
This article has been updated to include quotes from Harish Nair.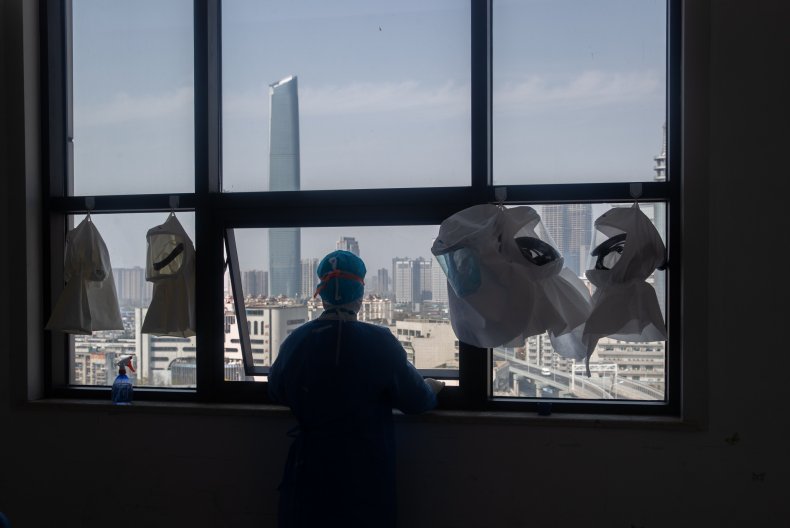 World Health Organization advice for avoiding spread of coronavirus disease (COVID-19)
Hygiene advice
Clean hands frequently with soap and water, or alcohol-based hand rub.
Wash hands after coughing or sneezing; when caring for the sick; before, during and after food preparation; before eating; after using the toilet; when hands are visibly dirty; and after handling animals or waste.
Maintain at least 1 meter (3 feet) distance from anyone who is coughing or sneezing.
Avoid touching your hands, nose and mouth. Do not spit in public.
Cover your mouth and nose with a tissue or bent elbow when coughing or sneezing. Discard the tissue immediately and clean your hands.
Medical advice
If you feel unwell (fever, cough, difficulty breathing) seek medical care early and call local health authorities in advance.
Stay up to date on COVID-19 developments issued by health authorities and follow their guidance.
Mask usage
Healthy individuals only need to wear a mask if taking care of a sick person.
Wear a mask if you are coughing or sneezing.
Masks are effective when used in combination with frequent hand cleaning.
Do not touch the mask while wearing it. Clean hands if you touch the mask.
Learn how to properly put on, remove and dispose of masks. Clean hands after disposing of mask.
Do not reuse single-use masks.