Wuhan Doctor Allegedly Silenced by Police For Trying to Alert People to Coronavirus Tests Positive for Virus
About a month after Li Wenliang, a Chinese doctor, alerted his medical school classmates about a new coronavirus, he was diagnosed with it.
Since national authorities in China first reported 44 cases to the World Health Organization (WHO) on December 31, more than 17,500 people have become infected and at least 362 people have died. The virus, temporarily named 2019-nCoV, is known to cause pneumonia and can spread between people, but the unfamiliarity of it has left officials with an uncertain picture of the risk it poses.
Li told CNN he sent a message in his medical school alumni WeChat group, a popular Chinese messaging app, that seven patients from a local seafood market were diagnosed with an illness similar to severe acute respiratory syndrome, or SARS, the day before Chinese officials informed WHO. The goal, he told CNN, was to "remind my university classmates to be careful" and give them the ability to privately warn their loved ones.
Although he intended the message to be shared privately, it circulated on social media and on January 3, local police reprimanded him for "spreading rumors online" and "severely disrupting social order." Police had Li sign a statement that acknowledged his "misdemeanor" and made him promise to not commit additional "unlawful acts."
"There was nothing I could do," Li told CNN. "[Everything] has to adhere to the official line."
Newsweek reached out to the Wuhan Municipal Health Commission but did not receive a response in time for publication.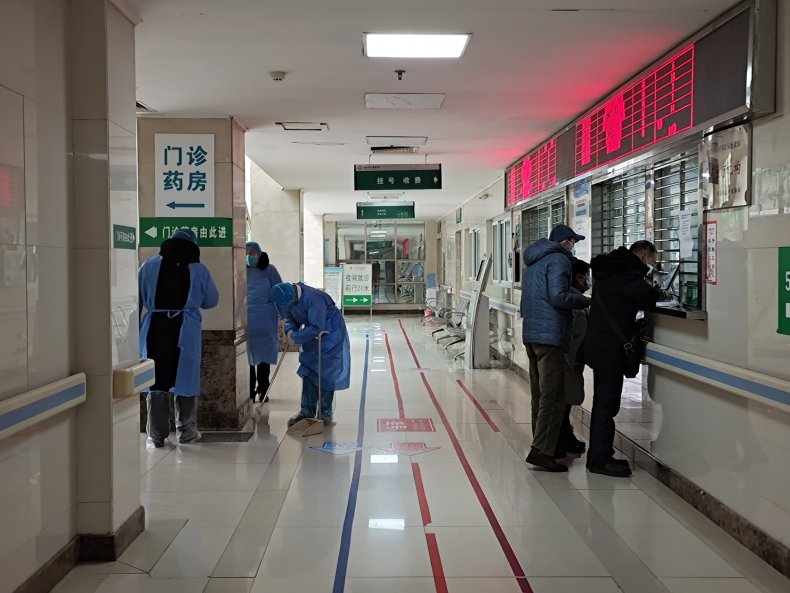 Local authorities in Wuhan, the epicenter of the outbreak, faced pushback for downplaying the outbreak at the outset, cracking down on negative posts online and arresting people for "spreading rumors." Mounting criticism of local officials in Wuhan prompted the mayor to offer his resignation as an apology, according to Reuters.
Wuhan Mayor Zhou Xianwang said he would take "whatever responsibility" necessary and The Wall Street Journal reported he claimed the "not timely" disclosure of information was due to a process that requires him to receive authorization to release sensitive information.
Li continued his work at the Wuhan Central Hospital and after treating a patient on January 10, he began coughing and developed a fever, two symptoms of the virus. In the days after he was hospitalized on January 12, CNN reported his condition deteriorated to the point that he needed to be admitted to the intensive care unit and given oxygen.
On Saturday, he tested positive for the virus, according to CNN, joining the nearly 12,000 people who had been infected at the time. Since his diagnosis, at least 5,438 additional cases have been confirmed, according to WHO, and more than 100 people have died.
In contrast with the criticism China received for its handling of the SARS outbreak in 2002 and 2003, WHO praised the authoritarian country for taking the right steps to control 2019-nCoV. On Wednesday, Dr. Michael Ryan, executive director of the WHO Health Emergencies Program, told reporters China had been "remarkably transparent" about the outbreak, and WHO director-general Tedros Adhanom Ghebreyesus said China's actions were deserving of "gratitude and respect."
The SARS outbreak infected over 8,000 people worldwide and killed 774.