Wuhan Reports First Coronavirus Case in a Month as Fresh Outbreaks Test Model Pandemic Plans in South Korea and Germany
The Chinese city of Wuhan has seen its first new case of the novel coronavirus in more than a month as China has also reported a spate of new infections in the northeast, after moving to reopen from months of stringent lockdown. Meanwhile, Germany, which has also taken steps to ease lockdown restrictions, has seen its infection rate rise and South Korea has seen a flare up of new cases in Seoul, causing the mayor to shutter bars and nightclubs.
As several countries around the world have begun taking steps to ease coronavirus lockdown restrictions after seeing a significant decline in new infections and deaths, states and municipalities across the U.S. have also begun to reopen slowly. But health experts continue to warn of the risk of new outbreaks and a possible second wave of infections that could potentially once again overwhelm hospitals and clinics.
On Sunday, Chinese officials reported that the northeastern city of Shulan had 11 new confirmed cases of the novel virus after one woman in a family tested positive on May 7. The city has now implemented restrictive measures, including a ban on non-essential travel, closure of schools, and a lockdown of residential compounds.
Additionally, the first new confirmed case of the virus has been reported in Wuhan, where COVID-19 was initially discovered last year. In total, China confirmed 14 new cases of the coronavirus on Saturday, after more than a week of new daily cases remaining in the single digits.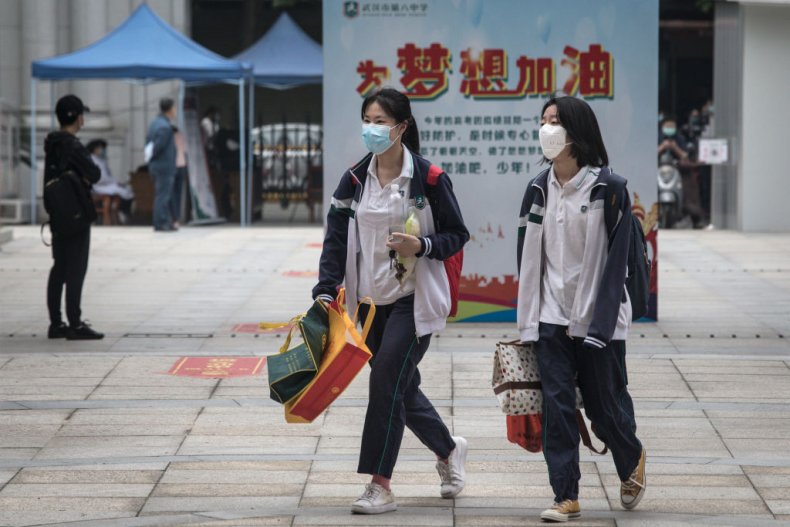 In Germany, new coronavirus infections have risen after the country eased some of its lockdown restrictions. The Robert Koch Institute (RKI), a German federal government agency and research institute, has said that the infection rate is now 1.1, which means each infected person now infects at least one other person. Essentially, if 10 people are infected with the novel coronavirus, the infection rate predicts they would infect an additional 11 people.
Germany's infection rate had previously been hovering around 0.7 in mid-April. At that time, Chancellor Angela Merkel warned that an infection rate of 1.1 could overwhelm the country's health care system within months. But the chancellor announced last week that all shops in the country will be allowed to reopen and students will slowly begin returning to school. Football matches will also restart in the coming days.
The European nation has also seen its number of new confirmed cases of the virus rise over the past three days. On Thursday, the number of new cases jumped from 947 on Wednesday to more than 1,200. New cases were above 1,200 on Friday and Saturday as well.
In South Korea--which has been widely lauded for its quick and successful response to the coronavirus--moved to close bars and clubs in the capital of Seoul after a more than two dozen new cases were connected directly to a 29-year-old man who had visited five different bars and clubs. Health officials have estimated that about 7,200 people visited the nightlife spots, warning of an expected surge in new cases.
"Carelessness can lead to an explosion in infections," Seoul mayor Park Won-soon said announcing the indefinite closure of the bars and night clubs. Park also urged those who'd visited the nightlife spots to come forward voluntarily.
South Korea experienced its first confirmed case of the coronavirus at the same time as the U.S. at the end of January. But unlike the U.S., where the novel virus spread rapidly throughout the country, South Korea moved quickly to contain the spread through large-scale testing and contact tracing.
As of Saturday, South Korea had just less than 11,000 confirmed cases of the novel virus and only 256 deaths. Comparatively, the U.S. has confirmed more than 1.35 million cases and nearly 80,000 deaths.
The U.S. continues to average well over 2,000 new cases per day, with a recent high of 3,491 new cases reported last Thursday. While that's a decrease from a peak of more than 11,500 new cases in one day in mid-April, modeling suggests that the daily number could once again rise steadily as lockdown measures are eased throughout the country.
President Donald Trump has pushed for the economy to begin reopening, even as health experts have raised concerns about the continued spread of the pandemic nationwide. While some hot spots like New York and California appear to have passed their peak of infections, other states and municipalities are just now seeing new outbreaks of the virus.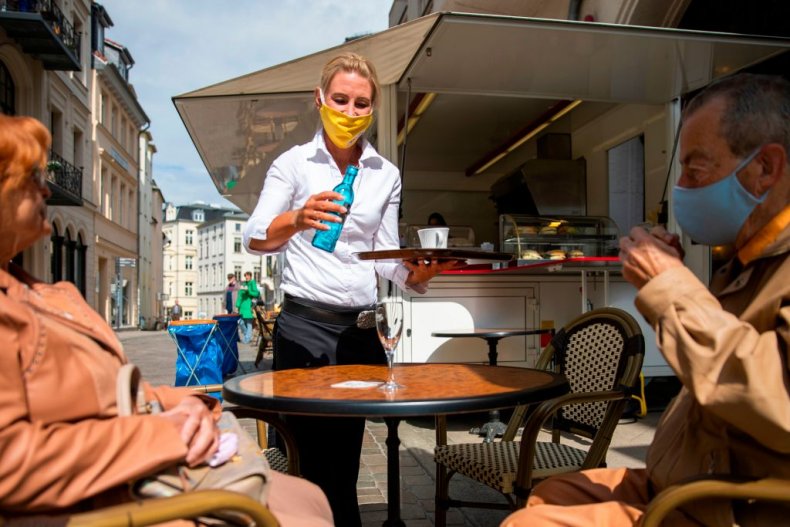 "We have to get our country open. We can't keep our country closed," the president said last week.
Newsweek has reached out to the White House for additional comment.
Meanwhile, health experts and officials have cautioned that parts of the U.S. may need to once again implement lockdown measures in the coming months. At the end of April, Dr. Anthony Fauci, director of the National Institute of Allergy and Infectious Diseases and a key member of Trump's coronavirus task force, warned that if lockdown measures were eased too quickly, that could "get us right back in the same boat that we were a few weeks ago."
Polling has shown that the majority of Americans are concerned that officials will begin reopening the economy too soon, rather than too late. A poll conducted by the Pew Research Center from April 29 to May 5 showed that nearly 70 percent of Americans are concerned restrictions will be lifted too soon.