WWE's Women Made 2018 a Year to Remember
WWE had an interesting 2018. Its roster is deeper than it's ever been and the in-ring product has been good-to-great for the majority of the year. However, stagnant creative, unforseen injuries, public backlash and dipping ratings saw the wrestling company crawl across the 2018 finish line.
A saving grace for the company was the women of the WWE. In a year where Seth Rollins had his best year and Daniel Bryan returned to the ring, it was the women who elevated their game and became the main attraction.
Putting on stellar matches and bringing the WWE Universe moments that will be talked about for years, the women killed it in 2018 and here's all the reasons why.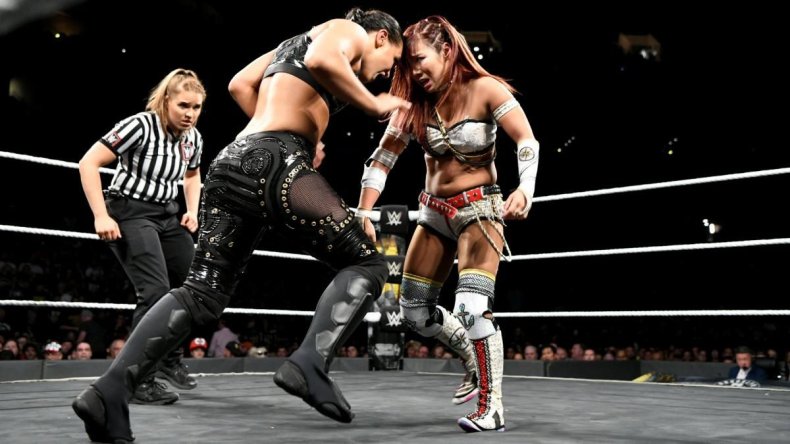 NXT WOMEN
NXT has been a place for fantastic wrestling and character development for years now. Although its still looked upon as a developmental system for the WWE, NXT is quickly becoming a third brand and often overshadows anything the main roster does during Takeover weekends.
A big part of the success of NXT in 2018 is its women's division. After the departure of Asuka, the women's division continued to chug along with the likes of Ember Moon, Nikki Cross, Kairi Sane and Shayna Baszler.
Baszler, in particular, has anchored the NXT Women's division in 2018 becoming its first two-time champion. As she continues to grow in the ring, her feud with Kairi Sane was one of the best in all of WWE.
Even after losing stars like Moon, Peyton Royce, Billie Kaye and soon to be Nikki Cross and Lacey Evans, the roster restocked with plenty of starpower in Candice LeRae, Mia Yim, Io Shirai and Bianca Belair.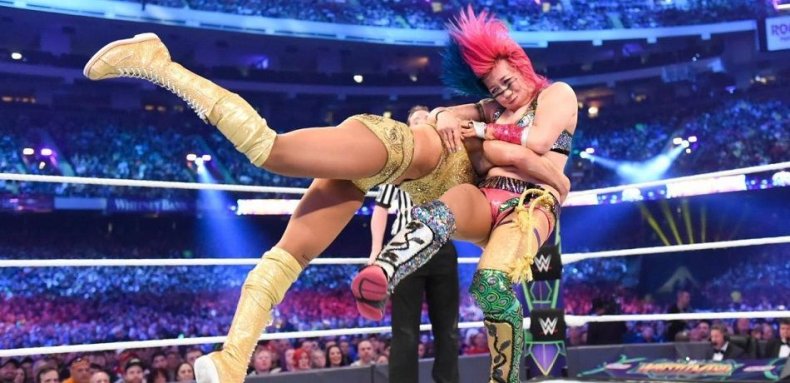 PUTTING ON AMAZING MATCHES
The women of WWE put on some spectacular matches in 2018 with some even being put in the "best women's match of all-time" conversation.
The first-ever Women's Royal Rumble was fun, the Money in the Bank ladder match was much better than last year's bout, and the first-ever women's Elimination Chamber match had some crazy spots.
But who can forget the WrestleMania 34 match between Charlotte and Asuka, or the series of great matches between Shayna Baszler and Kairi Sane? The 2018 Mae Young Classic was chock-full of special matches and just look at how great Evolution's card was (more on that later) highlighted by the Last Woman Standing match between Charlotte and Becky Lynch as well as the TLC bout between Charlotte, Becky and Asuka.
The in-ring work from the WWE women was superb in 2018 and it's only looking to get better in 2019.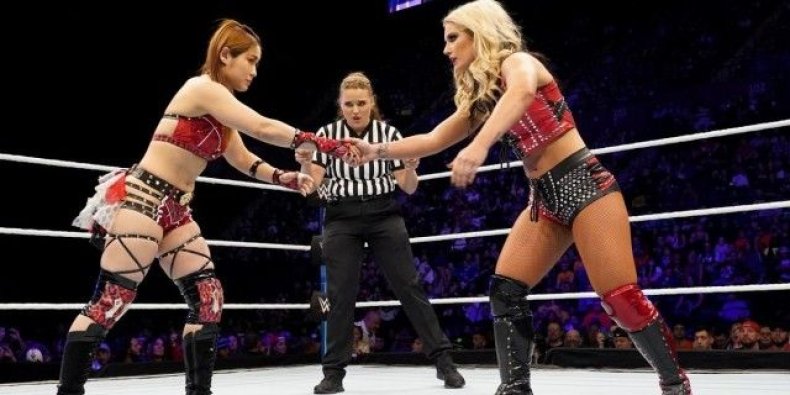 MAE YOUNG CLASSIC
The first Mae Young Classic was a great introduction to some of the women in the wrestling world outside of WWE. And while the tournament as a whole was good, the 2018 Mae Young brought it to a whole new level.
A good mix of returning wrestlers and new faces, the 2018 Mae Young had some of the most hard-hitting matches in the company. Just look at the WWE Network's best matches of 2018 list and you'll see it's littered with bouts from the MYC.
The event gave future WWE wrestlers like Io Shirai, Toni Storm, Rhea Ripley and Mia Yim a platform to show what they can do and that has translated well into their early NXT and NXT UK careers.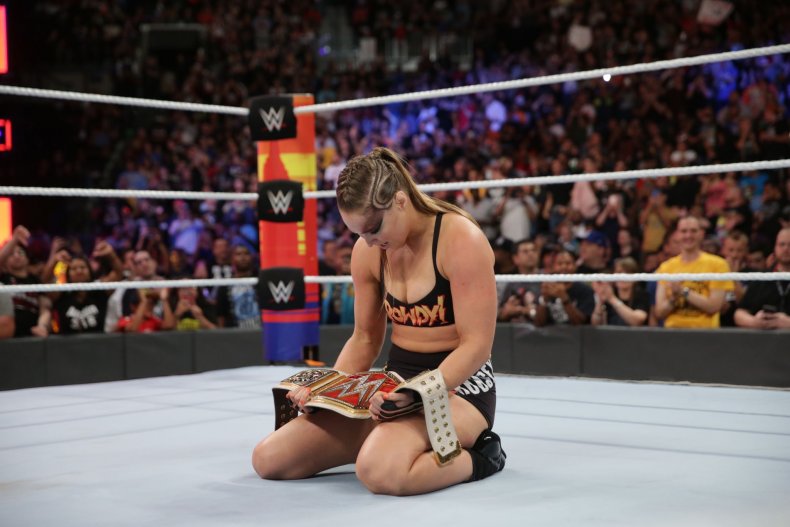 RONDA ROUSEY
Hate her or love her, there is no denying Ronda Rousey elevated WWE women's wrestling to a new level.
It's insane to think that a former UFC fighter with zero wrestling experience has taken to the sport so well and so quickly but here we are, with Ronda as the RAW Women's Champion bringing a whole new audience to the product.
And before anyone says her in-ring work isn't good, her debut match at WrestleMania 34 tore the roof off. Her bouts with Nia Jax at Money in the Bank and TLC, and her Survivor Series match with Charlotte were all very good and she's shown incredible growth in the ring.
As matches with Charlotte and Becky loom, Ronda is only going to get better in 2019.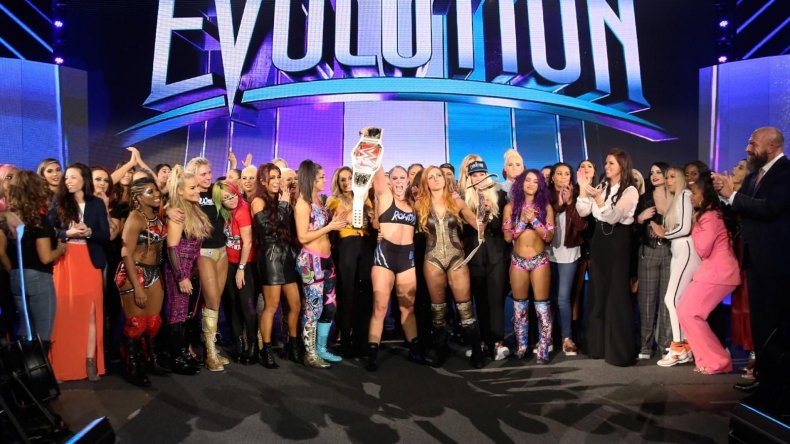 EVOLUTION
The WWE's dealings with Saudi Arabia didn't start off great with the women not being allowed at the Greatest Royal Rumble event, and was made worse with Crown Jewel, but what seemingly sprung from it was quite arguably the best WWE pay-per-view of the year.
Evolution was a celebration of WWE women past, present and future and, despite little to no build, fans at Nassau Coliseum and those watching at home saw some memorable matches.
Trish Stratus and Lita teaming up again after so many years was surreal, the Women's Battle Royal was a ton of fun, and who could forget the Last Woman Standing Match between Charlotte and Becky. It's one of the best WWE matches of the year, hands-down.
I wrote an extensive look back at the pay-per-view in October, but it goes without saying that the WWE has something great on their hands with this show and should capitalize on it every year.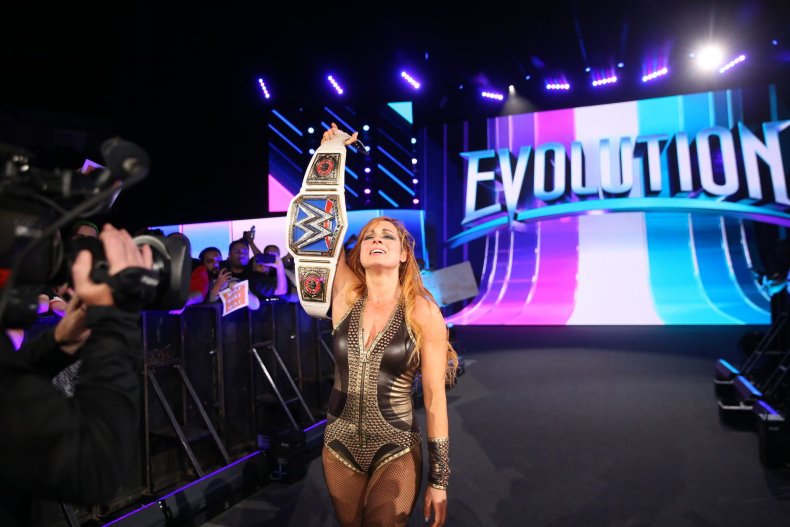 BECKY LYNCH
There's no doubt that WWE 2018 was the year of Becky Lynch. From plucky underdog face for most of the year, Lynch continued to endear herself to fans by putting on good matches, and winning them.
Her near-win in the Money in the Bank ladder match was nerve wracking and the crowd was ready to embrace Lynch as champion. She would eventually get her shot at SummerSlam in a banger of a triple threat with Charlotte and then-champion Carmella but would fall short.
But that's ok, although Lynch didn't leave as champ she was the talk of the WWE Universe after beating down her friend, Charlotte in what was supposed to be a heel turn. It was a completely cathartic moment because the WWE Universe knew Lynch was destined to become something greater with this new edge and she would deliver.
Delivering scathing promos in and out of the ring, while still putting on great matches, her championship victory at Hell in a Cell was the springboard to Lynch becoming "The Man" a no-nonsense badass who would murk anyone who stepped up to her whether it was in the ring or on social media.
Her invasion of Monday Night RAW is easily the best moment of 2018, made even more memorable after an ill-fated punch concussed and bloodied the "Irish Lasskicker."
And although we never got the Ronda/Becky match we were all clamoring for, the two will meet in 2019 and likely main event WrestleMania so everything is coming up Becky.